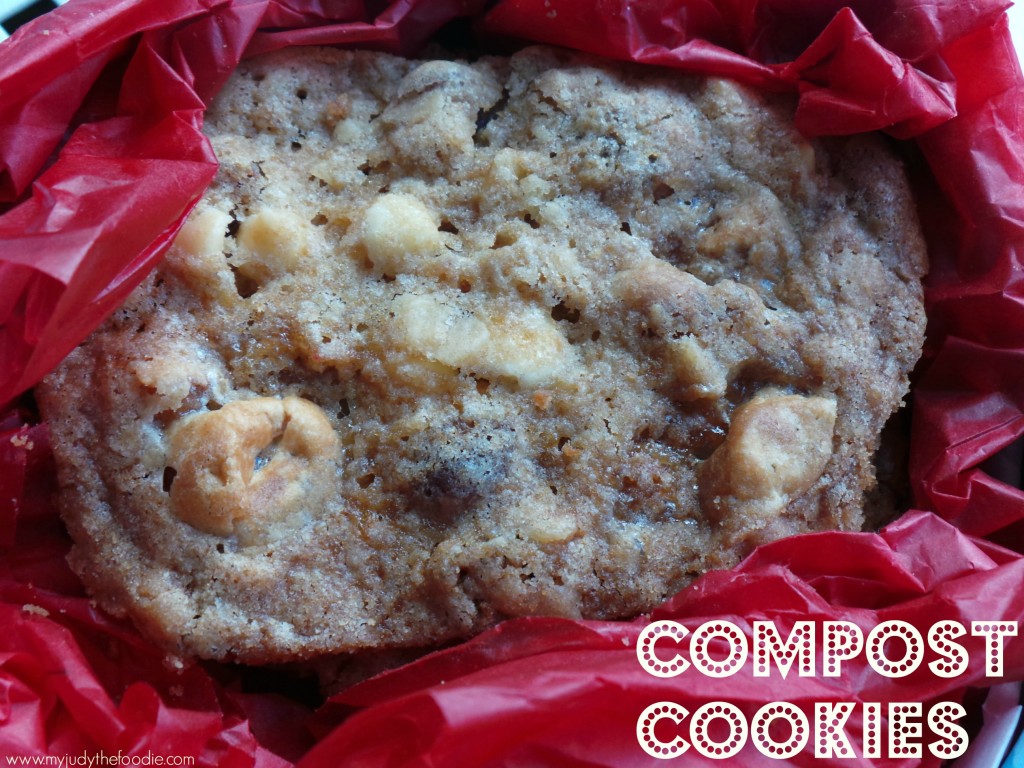 Today I decided to recreate a COMPOST COOKIE recipe that was inspired by Christina Tosi, head pastry chef from celebrated Momofuku Milk Bar in NYC.
I love Compost Cookies because no two cookies will ever taste the same.  As the baker, you can get as creative as you want with the ingredients. That's right, you can literally use whatever you have on hand to develop your recipe.  I decided to make batches of the cookie using our favorite favorite snacks from the cupboard.
As I started combining ingredients, I kept throwing in more – hence the nickname "garbage cookies" or "kitchen sink cookies".  In my version, I added: dried cranberries, potato chips, pretzels, mini marshmallows, and white chocolate chips to Milk Bar's cookie base batter.
The final cookies were spectacularly crisp.  Each bite yielded a new surprise.  Would it be crunchy, or sweet, or savory?
I can't wait to come up with our next batch.  Maybe I'll add some Graham Crackers and old-fashioned rolled oats to the mix?  Perhaps some raisins and butterscotch chips?  The possibilities are endless.
Couple helpful hints for the batter:
Be careful not to over mix the cookies or it will break too many of the pretzels and potato chips (if you decide to use them in your recipe).  Just mix so that your ingredients are "just incorporated" into the dough.
If using potato chips, pick a chip that isn't paper thin so that they do not break apart too much in the mixing process.
Christina's recipe calls for glucose which I didn't have so I substituted it with 1 tablespoon of corn syrup instead.
Christina lists the ingredients in grams. I used my kitchen scale to weigh the quantities to be more exact.  You can use the American unit of measurement indicated in the recipe too.
I followed Christina's batter instructions and made sure to refrigerate the dough for at least one hour before baking (she also says you can refrigerate up to one week). Apparently if you bake these cookies at room temperature they will not bake properly.
It's important to arrange the cookies a minimum of 4 inches apart per Christina's instructions.  Heed these instructions. My first batch of cookies was a disaster as all of my cookies merged into one.
Holiday Compost Cookies
Author:
adapted from Christina Tossi of Momofuku
Prep time:
Cook time:
Total time:
These cookies can even include the kitchen sink. Feel free to add whatever you want to this eclectic cookie dough. It's not your average cookie!
Ingredients
Cookie base:
225g butter (room temperature) 16 tablespoons (2 sticks)
200g granulated sugar 1 cup
150g light brown sugar ⅔ cup tightly packed
50g glucose 1 tablespoon corn syrup
1 egg
2g vanilla extract ½ teaspoon
225g flour 1⅓ cups
2g baking powder ½ teaspoon
1.5g baking soda ¼ teaspoon
4g kosher salt 1 teaspoon
Compost:
¾ cup dried cranberries
½ cup white chocolate chips
¾ cup marshmallows
2 cups potato chips
1 cup pretzels
Instructions
Combine flour, butter, sugars, and corn syrup in a mixer bowl and cream together on medium-high for 2- minutes. Scrape down the sides of the bowl, add the egg and vanilla, and beat for 7-8 minutes.
Reduce speed to low and add in the flour, baking powder, baking soda, and salt. Mix just until dough comes together- not longer than 1 minute. Do not over mix.
Add dried cranberries, white chocolate chips and marshmallows and mix until just incorporated- about 30 seconds. Add the potato chips and pretzels on low speed, until just incorporated. Be careful not to over mix or break too many of the pretzels and potato chips.
Using an ice cream scoop (or ⅓ cup measure0, portion out the dough onto a parchment-lined sheet pan. Pat the tops of the cookie dough domes flat. Wrap the sheet pan tightly in plastic wrap and refrigerate for at least 1 hour or up to 1 week. Do not bake your cookies from room temperature - they will not bake properly.
Heat oven to 375 degrees.
Arrange the chilled dough a minimum of 4 inches apart on parchment-lined sheet pan. Bake for 18 minutes. The cookies should puff, crackle and spread. After 18 minutes, they should be faintly browned on the edges yet still bright yellow in the center. Give them an extra minute or so if that's not the case.
Cool the cookies completely on the street pans before transferring to a plate or an airtight container for storage. Cookies will keep fresh for 5 days or in freezer for 1 month.
Enjoy composting with your cookies!