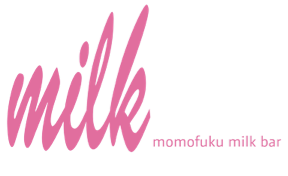 Last week I shared the most amazing holiday experience with my son.  We were able to make cookies alongside famed Momofuku Milk Bar Pastry Chef Christina Tosi and her mother, Greta Miller, at the International Culinary Center in NYC.
The afternoon, hosted by Chef Christina Tosi in collaboration with American Express, was a true holiday baking party. Guests heard intimate stories how Christina's sweet tooth as an early child prompted her to start her own cookie empire just two years ago.  Today, Momofuku Milk Bar has grown into five bakeries and a commissary.  And, from the first bucket of paint and stack of drywall to the latest apron and oven, Christina was able to realize her most inspiring and delicious dreams with the help of her Amex.
I immediately related to Christina when she recounted her experiences as a child being exposed to her mom's baking.  She too has many fond timeless memories of licking the raw cookie dough from her mom's spatulas after hours of baking.  She remembers the warmth and comforting smells emanating from the kitchen and two decades later, she turned her dream of baking into a reality- but not without a lot of hard work.
Christina describes herself as a "hard body" in the kitchen- someone who goes above and beyond and never complains; someone who approaches each recipe and task with a sense of humor; someone who keeps cool and creative at all times.  She admits that many of her celebrated recipes today are the direct results of mismeasuring, or simply throwing some left overs into a mixing bowl.
To Christina, there's always a brilliant recipe waiting with the most unexpected ingredients. If she weren't such a risk taker, she wouldn't have created baked goods with names like:  Fruity Pebble Marshmallow, Compost Cookies (chunky chocolate chip cookie studded with crunchy salty pretzels and coffee grounds), Crack Pie and her celebrated Cereal Milk ice cream varieties (made from everyone's favorite part of a nutritious breakfast – the milk at the bottom of the cereal bowl).
The culinary center was full of cookies waiting to be decorated, but, not before the kids got their chance to become a hard body in the professional kitchen.  They mixed ingredients, kneaded cookie dough, and took pleasure in using the cookie cutters to make festive shapes.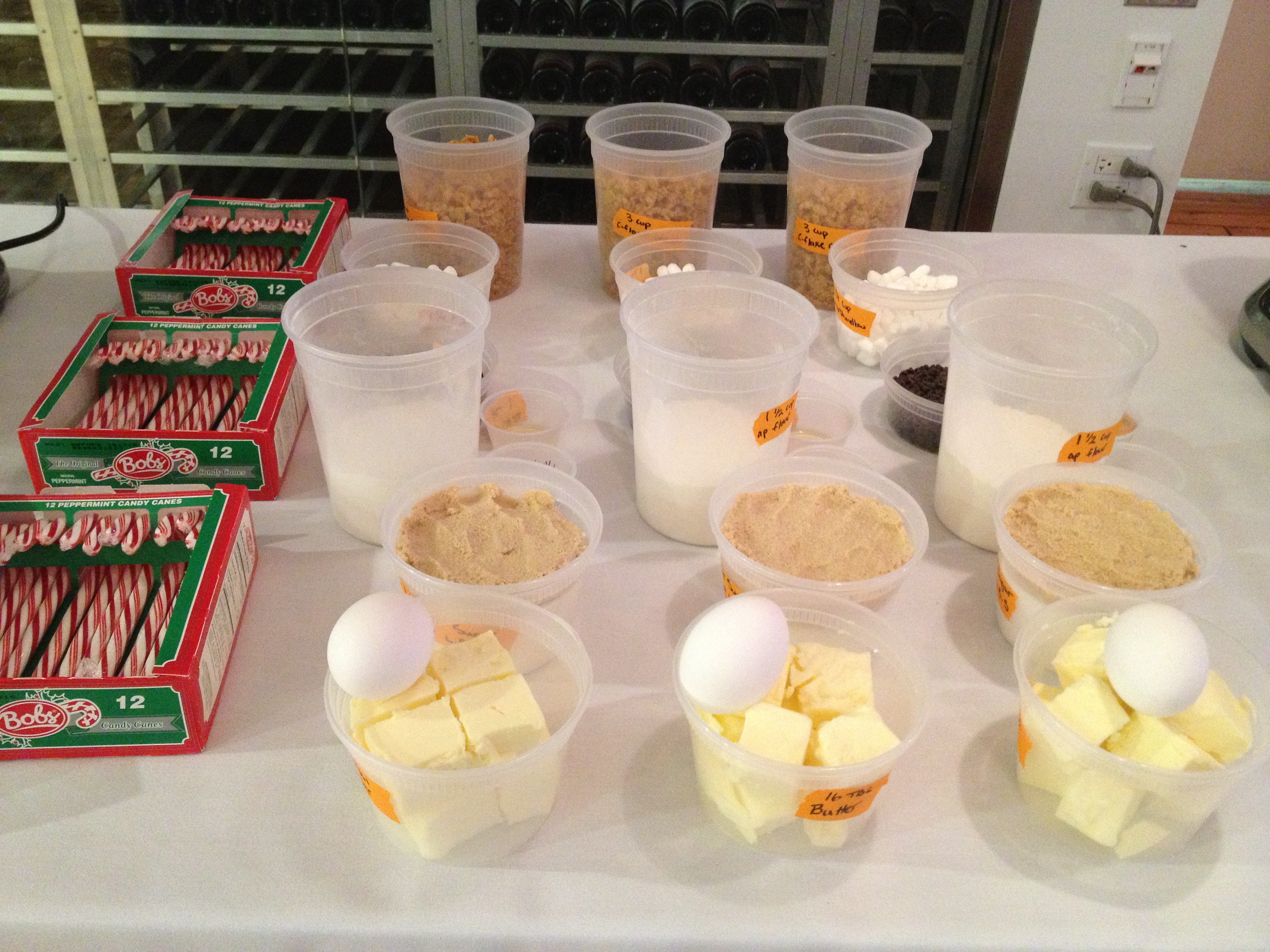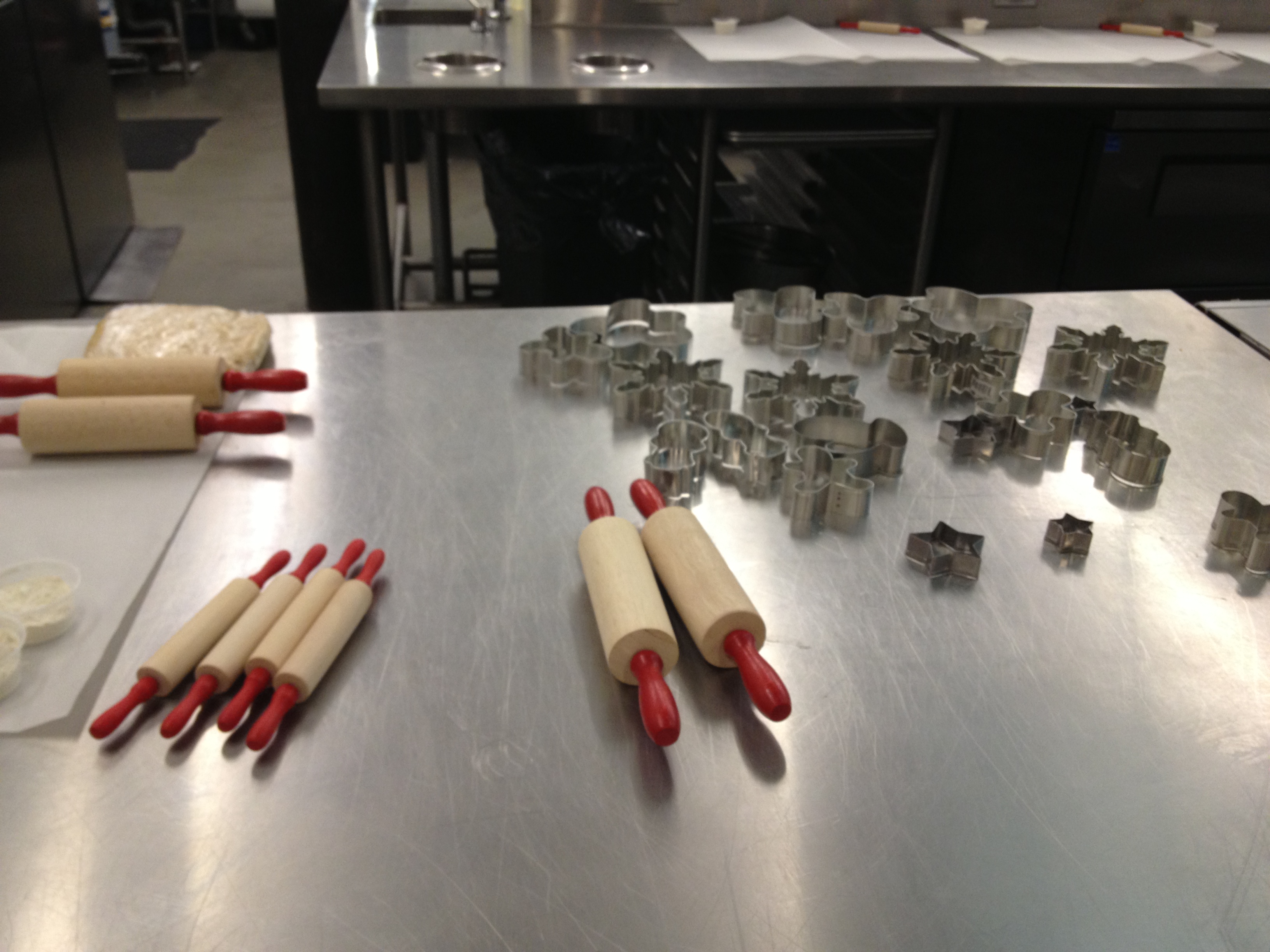 Christina Tossi and her mother watching my son make the cookie dough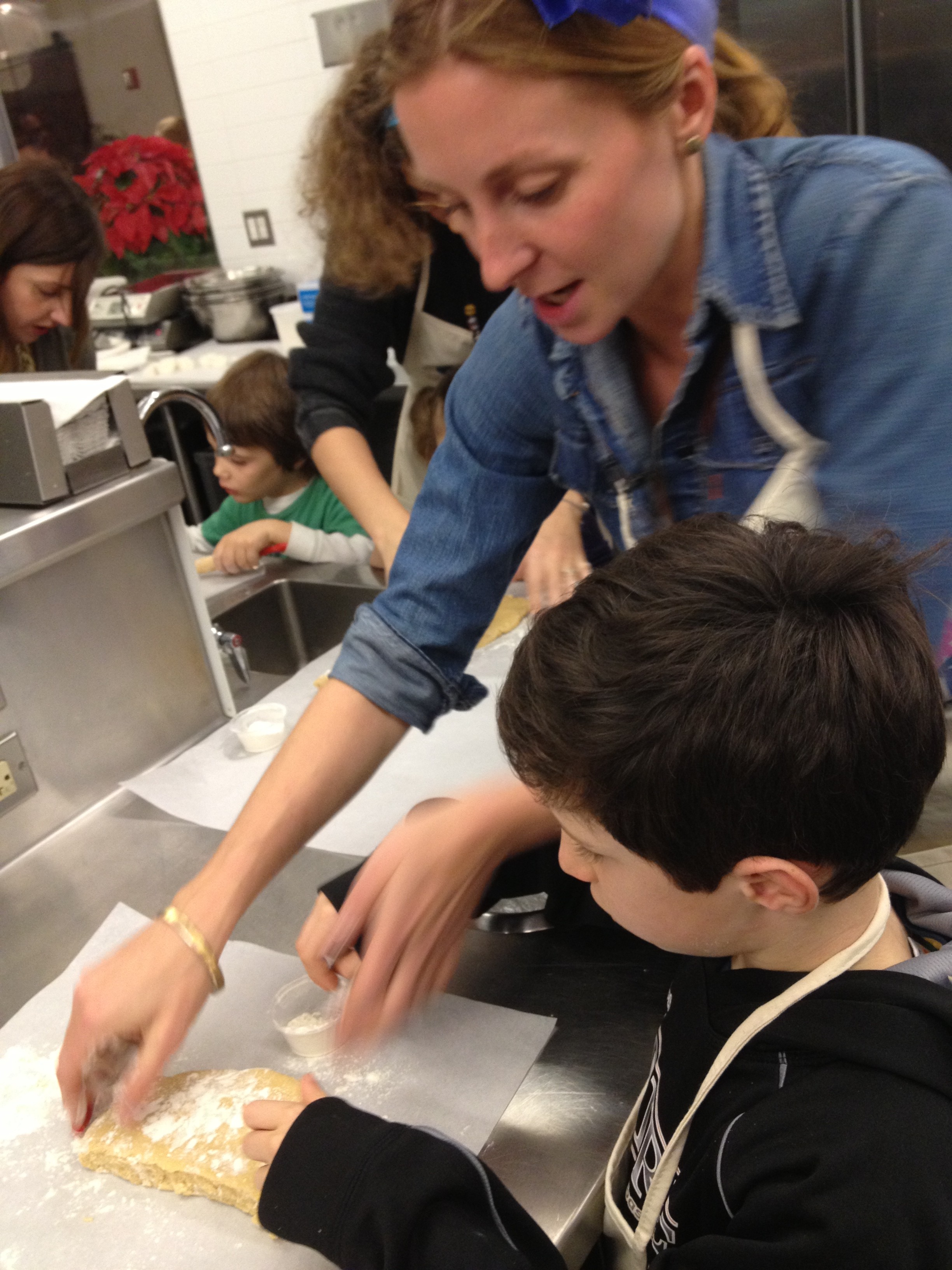 Chistina Tossi one-on-one training with my son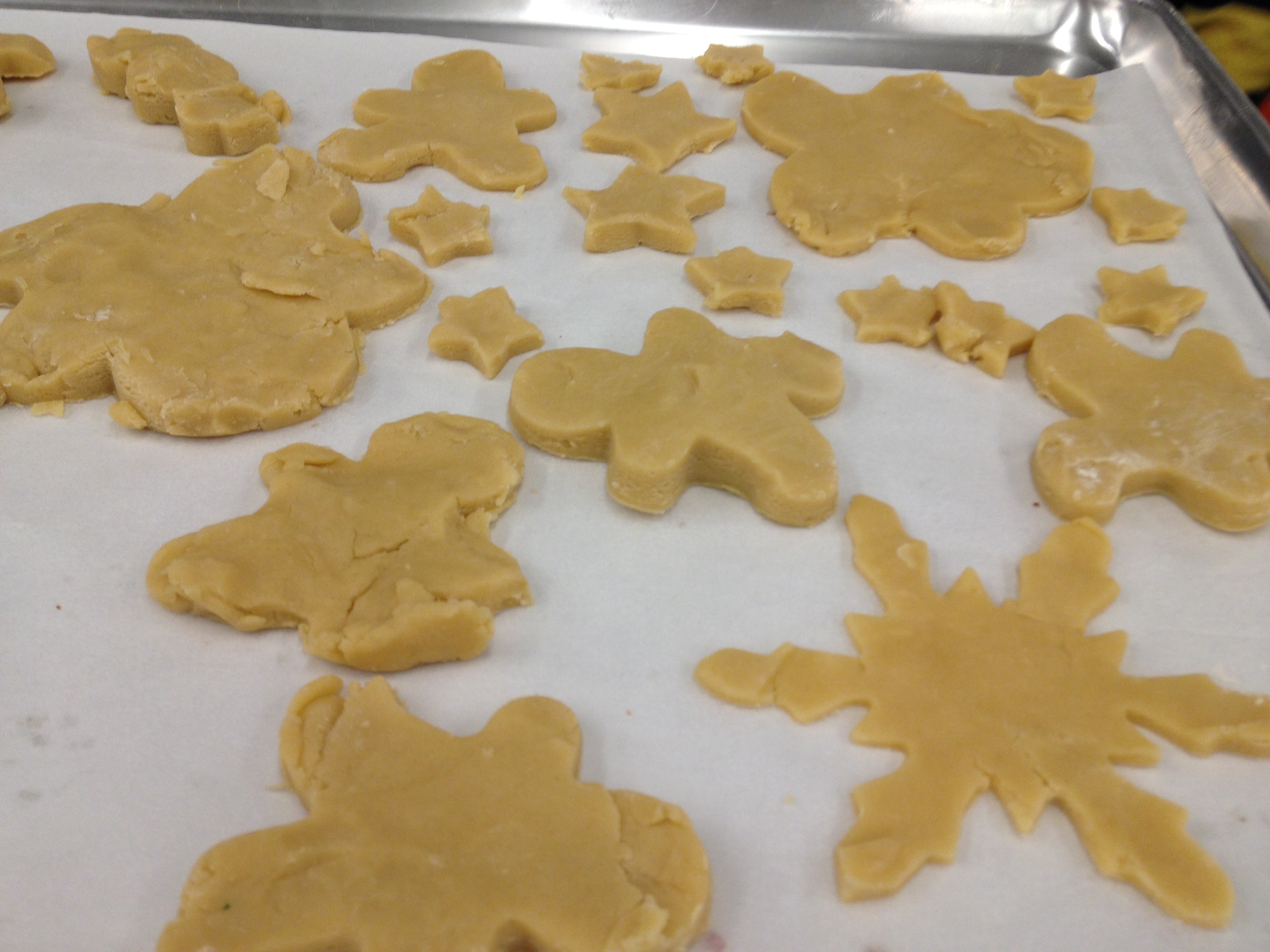 While the kids were hard at work, Christina was dispensing some of her valuable baking secrets to the parents.  I learned that she loves using Plugra unsalted butter because it's made from cultured-dairy which makes it tastier.  She always opts for unsalted butter because she can control the amount of salt in her baked goods.  Sometimes she even grinds down oatmeal to use in place of flour.  And, she was adamant about using whole milk in her recipes, preaching, if you cut out the fat, you cut out the flavor.
Cookies waiting to be decorated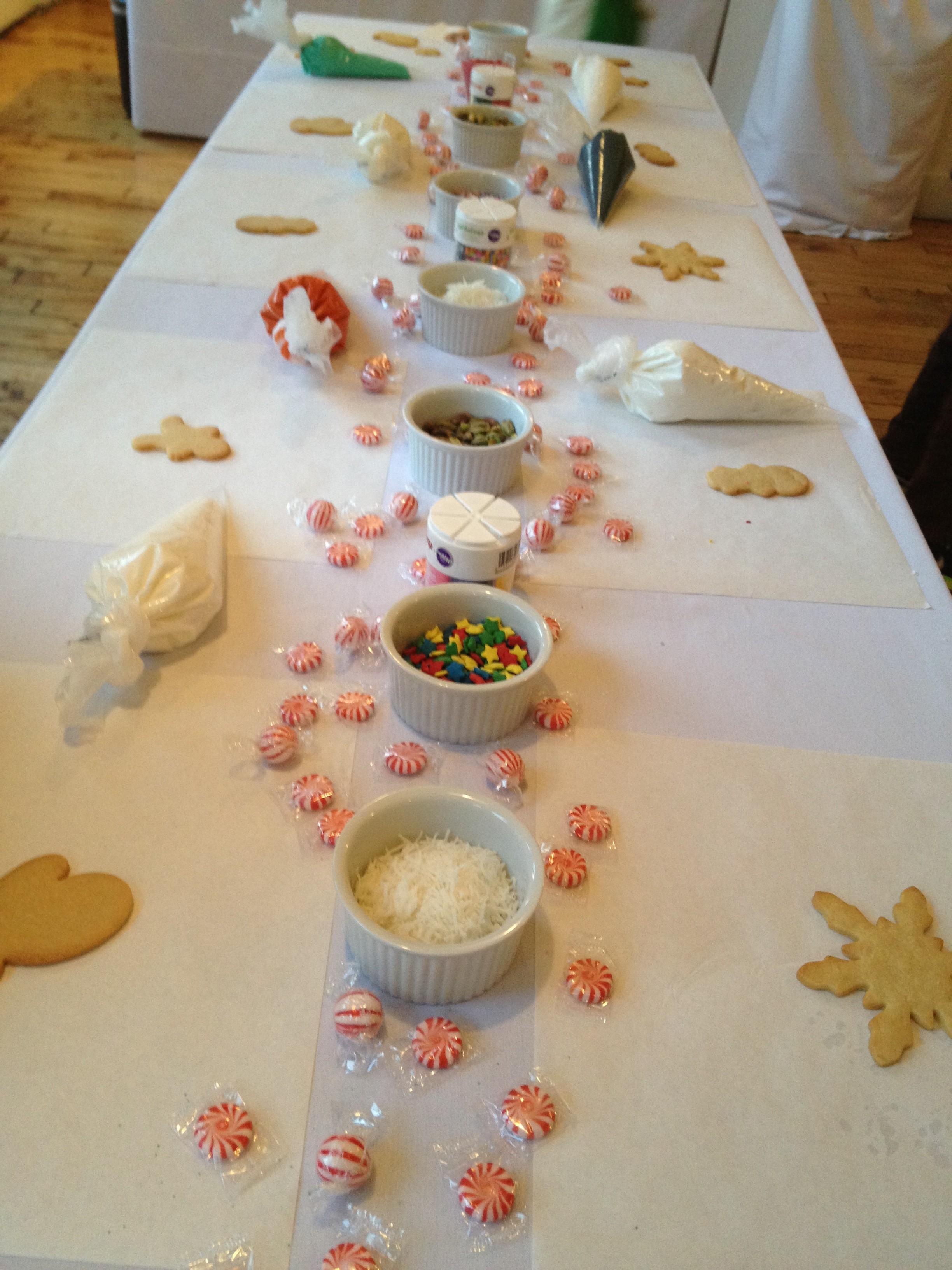 After decorating scores of sugar cookies, and eating our fair share of Compost Cookies and Cornflake Chocolate Chip Marshmallow Cookies, we were all treated to a bag full of individually packaged cookies and Christina's own book "Milk" which includes all the cult favorites from the Momofuku Milk Bar kitchen.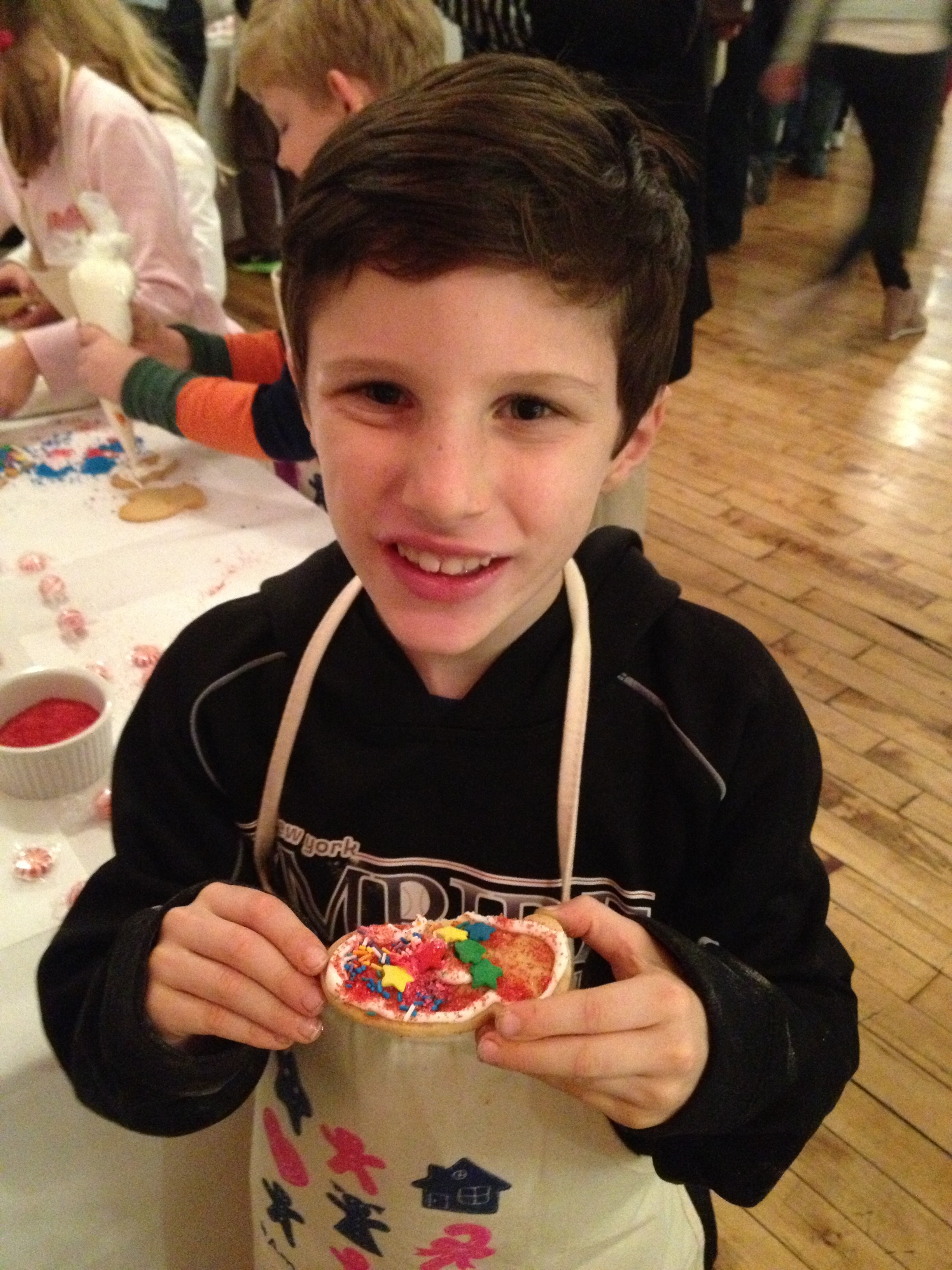 Momofuku Pastry chef in training
Spending just two hours listening and watching Christina work with the kids, there's no doubt in my mind why Momofuku Milk Bar was named "one of the most exciting bakeries in the country." Her innovative, addictive cookies pleased everyone in the room, from grandma to pre-schooler.
Her dedication to make the afternoon foolproof and fun for everyone confirms how Christina's unlikely beginnings of her bakery success could produce an empire of irresistible off-beat treats!
If you haven't been, you should check out Momofuku Milk Bar locations in NYC.
If you can't get to NYC in person, you can order (internationally too) some of the awesome baked goods here.
If you want to be a hard body in the kitchen, you can try your hand at some of Momofuku Milk Bar's celebrated recipes with the book— I DID!
Next on my Momofuku-to-bake list:  Compost Cookies….
Disclaimer:  I was invited by American Express and Momofuku Milk Bar to attend this event. I received a bag full of yummy Momofuki cookies, a copy of Christina's cook book Milk, as well as a Breville Convection Oven.  However, I was not compensated to write this post and (as always) all opinions expressed are my own.