Super Bowl is tomorrow!
If you need help figuring out what to make for your viewing party and missed some of my recent posts, look no further.
All of the recipes below are SIMPLE, EASY, TASTY, EASY TO EAT WITH YOUR HANDS, TOTALLY PORTABLE, AND HASSLE-FREE…aka….total crowd-pleasers!
Hope you enjoy!
Spicy Buffalo Chicken Meatballs
adapted from Martha Stewart
Ingredients:
2 tablespoons Olive Oil
1/2 cup unsalted butter
3/4 cup of your favorite hot sauce (for less spicy, reduce to 1/2 cup)
2lbs ground chicken breast
2 large eggs
2 cups bread crumbs
2 teaspoons salt
1 tablespoon ketchup
2 tablespoons grated Parmesan
Blue Cheese Dressing
Celery Stalks for dipping
Instructions:
Preheat oven to 450 degrees.  Grease a rimmed baking sheet.
Put stick of butter and hot sauce in saucepan over low heat.  Whisk until hot sauce is blended into melted butter.
Remove mixture from stove and let cool to room temperature.  Then transfer to big bowl.
Add ground chicken, eggs, breadcrumbs, salt, ketchup and Parmesan to the butter mixture and fold all ingredients with your hands.
When chicken and butter  are thoroughly mixed together, form into 1-inch round balls.
Place balls on baking sheet making sure they touch on all sides.
Place sheet in oven and baked until thoroughly cooked- approximately 20 minutes.
Let cool 5 minutes before serving.  Douse meatballs with additional hot sauce if desired.
Enjoy!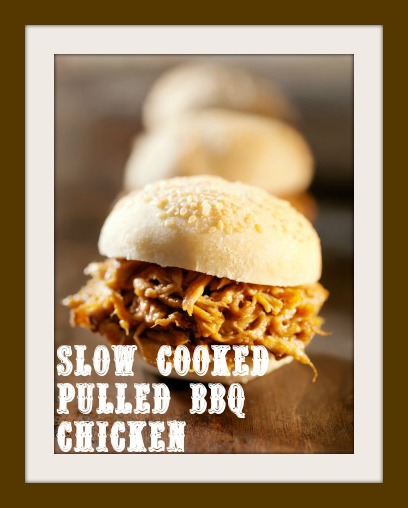 Slow Cooked Pulled BBQ Chicken
prep time: 10 min
cook time: 4 1/2 – 5 hours
serves 8-10 sandwiches
Ingredients:
2 pounds boneless, skinless chicken breasts
1 cup sweet onions diced
2 cups of your favorite barbecue sauce
2 tablespoons brown sugar
1 tablespoon Worcestershire sauce
2  1/2 tablespoons cornstarch
2 tablespoons chicken broth
Instructions:
Carefully lay out raw chicken breasts in slow cooker.  Preferable to use a 6-quart cooker. If smaller cooker, it's ok to overlap chicken breasts.
Dice sweet onion by hand.
In a medium bowl, whisk together the barbecue sauce, sugar and Worcestershire sauce. Pour the sauce over the chicken and sprinkle onions over top.
Cover and cook on low for 4 1/2 hours.
After allotted time, place slow cooked breasts onto cutting board and use two forks to shred the chicken. If cooked long enough, the chicken should shred very easily.
In a small bowl, mix cornstarch and chicken broth. Stir it into the sauce in the slow cooker.
Cover and cook on high until the sauce is thickened (approximately 15 minutes).
Return the shredded chicken to the thickened sauce in the slow cooker and completely cover with sauce.
Cover and continue cooking on low for 45 minutes.
Feel free to add in generous amounts of BBQ sauce.
Serve immediately and ENJOY!  Chicken is best served on a bun but is just as tasty plain.
Judy's Baked Brie: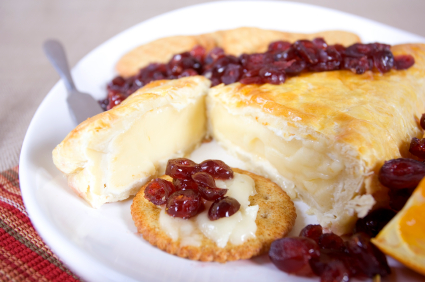 A deliciously warm and sweet appetizer to compliment any party.  No one expects the "kick" provided by the honey mustard and ginger snap combination.  Mom made this all the time and graduated from using little wheels of brie to one large wheel since it's gobbled up so quickly.  You can also top the brie with anything from brown sugar to raspberry jam. This is served alone in little triangular pieces.
click here for brie recipe
Seven-Layer Dip: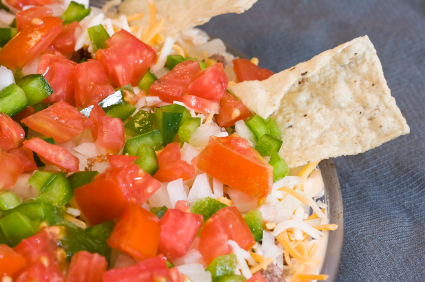 Offer a big bag of tortilla chips to help scoop up all seven amazing layers of this dip.  There's no heating or reheating involved, just add the layers and serve immediately.
click here for seven-layer dip recipe
Hot Crab Dip: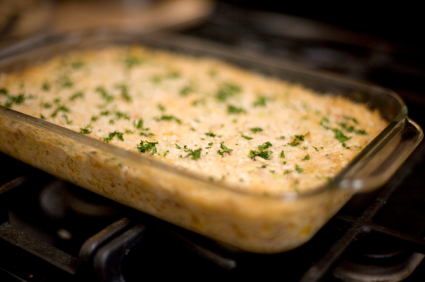 click here for hot crab recipe
Broccoli Cheese Dip: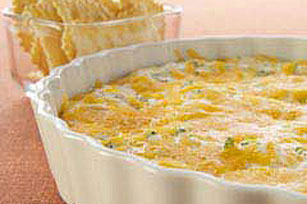 (adapted from Allrecipes.com)
Ingredients:
1 (8 ounce) package PHILADELPHIA Cream Cheese, softened
1 cup  Sour Cream
1 envelope GOOD SEASONS Italian Dressing Mix
1 (10 ounce) package frozen chopped broccoli, thawed, well drained
1 (8 ounce) package KRAFT Shredded Cheddar Cheese, divided
Instructions:
Heat oven to 350 degrees F.
Beat cream cheese, sour cream and dressing mix with mixer until blended. Add broccoli and 1-1/2 cups Cheddar cheese; mix well.
Spread into 9-inch pie plate.
Bake 20 minutes. Sprinkle with remaining Cheddar cheese; bake 5 minutes or until melted.
Enjoy.
Spinach Artichoke Dip: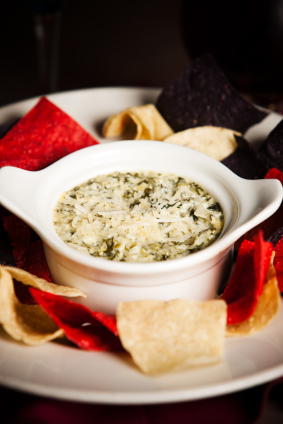 Ingredients:
1 (14 ounce) can artichoke hearts, drained
1/3 cup grated Romano cheese
1/4 cup grated Parmesan cheese
1/2 teaspoon minced garlic
1 (10 ounce) package chopped spinach (can use frozen but needs to be thawed)
1/3 cup heavy cream
1/2 cup sour cream
1 cup shredded mozzarella cheese
 Instructions:
Preheat oven to 350 degrees F (175 degrees C). Grease a 9×13 inch baking dish.
In a blender or food processor, place artichoke hearts, Romano cheese, Parmesan cheese and garlic . Pulse until chopped, but not ground. Set aside.
In a medium bowl, mix together spinach, heavy cream, sour cream and mozzarella cheese. Stir in artichoke mixture. Spoon into prepared baking dish.
Bake in the preheated oven for 20 to 25 minutes, or until cheese is melted and bubbly.