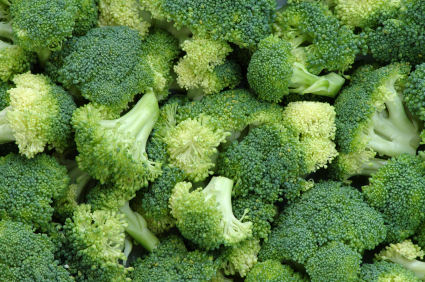 Calling all broccoli lovers:
The other day I had a full head of broccoli that I needed to use before it started to turn.  And, with Cinco de Mayo on my brain, I figured I'd try to make a nice dip for some blue corn tortilla chips.
My household is certainly obsessed with anything related to avocados (there's always at least two ripening in a brown bag behind one of my cabinets) most importantly our famed recipe and video for  Guacomole dip  and our celebrated recipe for Baked Stuffed Avocados. But, a nice, cool low(er) fat fresh broccoli dip seemed like the perfect alternative.
As luck would have it, Mom had a Broccomole dip in her archives that was (like most) of her recipes, half faded, half complete.  Similar to her other dips, this broccoli dip uses light cream cheese and or/sour cream.
If you're looking for a guilt-free dip recipe requiring no culinary skill and minimal prep time, put this on your list.  But remember, even though it looks like guacamole, it tastes all broccoli!
Enjoy!
Broccomole
serves 8
Ingredients:
3 cups broccoli, cooked , chopped and chilled
1 jalapeno, chopped- no seeds
½ small onion, chopped
1 green onion, chopped
2 oz. fat free cream cheese or use 1/4 cup sour cream
3 tbsp lemon juice
1/2 teaspoon chili powder
1 tablespoon cilantro
1 raw garlic clove, minced
1 tablespoon grated Parmesan, optional
Instructions:
Blend (almost to a puree) all ingredients in a food processor until thoroughly mixed.
Refrigerate for 2-3 hours before serving.