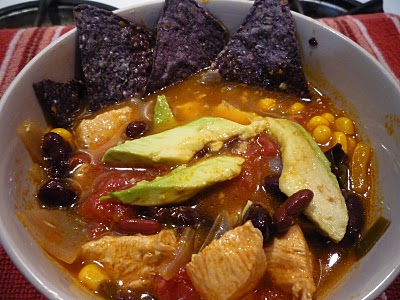 It's Seriously Soup day today, featuring one of my favorite bloggers, Serena, who authors a blog called Seriously Soupy.  Serena started Seriously Soupy as a creative outlet for herself after her first daughter was born, which combined her passion for cooking with an interest in learning more about soups and soup making.  Since it started, she has given soup tours and taught soup classes and has a catalog of over 100 soups on the site!  You can join Serena on her Soupy journey at SeriouslySoupy.com and twice a month you can find her here, at My Judy the Foodie, sharing her wisdom and helping demystify the world of soup.
School is lurking right around the corner and I am sure we're all sensing a bit of subtle anxiety when going through our end of summer to do lists.   One item that shouldn't stress you out is mealtime.  Don't forget to add soups to your rotation.  They're hearty and healthy and so easy to make (not to mention they're also ideal to freeze).  Today Seriously Soupy shares her recipe for Chicken Tortilla soup.  Remember, I shared a recipe for this soup using a slow cooker, Serena goes old school and makes her soup on the stove top…..
Here's what Serena has to say:
I have been making more meal-based soups using what I have around in the pantry, fridge, etc.
This week, I decided to make a chicken tortilla soup with tomatoes, chicken breasts, kidney beans, corn peppers, rosemary, some lime, and cayenne. The end  soup was both spicy and a little tangy!
You can alter any of these ingredients to create your own delicious meal-based soup to enjoy as we head into fall.
Chicken Tortilla Soup
Ingredients:
32oz of Pacific Organic Chicken Broth
2-4 cups of water (start with two and add more, if needed)
28oz can of Plum Tomatoes
3 organic chicken breasts
1/2 of a red onion, chopped up
1 tablespoon of pre-minced garlic
1-2 tablespoons of olive oil
1 scallion, cut up
1 jalapeno pepper, cut up (can be omitted)
2 sprigs of fresh rosemary
Medley of various peppers (red, orange, and yellow)
1 can of corn or 2 ears of corn
2 cups of kidney beans (or bean of your choice)
Splash of lime juice (use your discretion)
1/2 of an avocado for garnish
couple of tortilla chips for garnish
pinch of salt
pinch of pepper
pinch of cayenne pepper
Directions:
In a soup pot or large pan, drizzle about one-two tablespoons of olive oil. Chop up the onion, scallion, garlic, and jalapeno peppers, adding them to the pot.
Let cook on a low heat while you cut up the chicken into small squares. Add chicken to the pot and let cook. Add the tomatoes. I used plum (what I had), but it might be easier to use a pureed can of sauce since I had to cut up the tomatoes. Or, you can be really adventurous and use whole tomatoes.
Chop up the rosemary and various colorful peppers, pour in the water, chicken broth and lime juice, and let cook on a low-to-medium flame, stirring and checking on the soup periodically. While this was cooking, I decided that the soup would also have beans, so I started a second pot of water, let it boil and added the dry kidney beans.
When the beans were finished (about two hours later), I added the corn to the soup and added some seasonings as I tasted (cayenne pepper, salt, and pepper). I also added about 2 more cups of water (it was pretty spicy-never deny the strength of a jalapeno!)
Grab some chips and cut up some avocado for a garnish and enjoy!
How have you made Chicken Tortilla Soup?