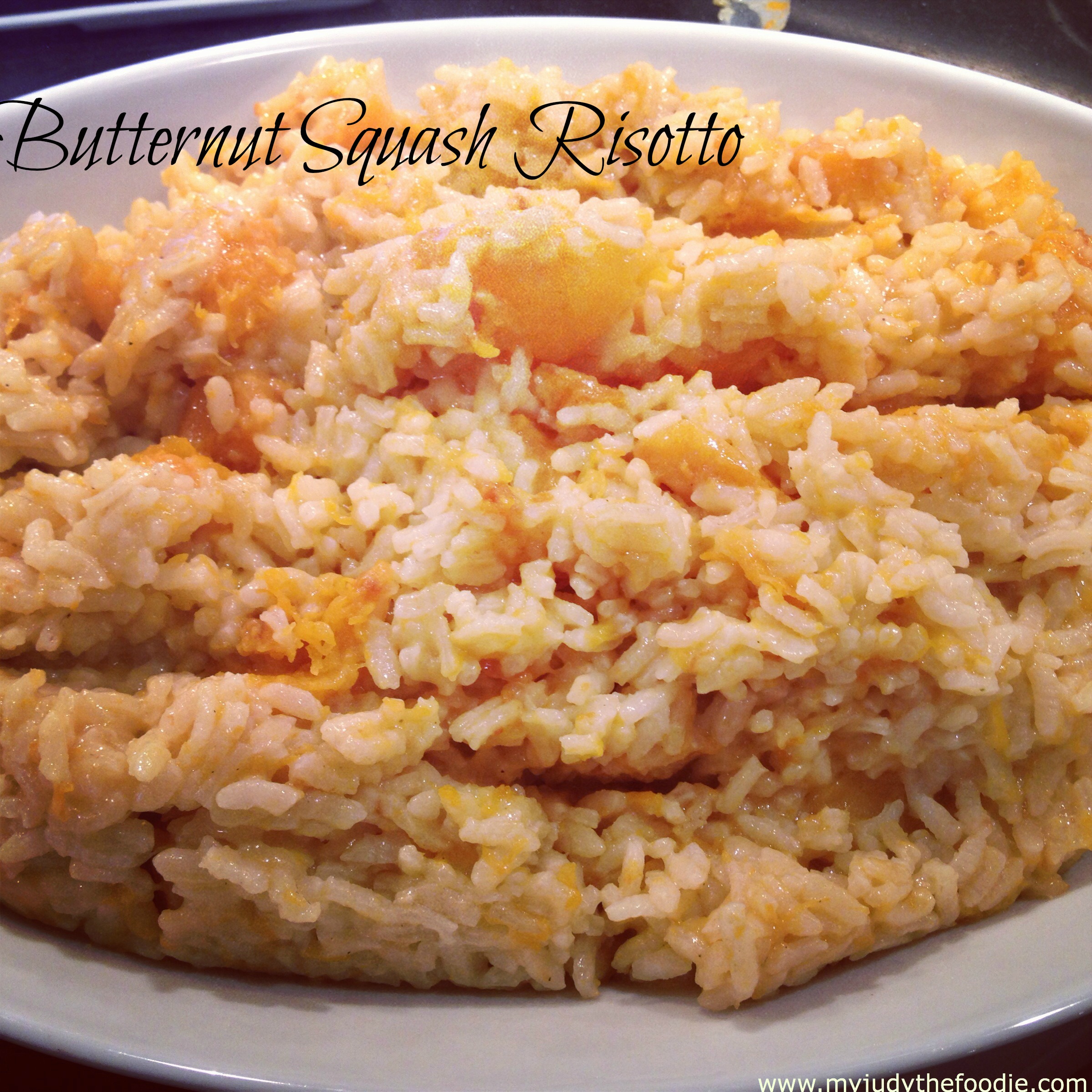 Contrary to my children and husband, I don't eat a lot of carbs.  I'm more of a protein and veggies girl but, if you ask my daughter, she could live off of pasta and rice for the rest of her existence.  So, when I'm trying to diversify our dinnertime routine, I'm always looking for options that I know will be a home run with my kids –like risotto.
I don't have much experience with risotto.  In fact, I only cooked risotto for the first time last year when I made Green Tea Risotto. I recently pinned an amazing recipe for a Farro Butternut Squash dish I found on The Full Plate blog that I knew I wanted to try and tweak using risotto.   Risotto is one of those hearty dishes perfect for any cold day.  As yesterday was unseasonably cold here on the east coast, I awoke in the morning knowing risotto would be our dinner selection.
Since I made the dish last year, I always keep a bag of Arborio rice in my pantry- it's the best variety of short-grained rice for this dish. Arborio (I've since learned) has a very high natural starch content that, when cooked, creates the characteristic creamy consistency.
I have a love hate relationship with risotto.  While it tastes dreamy when properly cooked al dente,you'll need to physically stand over the stove and consistently stir your rice mixture for at least 25-35 minutes.  While one can find it meditative and relaxing, I get completely antsy while waiting for the finished product.
This Butternut Squash Risotto uses no cream considerably less butter than other recipes that have called for up to 5 tablespoons!  The sautéed cubed butternut squash chunks provide beautiful color, nice creamy flavor, and soft texture to the dish.
I mixed in a half a cup of grated Parmesan after I added in the butternut squash to the mixture.  It was heavenly, even for other non-carb fans.
My kids gobbled up their portions and, while they did LOVE it, they were simply too full to have seconds….that's the beauty of the dish- it's extremely filling.
Be forewarned, this dish is not ideal to serve for leftovers.  The only way you can attempt to regain the creaminess of your first batch is to put your risotto back in a pan on the stove, add in more chicken broth, and cook it again (yes, that means a lot more stirring) for another 5-10 minutes.
Butternut Squash Risotto
adapted from Pioneer Woman
serves 5-6
Ingredients:
1/2  Butternut Squash, Peeled, and cubed
3 Tablespoons Butter
1 Tablespoon Olive Oil
1/2 teaspoon Kosher Salt
1-1/2 cup Arborio Rice
6 cups Chicken Broth (low Sodium)
Salt And Pepper, to taste
1/2 cup grated Parmesan
Instructions:
Heat 1 tablespoon butter and olive oil in a large skillet over high heat. Add cubbed squash, sprinkle with salt and cook for several minutes, turning gently with a spatula, until squash is deep golden brown and soft. Remove to a plate and set aside.
Heat broth in a saucepan over low heat. Keep warm.
Add 2 tablespoons butter to the same skillet over medium-low heat. Add Arborio rice and stir, cooking for 1 minute.
Reduce heat to low. In 1-cup increments, begin adding broth to the skillet, stirring to combine and gently stirring as the broth is absorbed. As soon as the liquid disappears, add in another cup to cup-and-a-half of broth. Continue this process, stirring gently as the broth incorporates and the rice starts to become tender. Add salt along the way.
Taste the rice after about 5 cups of broth have been absorbed and see what the consistency is. Add another 1 to 2 cups of broth as needed to get the rice to the right consistency: it should be al dente: tender with just a little bit of "bite" left to it.
When the rice is tender, add in the cooked squash and grated Parmesan and stir until it's just combined. Taste and add more salt as needed.
Enjoy!