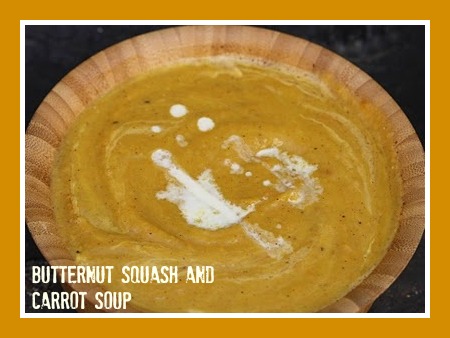 It's Seriously Soup day today, featuring one of my favorite bloggers, Serena, who authors a blog called Seriously Soupy.  Serena started Seriously Soupy as a creative outlet for herself after her first daughter was born, which combined her passion for cooking with an interest in learning more about soups and soup making.  Since it started, she has given soup tours and taught soup classes and has a catalog of over 100 soups on the site!  You can join Serena on her Soupy journey at SeriouslySoupy.com and twice a month you can find her here, at My Judy the Foodie, sharing her wisdom and helping demystify the world of soup.
Today was the first day the weatherperson actually used the term, "sweater weather."  I couldn't be happier.  Fall is almost here.  I asked Serena to share a soup that celebrates the fall harvest.  Here's what she has to say:
One of the first soups I ever made on Seriously Soupy was a Butternut Squash and Carrot Soup. By far this is one of my favorite soups, and before I started the site, I would make it basically once a week as a great side for dinner and a vitamin-rich baby food. From there I decided to create the site, and learn even more about the vast and exciting world of soup making.
Although many soups have been since I begun the site in 2009, I always come back to making a classic butternut squash that personifies fall and the cooler temps, along with the silky and rich texture from the squash that I paired with carrots and subtle spices like cinnamon and nutmeg.
Soupy Tip: Make this soup vegan by simply taking out the cream, and adding a little less water for a richer and thicker texture.
Butternut Squash and Carrot Soup
Serves 4-6
Ingredients:
1 butternut squash, cubed
1 yellow onion, peeled and diced
2 -3 cloves of garlic, minced
Drizzle of olive oil
2-3 cups of water
2-3 carrots cut up
1/4 cup of light heavy cream
2 teaspoons of nutmeg, approx.
2 teaspoons of cinnamon, approx.
1-teaspoon cloves, approx.
Salt and pepper, to taste
Directions:
Pre-heat oven to 350 degrees.
Cut squash open, lengthwise and scoop out the seeds.
Coat squash in garlic, olive oil, salt and pepper. Let cook for 30 minutes or until soft.
Boil water and cut up the onions and garlic.
Cut up the carrots and add the cooked squash, along with the cinnamon, cloves, nutmeg and salt and pepper to the pot.
Let cook for 20-30 minutes.
Add the cream and blend.
Enjoy!