I feel out of sorts posting about a soup without my friend Seriously Soupy talking about it  After all, she's been preaching to us for years how easy it is to make soup.
Last night for dinner my daughter and I made some Butternut Squash Soup (for the first time), and it was amazing. Let me clarify, it was restaurant-quality, according to my 9-year old son who had just last weekend, ordered a bowl of Butternut Squash soup at a local restaurant.
I could not believe how simple it was to prepare the soup.  And, I even cheated and bought the pre-sliced butternut squash cubes so I didn't have any hassle.  We chopped all of the ingredients together and let them saute a bit on the stove in some butter.
Is there anything better than walking into the front door and smelling vegetables cooking on the stove?  Our entire apartment was full of this warm, succulent aroma which was a welcomed distraction to the dreariness of the cold, rainy day.  Then, we added some chicken stock to the pot and voila, we let it simmer on the stove for 40 minutes.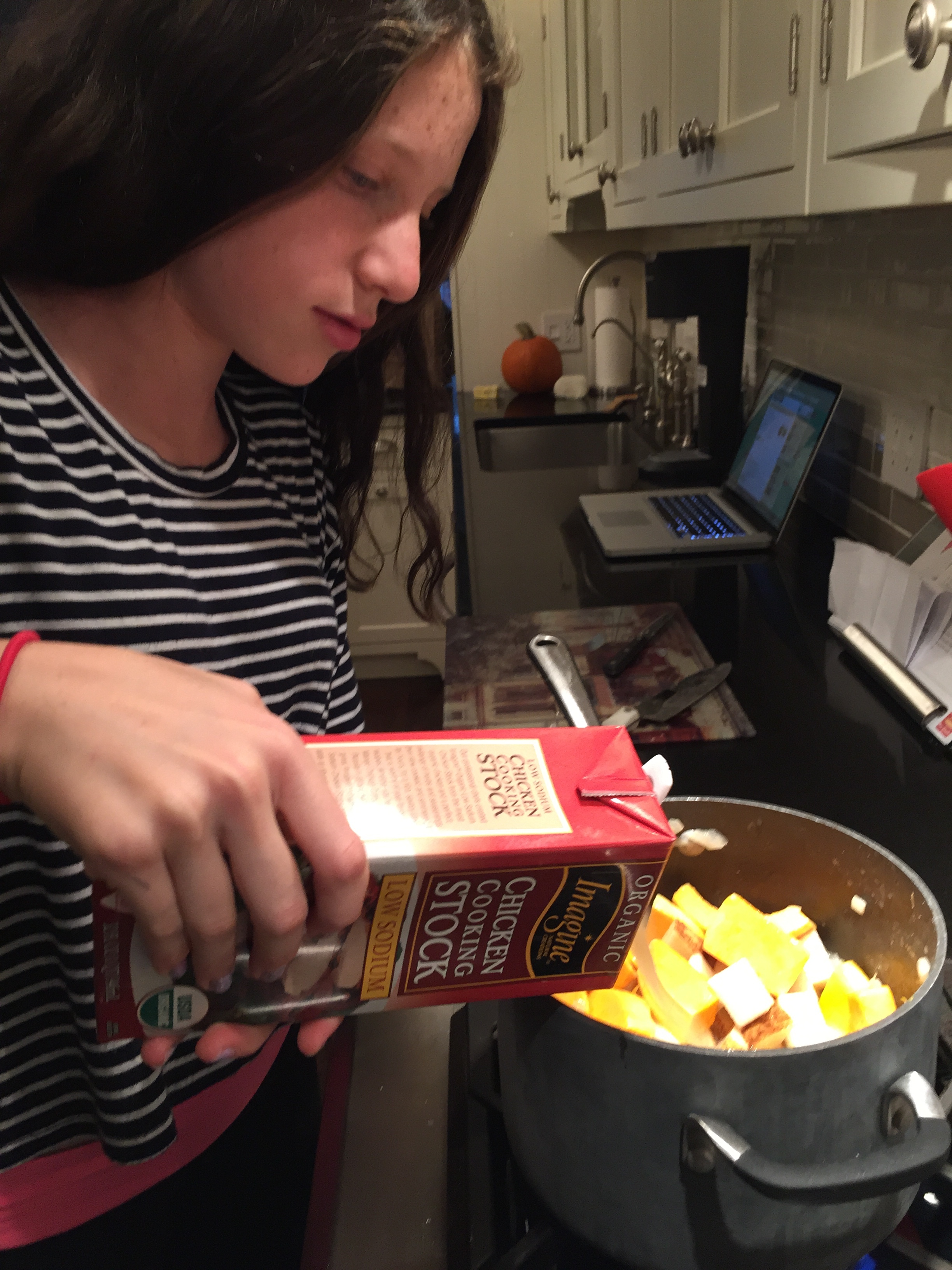 The last step is just to blend your soup and you're finished.  It's that easy.
I've hesitated to make Butternut Squash soups at home because I always thought they were too creamy.  And, for that reason, I don't order the soup when I'm at a restaurant either.  This particular recipe calls for no additional cream; we let the veggies and the stock speak for themselves.
Be forewarned though, even without the cream, it's still very filling. I had one large bowl for dinner and I was stuffed.
The best part about the soup are the leftovers, which will warm your bellies for days to come.  Also, don't be afraid to freeze your soup too.  It'll be just as good a few weeks from now when you're looking for a quick dinner fix.
Hope you enjoy.  We certainly did.
Butternut Squash Soup:
adapted from Allrecipes
makes 4-5 servings
Ingredients:
2 tablespoons

butter

1 small

onion, chopped

1 stalk

celery, chopped

2 medium

potatoes, cubed

1 medium

butternut squash – peeled, seeded, and cubed

1 (32 fluid ounce) container

chicken stock

salt and freshly ground black pepper to taste
Instructions:
Melt the butter in a large pot, and cook the onion, celery, potatoes, and squash 5 minutes, or until lightly browned. Pour in enough of the chicken stock to cover vegetables. Bring to a boil. Reduce heat to low, cover pot, and simmer 40 minutes, or until all vegetables are tender.

Transfer the soup to a blender, and blend until smooth. Return to pot, and mix in any remaining stock to attain desired consistency. Season with salt and pepper.