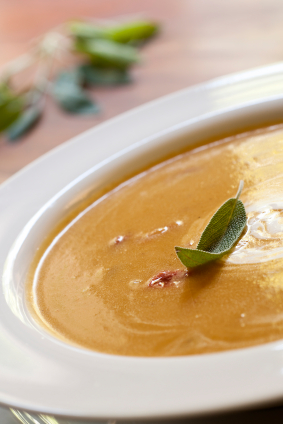 Hello my friends.  I'm back from an amazing Thanksgiving break (and a break from my kitchen) and I'm thrilled to feature a new soup recipe from Seriously Soupy, one of my favorite bloggers, Serena. 
Serena started  her blog Seriously Soupy as a creative outlet for herself after her first daughter was born, which combined her passion for cooking with an interest in learning more about soups and soup making.  Since it started, she has given soup tours and taught soup classes and has a catalog of over 100 soups on the site!  You can join Serena on her Soupy journey at SeriouslySoupy.com and twice a month you can find her here, at My Judy the Foodie, sharing her wisdom and helping demystify the world of soup.
Here's what Serena has to say:
Are you searching for the perfect soup this holiday season? Personally, I love to serve butternut squash and to (slightly) mix it up.
I added in cranberries, apples and sweet potato for the perfect soup that's as naturally sweet as it i healthy. I also roasted the soup and some pecans for the topping as well as used cinnamon, cloves, nutmeg, onion, salt and pepper for the simple flavors. The whole process took about 2 hours, rendering it manageable to create even the day of the feast.
Enjoy and Happy Holidays!
Cranberry Roasted Squash Soup with Toasted Pecans
Makes 8-10 cups
Ingredients:
4-6 cups of water
2 whole butternut squashes, cubed
1 yellow onion, chopped
1 can of whole cranberries (or 1 cup of fresh cranberries)
2 tablespoons of pre-chopped garlic
1 gala apple, peeled and cut up
drizzle of olive oil
2 sweet potatoes, peeled and cut up
1 tablespoon cloves – approximately
1 tablespoon cinnamon – approximately
1 tablespoon nutmeg – approximately
1/4 cup pecans
1 tablespoon of brown sugar
salt and pepper, to taste
Instructions:
Preheat oven to 350 degrees.
Cut up the butternut squashes and remove the seeds. Drizzle the squash with olive oil and coat with garlic and place on a backing sheet. Cover with foil and let bake for 45-1 hour (depending on the size of the squash).
While the squash is roasting, boil a pot of water (start with 4 cups – less is more with water and soup making). Cut up the garlic and onions and add them to the pot on a low flame. Add in the sweet potatoes and cover.
Use a rolling pin and smash the pecans and lightly coat them with the brown sugar. Let cook for 10 minutes.
When the squash is done, scoop it out and add it to the pot, along with the cranberry sauce. Peel and cut up the apples. Add in the cinnamon, cloves, nutmeg, salt and pepper. Cover and let cook for 30 minutes (you may need to add a small amount of water at this point). Remove the pecans and set aside.
When the soup is soft, add the mixture and blend until it reaches a smooth consistency. Serve and top with the pecans!
Enjoy.