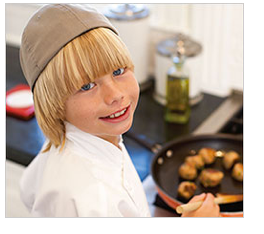 It's so fascinating how people deal with life-altering news.  Some  adopt a "woe is me attitude" and allow their whole world to crumble, resigning to the belief that there's nothing they can "do about it."  Others decide to take make the most out of their life, following the mantra "when life gives you lemons, use them to make lemonade."
With this in mind, I am so honored to share with you the personal story of Chef Jack and to highlight the Tasteful Selections™ Campaign to help find a cure for Leukemia and to help encourage kids to eat healthy.
Many of you might already know Chef Jack's story since it has been featured on multiple talk shows: The Tonight Show, The Bonnie Hunt Show, The Queen Latifa Show, Rachael Ray Show, as well as the Food Network's mini-series Rachael vs. Guy: Kid's Cook Off.
Check out this video:
Chef Jack is inspirational to say the least. He's a 13 year old chef who began cooking to benefit research at the age of 6, during recovery from Leukemia.  He was first diagnosed at 2-years old, and has relapsed twice since, but continues his passion of "cooking for the cause."    In this campaign, he will develop several recipes with Tasteful Selections specialty potatoes, and share his cooking instructions through videos.  Tasteful Selections™ will also feature these recipes on their website and promote his cause on social media.  Jack's goal, in addition to raising money and awareness, is to encourage kids to eat healthy.
If that's not impressive enough, Jack has also authored an award-winning cookbook, "Twist it Up" which features 60 of his favorite original recipes.  A portion of the cookbook's proceeds are donated to Jack's permanent endowment at Miller Children's Hospital in Long Beach, Cali and the Beckstrand Foundation where Jack is the pediatric spokesperson.
Tasteful Selections™ brand of potatoes is not only convenient because they are thin-skinned and pre-washed (no scrubbing!)  but also because of their "bite-sized" pieces which are very easy to handle and cook super fast.
Last week I made a delicious Crash Potatoes recipe with these baby potatoes and they were delicious. They're also an ideal selection for some homemade Mashed Potatoes as well.
Please click here to check out more information on Chef Jack and the Tasteful Selections™ Campaign.  You can easily help make a difference!
Disclaimer:  While I was NOT compensated for writing this post, I did receive a " Twist it Up" Cookbook (to try out the recipes with my own kids).  Additionally, a $100 donation was made in my name to Jack's permanent endowment at the Miller Children's Hospital.  All opinions expressed are, as always, my own.