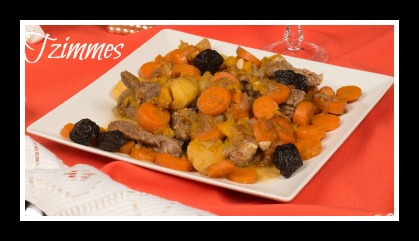 Today I'm sharing a family Passover recipe from the archives of Susan Weikers Balaban.  Susan, like me, is a native of Baltimore, Maryland and grew up in a loving family.  Her mother, who just celebrated her 100th birthday,  enjoyed entertaining at home (like mine!). No doubt some of Susan's cooking skills and creative table ideas came from holiday gatherings and parties at home. From her mother's influence, entertaining family and friends has become her passion. Susan now authors a blog called The Creative Table where she shares her ideas for creative table designs.
Susan has spent her life volunteering on behalf of the State of Israel and causes dear to her heart with a loving family at the forefront of her life.  Apparently I've just learned that I was her inspiration to embark on her blogging journey!  Most importantly, she was fortunate to have been dear lifelong friends with my beloved mother Judy…..
Susan is revealing her family's Tzimmes recipe for the holiday. For those unaware, Tzimmes is a sweet stew that is typically made from carrots and dried fruits (like prunes and raisins).  It's often combined with other root vegetables and chunks of meat creating a dish bursting with sweet and wonderful flavors– perfect for Rosh Hashanah, Passover or any other day of the year.
Hope you enjoy!
Tzimmes
Ingredients:
1 bunch carrots
4 Sweet Potatoes
1 Cup bite sized dates pitted
2 Tablespoons Butter
1 Tablespoon Brown Sugar
2 Tablespoons fresh squeezed lemon juice
1/4 cup maple syrup
1 Teaspoon cinnamon
1/4 cup orange juice
1/2 teaspoon salt
1/4 cup freshly chopped parley
Instructions:
Heat oven to 350 degrees
Cut carrots into 2 inch piece
Bring a saucepan of water to a boil and lower to medium heat
Add sweet potatoes in their skins and cook  for about 20 minute
Add the carrots the last 10 minutes. Drain and coo
Peel the sweet potatoes
Put carrots and potatoes in a large bowl
Melt the butter in a sauce pan – add the dates, brown sugar, maple syrup, orange juice and simmer for a few minutes just until the mixture is heated through
Add the remaining ingredients…  Mix well and transfer to a 2-3 quart baking dish
Cover with aluminum foil and bake for 30 minutes – uncover the last 10 minutes.  Serve immediately