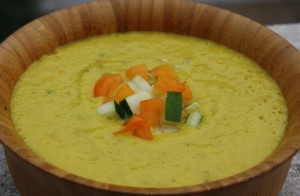 Today's post is from Serena, author of the celebrated blog, Seriously Soupy.   Since starting her blog, Serena has given soup tours and taught soup classes and has a catalog of over 100+ soups on the site!  You can join Serena on her Soupy journey at SeriouslySoupy.com and twice a month you can find her here, at My Judy the Foodie, sharing her wisdom and helping demystify the world of soup.
I asked Serena to share one of her refreshing chilled soups as spring is well underway and hopefully most people are setting their sites to summer's official kick-off: Memorial Day Weekend.
Here's what Serena has to say and share:
I love avocados – especially in smoothies, salads and as a simple side dish with some tomatoes, olive oil, salt and pepper. This heart healthy food is also a versatile base in many soups due to its creamy and rich texture. For this particular soup, I used avocados and cucumbers whose delicious flavors blend very nicely with dill, garlic, paprika, lemon and red chili peppers. So far this has been my favorite soup of Gazpacho Soup Month but we'll see if I change my mind next week when I make an all-melon gazpacho.
Enjoy!
Cucumber and Avocado Gazpacho
Ingredients:
2 cucumbers, cut up (with skins)
3 avocados, de-pitted and cut up
½ red onion, diced
½ green pepper, de-seeded and chopped
4 cloves of garlic, minced
2 orange heirloom tomatoes, cut up
¼ cup olive oil
½ fresh lemon
½ teaspoon of chili pepper
1 teaspoon of paprika
pinch of sea salt and pepper
bunch of fresh dill
Instructions:
Cut the avocados, cucumbers, red onion, green pepper, tomatoes and garlic into small pieces. Place them in a medium-size bowl and drizzle them with olive oil and lemon juice.
Add ingredients to a blender, along with the chili pepper, dill salt, pepper, and paprika. Puree until all the ingredients are completely blended together.
Taste and chill for about 2-3 hours. Top with some cut up cucumber and tomatoes and garnish with dill. Enjoy!