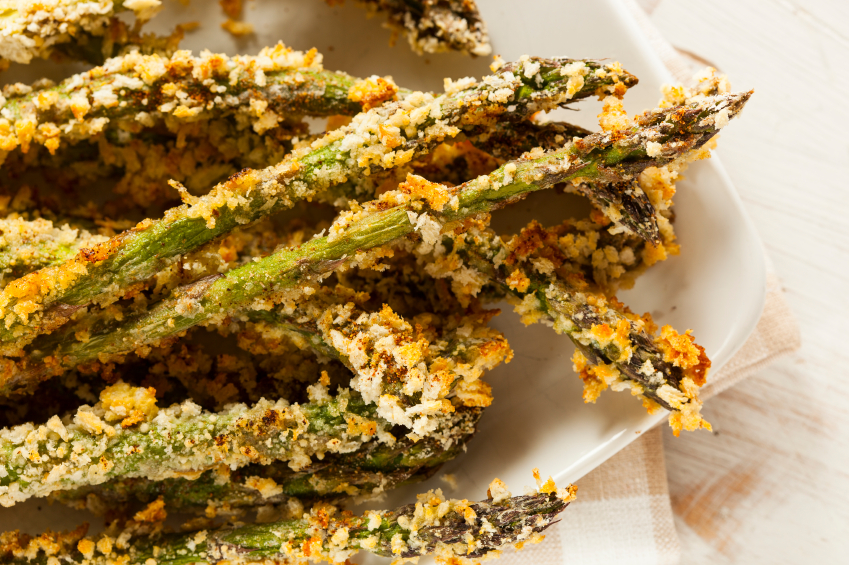 I'm trying out some simple veggie recipes because I find that during the summer months, we increase our vegetable intake two-fold. Last week was successful with the addition of the Cauli Tots to our mealtime repertoire. Last night we tried a new Asparagus recipe. Rich in B vitamins, vitamin C, calcium, and iron, asparagus is one of the first crops of spring harvest. And,  I also have the luxury of living next to some amazing farmer's markets and specialty stores that boast plenty of asparagus varieties, . The problem? Most of my experience with handling asparagus in the kitchen has been associated with cooking fails. I've either overcooked them and they were too limp or undercooked them and they were too hard. Because of this, my kids are more than reluctant to try anything new related to asparagus.
If there's one lesson I've learned in the kitchen over the past year it'swhen in doubt, bread it out. Translation: I haven't found a vegetable that didn't taste better coated and baked in olive oil, sea salt and breadcrumbs. And, don't fret, for those gluten-free, crushed Rice Chex mix can be substituted in place of the breadcrumbs.
The addition of the mayonnaise, Greek yogurt and Dijon mustard gives the asparagus tasty flavor that compliments the crunch of the breadcrumbs. These spears are ideal as a side to a main dish or even as an appetizer. And, if you find yourself by a grill this weekend, don't hesitate to throw these on, with a grill pad, and grill for 5-10 minutes.
note: picture shown is without the yogurt mixture.
Roasted Panko Asparagus
Ingredients:
2 tablespoons plain Greek yogurt
2 tablespoons mayonnaise
2 tablespoons Dijon mustard
1 tablespoon lemon juice
1/2 teaspoon kosher or sea salt
1/4 teaspoon ground pepper
1 cup panko
2 tablespoons olive oil
1 pound asparagus (2 bunches)
Instructions:
Preheat oven to 450 degrees F.  On top of plate, whisk together yogurt, mayonnaise, Dijon, lemon juice, salt and pepper.  Put breadcrumbs on another plate.
Grease a large, rimmed baking sheet or line it with parchment paper.  Roll asparagus in yogurt mixture to coat, then in breadcrumbs so spears are well-breaded. Transfer to the baking sheet.  You may cover and refrigerate asparagus for hours.
Drizzle asparagus with the olive oil. Roast asparagus turning halfway through, for 8-12 minutes, depending on thickness.  Spears should be golden brown and tender but still have bite.
Enjoy