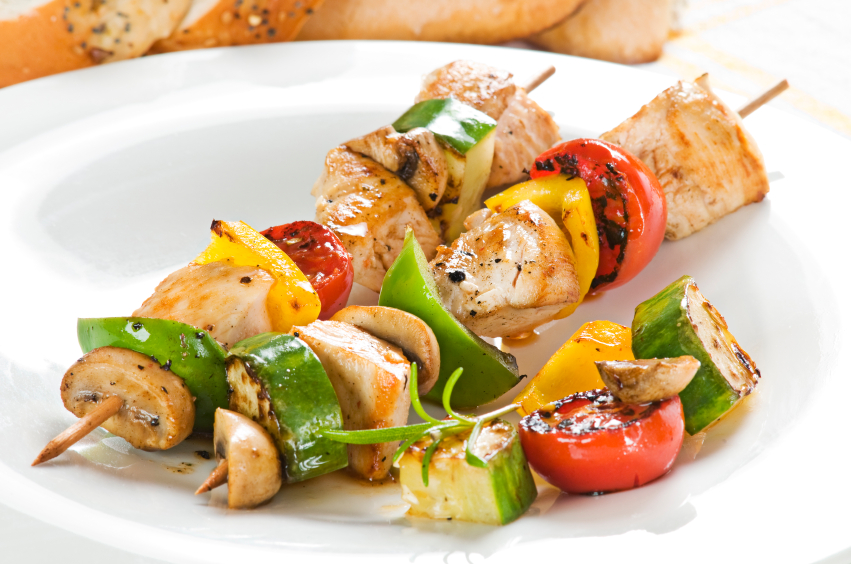 The staples to 4th of July are the fireworks and flags, but everyone knows it's actually all about the food. When most people think of a 4th of July cookout, they envision hot dogs and hamburgers, creamy potato salad and greasy chips– all delish, but not so great for your waistline.
However, doesn't it takes a lot of resolve to pass up the chips and ice cream for healthier choices such as veggies and fruit?
With the 4th of July right around the corner,  why not try to trim the fat a little bit?  Check out this tasty recipe for Lemon Scallion Chicken and Veggie Kabobs -from Jennifer Christman RD -that I sampled last weekend.
It's tasty and quite simple to make and it's the perfect main dish to any BBQ.  Just remember to make sure you thread the kebabs with enough space between the chicken and the vegetables so that they cook evenly.
Enjoy.
Lemon Scallion Chicken & Vegetable Kabobs
from Jennifer Christman RD
Yields: 3 servings
Ingredients:
24 oz raw, boneless, skinless chicken breast (should yield three 6-oz cooked servings)
2 cups (2 small) summer squash*
2 cups (18 medium) mushrooms, quartered
1-1/2 cups (1 small-medium) zucchini*
1 cup (8 medium) cherry tomatoes
*Half lengthwise, then cut into 1″ chunks
Lemon scallion sauce:
3/4 cup (4-6) scallions, chopped
1 Tbsp olive oil
1/2 tsp salt or salt substitute
6 Tbsp fresh lemon juice
1 Tbsp hot red pepper sauce
1/4 tsp freshly ground black pepper
Instructions:
In small bowl, combine scallion sauce; set aside. (You may wish to reserve part of this sauce for finished kabobs.)
Preheat grill to medium heat.
Thread kabobs with chicken, zucchini, squash, mushrooms, and tomatoes.
Brush kabobs before and during cooking with sauce.
Grill kabobs 10 minutes, turning once, until cooked through.