It's Seriously Soup day today, featuring one of my favorite bloggers, Serena, author of the blog Seriously Soupy.  Serena started Seriously Soupy as a creative outlet for herself after her first daughter was born, which combined her passion for cooking with an interest in learning more about soups and soup making.  Since it started, she has given soup tours and taught soup classes and has a catalog of over 100 soups on the site!  You can join Serena on her Soupy journey at SeriouslySoupy.com and twice a month you can find her here, at My Judy the Foodie, sharing her wisdom and helping demystify the world of soup.
Here's what Serena has to say:
The heat in NYC has made the whole soup-making thing quite difficult (to say the least). Of course there are chilled soups, but making anything in general has not been favorable, especially when there is ice cream! However, there was a bit of a relief today (with temps in the upper 80s), and thanks to the farmers market I was inspired to break a sweat and make a soup.
I found these gorgeous tomatoes — a mixture of orange, heirloom and green — and decided to use them as a base, along with homemade pesto.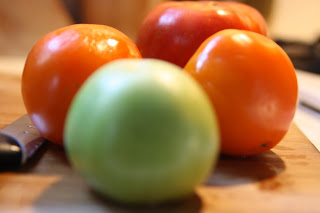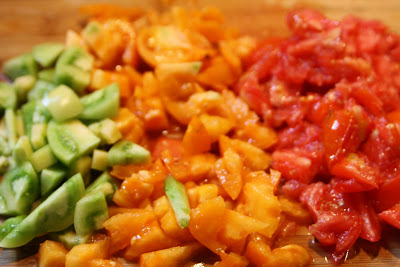 But, I must warn die-hard pesto lovers: my pesto isn't 100% authentic — more of a variation used to compliant the soup. This light summer soup was so easy to make, leaving less time to sweat and more time to enjoy this delicious basil and tomato soupy.
Let me know what you think and I'm hoping to try a chilled number next week. Stay cool!
Tomato Pesto Soup
Ingredients:
For Soup
4 cups of water- approximately
4 tomatoes – mixed blend
bunch of fresh basil
bunch of fresh sage
pinch of salt
pinch of pepper
For Pesto
1/4 cup of pine nuts
bunch of fresh basil — approximately a handful
2-3 tablespoons of olive oil
2 tablespoons of Parmesan cheese
1 tablespoon of lemon juice
pinch of pepper
pinch of salt
Instructions:
Start by boiling water into a medium-sized pot.
Dice tomatoes and place them into the boiling water, along with the fresh basil, sage, and salt. Cover the pot and start making the pesto.
Mash the pine nuts. I used a rolling pin, but you can also use a sturdy can or grind them in a blender.
Chop up the basil (very fine) and place it in a bowl, along with the pine nuts olive oil, basil, lemon, salt and pepper. Place the pesto mixture into a blender until the mash is semi-liquefied — (the grind setting did this nicely!). There will be some chunks, if that bothers you continue to blend.
Add the pesto to soup and cover. Let cook for 15 more minutes, tasting the soup along the way. I ended up adding another cup of water.
Turn off the flame and enjoy!