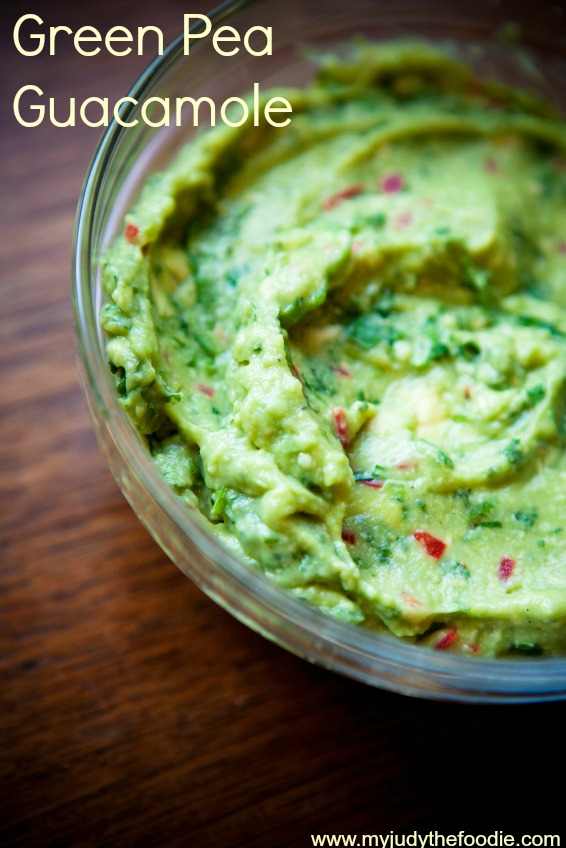 Is there anything better than freshly-made guacamole in the summertime?
I'm talking ripe avocados with some onions, cilantro, tomatoes and hot sauce.
I now make fresh guacamole every single weekend and still can't believe how much money I'm saving by not purchasing those over-priced tubs from the grocery.
I'm hoping you've seen my video on how to make quacamole?
If not, watch here, it's way too easy:
Last week I was making dinner with a friend and we decided to shake up our traditional guacamole routine and add sweet peas to the base.  I've gained much more confidence in the kitchen and have allowed myself to experiment with some of my staple recipes to anticipate new (and improved) outcomes.
Now, you may be thinking that adding peas to guacamole isn't that big of a deal but, for someone who had never even cut open an avocado two years ago, it's a huge leap.
For the Green Pea Guacamole, the new outcome was a beautifully vibrant green dish. Thankfully, the addition of the green peas rendered a nice sweet compliment to the warm flavor to the avocado.   That lace of sweetness will make you raise your eyebrow and say, "Aha, this is good."
Add in some coarse sea salt and serve it with blue corn chips and you're all set for a wonderful snack or appetizer to any dish.
Walk into a party with Green Pea Guacamole and you'll definitely get the attention you deserve!
Enjoy!
Green Pea Guacamole
adapted from the Latin Kitchen
Ingredients:
1 cup cooked sweet green peas
2 -3 ripe avocados
1 lime, juiced
3 tablespoons minced white onion
2 tablespoons packed cilantro, chopped
1 teaspoon sea salt
hot sauce
Instructions:
In a bowl or mocajete, mash sweet green peas (with a fork or a pestle) until a creamy, chunky mixture forms.
Add sliced avocados pieces to bowl and mash into green peas until thoroughly combined.
Top with lime juice, onion, cilantro, and sea salt. Stir to combine.
Drizzle in hot sauce to taste.