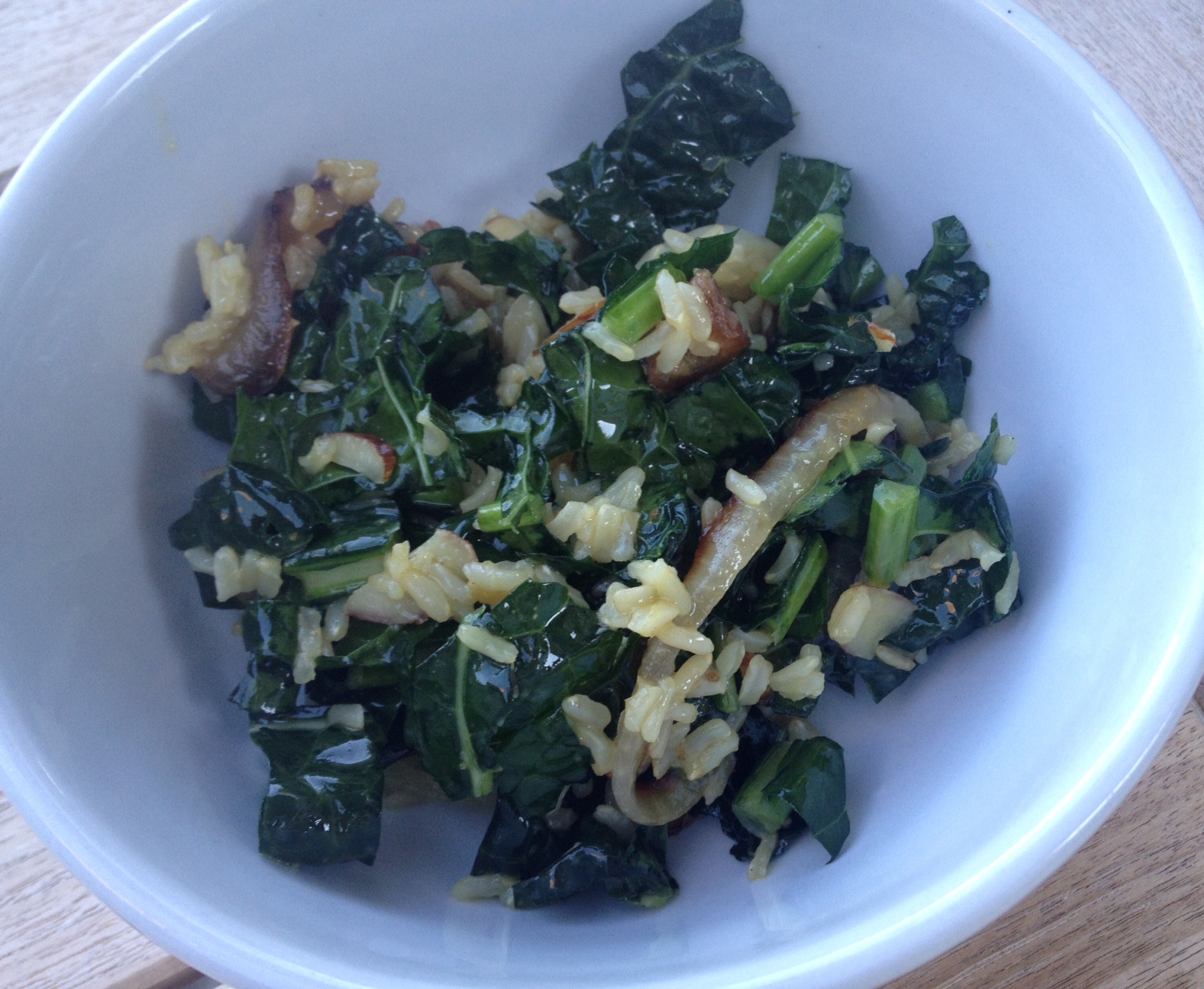 Your meals for summertime should hopefully reflect the season: light and airy, bursting with JOY and supreme flavor.
Or, at least that was my goal this summer for my meals. And, so far, I've stuck to that mantra. Since I have been cooking for one these past few weeks while my kids are off at camp, I've been trying to make dishes are equally tasty for lunch and dinner and can be served as left overs the next day.
Last summer, we fell in love with the Kale Salad with Ricotta and Plums. I think I served it at least once a week.
Yesterday I picked a bunch of ready-to-eat lacinto kale from my garden(!!) and I immediately wanted to make a fresh salad. I've only cooked with curly kale so I was thrilled to try a new variety. You might know Lacinto kale by its other monikers at your local farm stands and stores: dino kale, black kale, or cavolo nero. Like all other varieties, it's an incredibly hearty cooking green with dark with a recognizable nutty flavor but, it also boasts myriad health benefits too; it's rich in many vitamins: Vitamin A, vitamin B-6, β-carotene, lutein and zea-xanthin and on and on.
I found a Kale and Quinoa recipe over at my fave food blog: The Kitchn. I loved everything about- the incorporation of dates and almonds drizzled with a light and tangy citrus dressing. While I didn't have any red quinoa on hand, I knew that brown rice could be a decent substitute.
Oh my.
The combination of the sweet caramelized onions and the sweet dates juxtaposed with crunch of the slivered almonds is like the perfect storm. Add in some kale and rice and it's perfection.
But, it's not over. The citrus dressing is quite unique due to the combination of the Clementine (or mandarin) juice and the maple syrup.
I'm thrilled that I have another easy salad to add to our summer rotation. And, surprisingly, it tasted just as good for left overs on day two.
So, what are you waiting for? Get your kale on and try it.
Happy summer.
Kale Salad & Brown Rice w/ Dates, Almonds and Citrus Dressing
adapted from The Kitchn
serves 6
Ingredients:
For the salad and toppings:
1 tablespoon olive oil
1 large onion, diced
Salt
1 cup uncooked brown rice
1 bunch lacinto kale
1/2 heaping cup whole pitted dates
1/2 cup slivered, blanched almonds
for the dressing:
1 clementine or mandarin orange, juiced
1/2 lime, juiced
2 tablespoons maple syrup
1/4 cup extra-virgin olive oil
salt and pepper to taste
Instructions:
Heat the olive oil in a wide saute pan over medium heat.  Add the onion and sprinkle lightly with salt.  Cook, stirring occasionally until the onion has darkened to a toasty brown and smells caramelized– about 20 minutes.  Remove from the heat and set aside.
Cook rice in medium saucepan according to instructions on container.
Slice off bottoms of kale stems, then slice the rest of the bunch in fine ribbons.  Wash thoroughly and spread on a towel to dry.
Slice dates into quarters.
Make the dressing:  whisk the juices together (you should have about 1/4 cup total of juice, or a little less)  Whisk in the maple syrup and olive oil.  The dressing will be emulsified but still thin.
Assemble the salad: Toss the kale with all of the still-warm rice and the caramelized onions.  Toss with the dressing and taste.  Then toss with the dates and almonds.  Add salt and pepper to taste.
Enjoy.