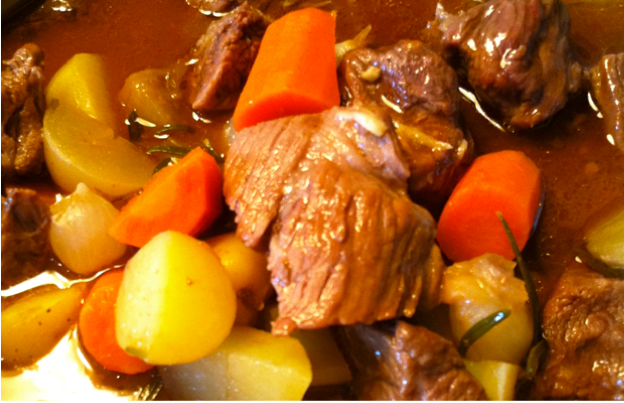 There's a little chill in the air.  It's the kind that makes you want to lay around on a lazy Sunday afternoon.  While I can't imagine having a lazy afternoon until my kids are in college, the next best thing would be to slow cook, or to make a big pot of nourishing soup– the ultimate comfort food.
Last week my daughter and I make some very tasty Butternut Squash Soup.  She was surprised to find that something so easy to make can taste so good.  So, we're on a soup roll. In fact, another soup was requested to appear somewhere on this week's dinner rotation.  Thankfully, I reached out to a resident NYC foodie, Gloria Kobrin, for her tasty Beef Stew recipe.
Gloria is a mother of two and a grandmother of two.  She has cooked her whole life for groups ranging from four to 100. Gloria specializes in creating deliciousgourmet food that is approachable to the home cook and that also happens to be Kosher. Gloria is the author of the Kosher Cookbook App for iPhone and iPad  and has just  launched her new website: www.kosherbygloria.com.
Gloria shares her recipes and cooking tips on her Kosher Cookbook page on Facebook:  http://www.facebook.com/KosherCookbookApp, on Twitter.com/Koshercookbook as well as on Instagram and on Pinterest.
Hope you enjoy this hearty recipe!
Beef Stew:
Yield:
10 Servings
Cook time:
2 hrs 30 mins
Ingredients:
4 Pounds Chuck Meat cut into one inch cubes
Flour for dredging
Black Pepper
1 Pound Carrots (not baby) peeled & cut into one inch logs
4 Large Celery Stalks washed & cut into 1/2 inch slices
1 Pound Frozen Pearl Onions defrosted
24 Ounces New Potatoes (red, yellow & purple are pretty) washed & halved/quartered
2 11-12 ounce Bottles of Beer
2 Large Branches Rosemary
2 Tablespoons Tomato Paste
1/2 Cup Fresh Parsley rinsed and minced
Equipment
Large Roasting Pan
Dutch Oven
Instructions:
Preheat oven to: 400˚ F.
Trim any extra fat from beef cubes. Rinse beef and pat dry. Grate black pepper over beef cubes and then dredge them in flour. Shake off excess flour and arrange beef in a single layer in roasting pan. Place in preheated oven and roast 15 min. Shake pan to flip pieces around. Sprinkle with a little more flour and roast another 10 minutes. Spoon beef cubes and resulting liquid into dutch oven. Pour beer over beef. Add enough water (if necessary) to cover. Add rosemary and tomato paste. Stir well. Bring mixture to a boil and then reduce to a simmer. Simmer for 90- 120 minutes until beef is tender. Add carrots, celery, onions and potatoes. Simmer 45-60 minutes more until vegetables are cooked and beef can be cut with the back of a wooden spoon. Sprinkle with ½ cup minced fresh parsley. Serve hot with a green salad.
Note: The gravy thickens on its own because of the dredged beef. If you prefer an even thicker gravy, remove a cup of gravy and mix it vigorously with three tablespoons flour so that there are no lumps and add that back into the pot. Stir again and serve hot.