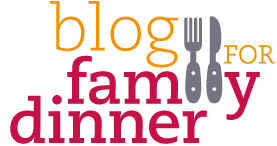 Yesterday I attended the Family Dinner Conference at NYU hosted by Blog for Family Dinner dedicated to creating a community of people who care about food, family, health and the environment and who believe that family dinner is a powerful force for good.  Blog for Family Dinner is a collaborative project between the blogs: Dinner Together, Eat Dinner, and Time at the Table.
I had written a Mother's Day piece  for Blog for Family Dinner almost two years ago and have followed them ever since I decided to take on my own crusade towards retooling family mealtime in my own home while launching this blog.
Needless to say, yesterday was full of compelling, thought-provoking conversation and presentations (mostly from moms) all focused on ways we can produce a dinnertime"sanctuary" or "oasis" for our families.
From minutia like menu-planing tips and recipe suggestions, to broad-based topics like understanding food behaviors and promoting healthy attitudes towards eating, there wasn't one (meal)stone left unturned.
And, throughout the day, I couldn't help but internally smile and think to myself, "yes, I've come a long way.  I've finally created and preserved a coveted time in the day where my family shares a nourishing meal together and takes the opportunity to connect on every level."
I kept referencing the post I wrote when I first launched this blog.  While writing it I remember feeling like I was drafting a proclamation of sorts- a personal contract- to help me stay focused to my dinnertime goals.  Now almost two years later, I've gained the cooking confidence and continue to embrace the motivation that keeps those home-cooked meals coming to our kitchen table…..and you can too.
One of the most important (but not surprising) take-aways from yesterday's conference came from a research survey: LAUGHTER is the key element in determining a high-quality meal….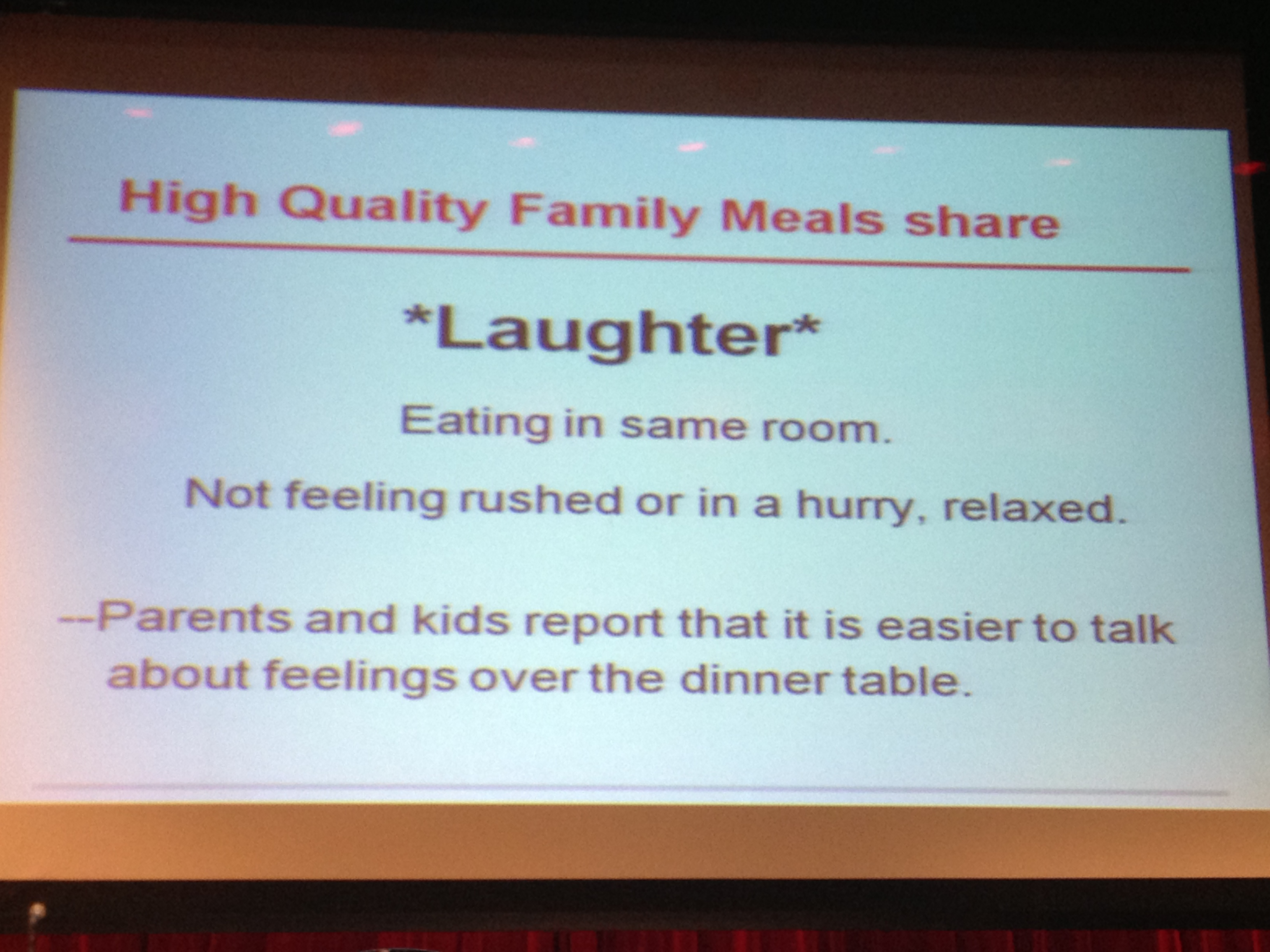 My blog post from Sept. 2011:
For me, after a long harried day at work, the quickest remedy to meal prep was: ripping open a box of nuggets, coupling them with portion-sized packets of apple sauces, and sprinkling a couple of mini carrots on the plate.
Voila, a quick-and-easy dinner was born!
I never once thought how simple it could be to take out frozen chicken breasts in the early morning to defrost for dinner.  I never considered how easy and flavorful it could be to create a sauce simply by using every day items found right in my own refrigerator.  I guess I never had the confidence nor the patience to even think past the "rip here" instructions on the chicken nugget packaging.
But, there's always room for a renaissance of sorts.  So,  I decided to actually plan the weekly meals to be cooked in my kitchen so that they can be served FRESH to my kids.  If my Mom was able to do it while working a 50+ hour week job, than I have absolutely no excuses.  I am not ashamed to admit that I now have a new meal prep cheat sheet. For only $12.00 I purchased a pad of paper entitled, "What to Eat." It helps me focus on each meal I anticipate serving during the week.  In turn, my random trips to the market have decreased.  I usually have one big market run to purchase all of the necessary ingredients for the upcoming meals.
I now realize my children were way too accustomed to my frozen reheats at dinnertime.  The opportunity to watch and help me cook has whet their appetites well before dinner is even served.  They feel more invested in the meal and now never pass up the chance to at least try what they've helped create.  A new family chicken dish favorite, besides Judy's Garlic Chicken  (which takes many more ingredients and a much longer prep time), is a nice and easy Lemon-Honey Grilled Chicken.  With only a few ingredients required, all of which can be found in any stocked fridge, we created an awesome sauce in under 15 minutes.  And, for those living in the burbs, this dish tastes awesome on a fired up grill too!
I'm already setting my sights to next week's dinner selections.  How can I vary the meals and most importantly, the dreaded vegetables?  What can I find that doesn't require tons of prep time?  What's appealing to my kids AND my husband?  What can withstand two dinner servings, one for the kids at 5:45pm and one for my husband when he saunters in the door at 9pm?
I've learned that setting aside time to map out my meals for the family actually decreases many of my cooking inhibitions.  If I don't wait until the last minute I'm more inclined to experiment with new meals, sauces, sides and desserts.
Oh, and not having a freezer stocked full of frozen chicken nuggets helps motivate me too.
Honey-Lemon Chicken (adapted from Jake Pavelka)

Ingredients:
Juice and zest from 2 lemons (add a third lemon for a more citrus taste)
1/3 cup olive oil
1 teaspoon oregano
1 tablespoon of Dijon mustard
2 tablespoons of honey
1/2 cup finely chopped white onion
1 garlic clove smashed
1/2 teaspoon salt
1/2 teaspoon black pepper
4 skinless, boneless chicken breast halves or approximately 2 pounds of meat
Instructions:
In a small bowl, mix together lemon juice, lemon zest, olive oil, oregano, Dijon mustard, honey, garlic, onion, salt and pepper.
Set aside 1/4 cup of the mixture for basting while grilling or sauteing.  Place chicken in a bowl and marinate at least 30 minutes in the refrigerator.
Cook chicken over skillet or grill for 6-8 minutes on each side until juices run clear.  Use extra sauce to basted on top of meat.
Enjoy!