When Krusteaz approached me to help them promote the notion of breakfast for dinner, I didn't bat an eye!  OF COURSE.
For the past few years we a tradition on Wednesday nights: Breakfast-for-Dinner Night.  Everyone in my family loves it for different reasons.  While I thought I was so original with my idea, Krusteaz found that 90% of Americans say the eat breakfast for dinner with more than half of the respondents enjoying a breakfast night dinner once a month or more!  30% even make Breakfast for Dinner a weekly occurrence and 67% of them said breakfast night is either very enjoyable or their "absolute favorite."
I personally find that there's MUCH less stress putting together a "breakfast" for dinner than there is preparing the customary dinner of a main dish and two sides.  Translated– I don't have to worry about a vegetable!  And, preparing a breakfast-themed dinner cuts down half the prep time.  My kids love it because who wouldn't want to have the familiarity of pancakes and bacon or omelettes and bagels more than once a day?!!
The best part? It doesn't have to be fancy, it's just FUN.  When you're guaranteed to have everyone at your table enjoy the same meal, mealtime is blissful.
To aid in my latest Breakfast Night endeavors, I received an amazing gift pack from Krusteaz: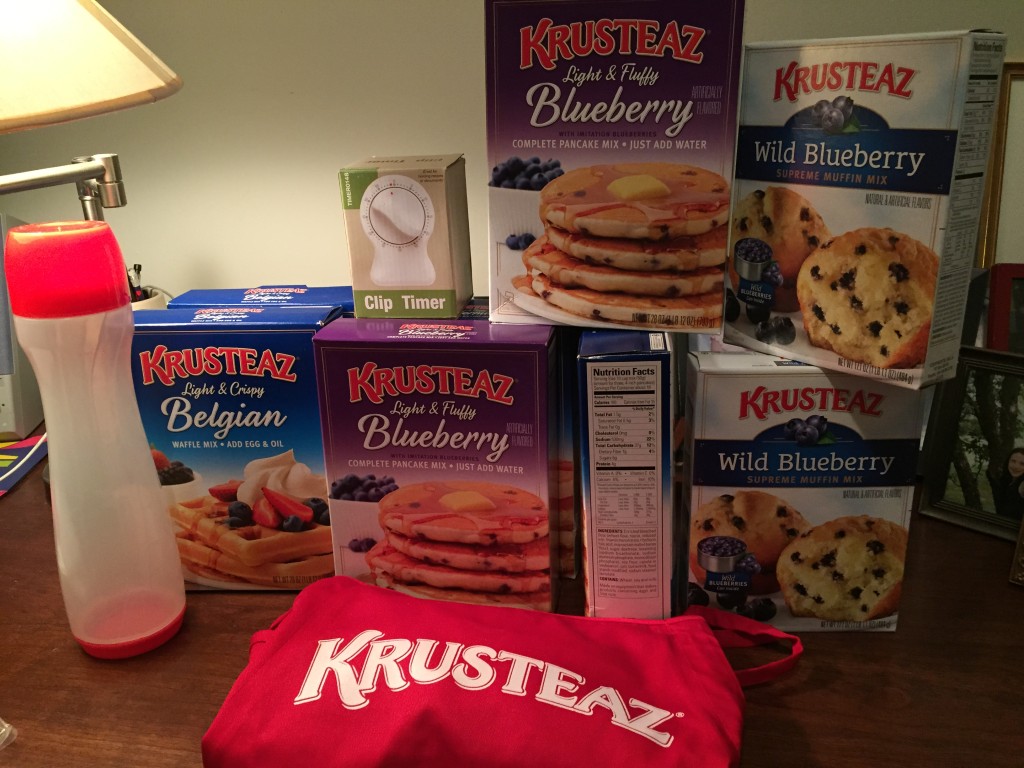 Armed with these mixes, we created our Breakfast for Dinner meals.
Fun Breakfast Night Recipes:
Waffle/Pancake w/fixings bar
Usually I make a version of waffles and or pancakes and, to jazz up the meal,  I create a fixings bar to allow my kids to customize the waffles/pancakes however the want.  They've been able to add everything from bananas, strawberries, blueberries, to chocolate chips, marshmallows and shredded coconut, to peanut butter, chocolate sauce or honey or cinnamon and sugar.
Pancake Sandwich
We also like creating our own version of an egg sandwich using two 4-inch Buttermilk Pancakes as our pieces of "bread".  Inside we'll either add a small 2-egg omelette or scrambled eggs, and also some bacon or sausage and a dab of hot sauce!
Egg-in-a-Pancake Hole
If you want to get super creative, you can make your own version of Egg-in-a-Hole.
Simply melt a pat of butter in a small skillet, take a large pancake (6-8″) and cut out a circle in the middle. Then place the pancake on the skillet with melted butter.  Crack an egg in the hole  of the pancake and let it cook for 1-2 minutes before you flip it to the other side.  When the egg has hardened a bit, take the pancake off the stove and ENJOY.  You can also add syrup and/or melted butter and other topping as well.
So, are you convinced yet?  Try Breakfast-for-Dinner for your family and see for yourself.
Do you need help getting started?
You can enter to win your own Breakfast Night gift Pack!