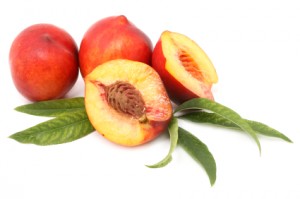 My 6-year old son just acquired a taste for peaches.  Up until now, I'm fairly certain he was freaked by their fuzzy skin.  However, with our frequent fruit purchases at the Green Thumb, our local organic farm stand, he's warmed up to them. His peachy turning point was last week. My daughter and I were cutting all sorts of fresh summer fruits to put into our White Wine Sangria.  Thinking he was grabbing some apple chunks, he popped a pile of fruit into his mouth only to be pleasantly surprised that in fact, he had just eaten some deliciously ripe local white peaches.   Now, he can't get enough of this "furry fruit".
To celebrate this wonderfully flavorful summer fruit,  this week's Friday-Food-Frenzy is all about peaches.  We've got two Judy recipes that are sure to make your mouth water.  One recipe is so easy and perfect for summer grilling (remember, if I can do it, anyone can). The other peach recipe has a little "zing" to it.  Plus, I had so many Ball jars laying around from my Strawberry Jam adventure that I had to put them to more good use!
Whatever your preference, neither will disappoint.
Grilled Peaches with Whipped Cream
Ingredients:
Instructions:
Wash the peaches and rub off the fuzz but do not peel.
Cut peaches in half and remove the pits.
Melt butter on stove top and lightly brush peaches.
Combine remaining melted butter with brown sugar and balsamic vinegar and set aside.
Place peaches on grill fruit side down and grill over medium heat for 3-4 minutes or until fruit side is grill-marked and golden brown.
Turn peaches and spoon some of the sugar/butter/vinegar mixture into each peach cavity and grill face up for 1 minute.
Add a nice heaping portion of cool whip cream and enjoy! (garnish with mint).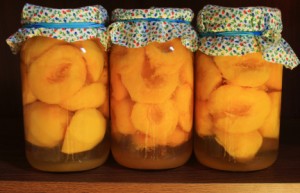 Brandied Peaches  (partially adapted from Food & Wine)
Ingredients:
3 cups sugar
1 quart water
8lbs. peaches
1-3 tablespoons of Cognac or brandy
Instructions:
Bring a large pot of water to a boil. Add the peaches and boil  until the skins loosen – approximately 30 seconds.  Then transfer to a baking sheet and let cool.
Peel the peaches, then halve and pit them.
In a large saucepan, combine the 3 cups of water and sugar and bring to a boil over high heat, stirring to dissolve the sugar. Boil the syrup until slightly reduced to 4 cups, about 5 minutes. Add the peaches to the syrup and bring to a boil.
Using a slotted spoon, transfer the peaches to 4 hot 1-quart canning jars. Add the brandy to the syrup and bring to a boil. Ladle the hot brandy syrup over the peaches and close the jars tightly with the lids and rings. Let cool to room temperature.
For best results,  refrigerate for up to one week before serving. Store unopened jars in the refrigerator for up to 3 months.  If frozen, will keep for up to 1 year.
Do you have any great plain-and-simple recipes with peaches? Share them with us.