Last Spring we took a family trip to Paris.  Besides falling in love with the splendor and beauty that often defines the city of lights, my daughter also fell in love with Nutella.  Wherever we went, she'd seek out a creperie or a crepe cart on the street to order up a hot crepe, overflowing with Nutella – sometimes bananas and strawberries were mixed in too. Although Nutella tastes very chocolate-y and looks like chocolate, it's not chocolate!  It's actually a hazelnut spread.  I couldn't wait to support her seemingly healthy Nutella habit back in the U.S. I marched right into the grocery store and purchased some jars of Nutella.  After all, we had a new food item to add into her meal rotations.  I wasn't focused on the actual ingredients.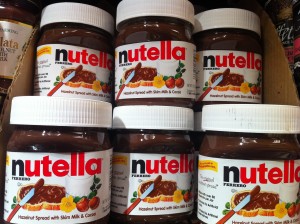 It wasn't until I was watching television the other night, 7 months after my daughter embarked on her Nutella journey, that I learned Nutella is actually LOADED with sugar.  I guess I could've just looked at the back label. That would've saved me a few hundred Challah-and-Nutella sandwiches.  I was a bit concerned.
Now, I am not going to pretend to be Laura Ingall's Wilder.  My house is certainly not pure.  I don't make my own playdoh from flour, nor do I press my fruits every morning to make juice and I've never chopped cucumbers to create the perfect eye cream paste.  However, I am becoming more aware of what I'm putting in my kids' bodies.  I still don't read every label but, when something so grossly out of balance, like the sugar content in my daughter's 10 heaping spoonfuls of Nutella every morning, I am starting to feel like it's my duty to try to come up with a healthier alternative.
It's funny, my knee-jerk reaction to the Nutella sugar content has absolutely nothing to do with the method in which my mom cooked.  In fact, she never substituted any of her ingredients to offer up a healthier alternative.  What's changed is simply my awareness.  Now that I'm cooking more and strategically shopping for the ingredients for our meals, I'm actually paying attention to what's getting used in the dishes.   Before, I'd mindlessly ripe open a box for a quick-and-easy meal solution.
I had a great idea. Why not try to make Nutella from scratch to try to reduce the sugar content? Typically there are only 3 ingredients in the recipe.  It couldn't take too much prep time.  So, I set out on a mission to create homemade Nutella and use my 9-year old as my guinea pig.  My daughter told me it was ok.  She didn't want me to go through too much trouble.  The Nutella she eats tastes just fine.  I told her it isn't the taste about which I'm concerned, it's the sugar content.  My goal was to produce my version of Nutella, with much less sugar, without sacrificing the flavor.
I found a recipe on a site I now frequent often, Real Food Digest(natural eating in a processed world).  My prayers were answered.  A Quick Homemade Nutella recipe with JUST THREE INGREDIENTS.
I only needed to purchase Almond Butter as I had the other two ingredients.
First homemade batch of the Nutella: I mistakenly used crunchy almond butter.  According to my kids, the first bite was good but, then it tasted too nutty and there wasn't enough chocolate flavor.
Back to the store for creamy almond butter.
Second homemade batch of Nutella: was a lot tastier, a little less nutty but still, not creamy enough (even though I added Coconut Oil to the mixture to try to change the consistency).
Third homemade batch: I went out on a limb, closer to that of Laura Ingall's Wilder.  I decided I'd make my own hazelnut butter.  I'd roast some hazelnuts in the oven for 10 minutes at 400 degrees and then grind them in the food processor until they formed a paste (don't be too impressed, I didn't dream this up, I followed instructions I found).  I also added in a bit more maple syrup.  Jackpot. Round three was almost right on the money. Smooth and creamy, a little sweeter tasting than the first two rounds.  It even looked more like Nutella.  Using the hazelnut butter instead of the almond butter made all the difference and diluted the spread's nutty taste to enhance the chocolate flavor from the cocoa.
I'm thrilled I made the effort to go natural with Nutella.
It's so easy, there's really no reason we shouldn't try and make these small changes.
Does this mean we're going to sanitize our kitchen and pantry of any sign of potentially processed food?  Realistically, no.
But, as a family, we're going to be more aware and make our own attempts at healthy eating. And that feels great!
Do you make your own foods from scratch at home to avoid processed alternatives?  When you shop, are you reading labels to determine which items to purchase?
Homemade Nutella (Dairy-Free) (adapted from Real Food Digest)
Ingredients:
1/2 cup hazelnut butter or almond butter
2 tablespoons unsweetened cocoa powder
2 tablespoons raw honey or maple syrup (I used maple syrup)
Instructions:
Place hazelnut butter* or almond butter in a shallow bowl.
Add cocoa powder and mix it into the but butter with a fork.
Mix in honey or maple syrup. If mixture needs to be thinned, add coconut oil that's been warmed to liquid consistency.
Enjoy!
* To make hazelnut butter, toast hazelnuts on a cookie sheet for 10 minutes at 400 degrees.  Add to a food processor and process into a paste.