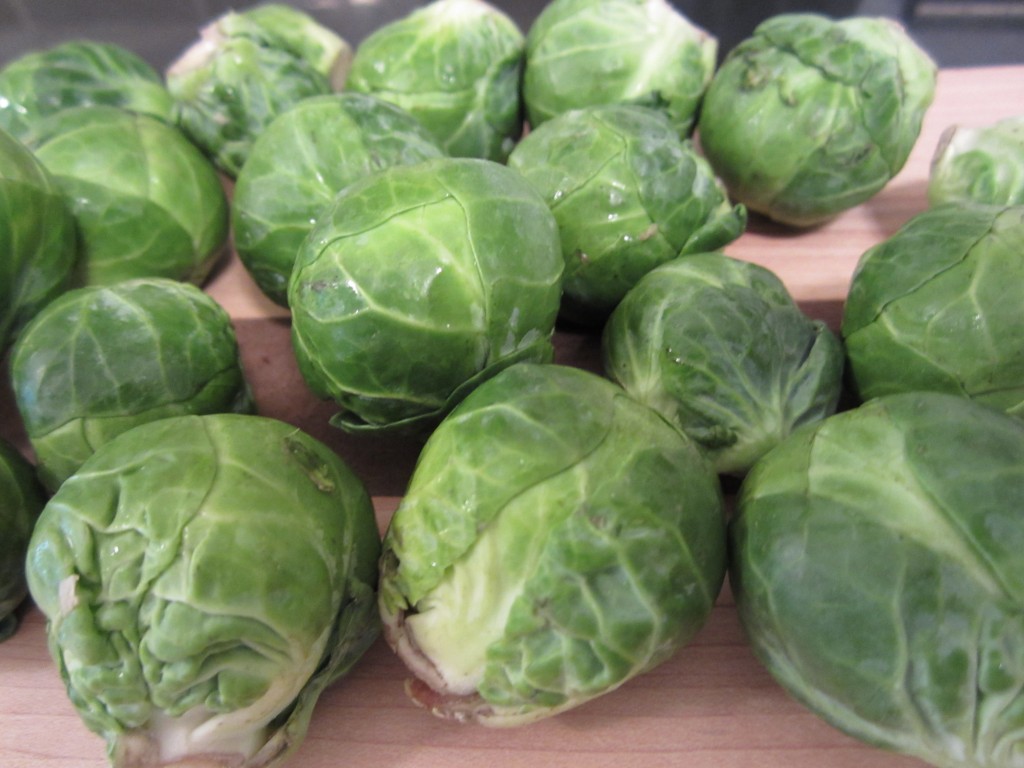 Do you know any children who willingly eat Brussels Sprouts?
I have no recollection of my mom even handling these vegetables when I was young.  However, by reputation, they were automatically placed way, way, way down on the bottom of my "Do Not Eat" list, right behind spinach.  But, even Popeye eventually got me to try spinach.
Unfortunately, I would go almost 40 years without ever having tried Brussels Sprouts (or even spell it correctly)–until last summer.  I was out at a restaurant and by complete accident, I ate one sprout that happened to find its way in a pile of broccoli on my plate.  Lucky for me, that sprout was accompanied by a nice greasy chunk of bacon.  From that moment on, I have been ordering Brussels Sprouts as a side whenever I can.  Brussels with shaved parmesan. Baked Brussels with olive oil and sea salt. Brussels with maple syrup and bacon. You name it, I'll eat it.
Next step: to make Brussels Sprouts in my home, for my family, and have them like them. That was intimidating. My kids had already attempted to try them once over the summer and they've been jaded by their peers at school ever since.  They eat school-provided lunches every day.  Brussels Sprouts have definitely been on the menu but, my children were petrified to try them because they heard they literally "stink", they're "bitter" and they cause major flatulance (you know I'm sparing you the real words they used).  My daughter simply didn't want to risk passing gas in class.
Ugh, I knew this would be an uphill battle. Brussels Sprouts were our vegetable villain.
I needed to treat this green enemy with kid gloves.  I went to my local Whole Foods and queried one of the employees about the Brussels Sprouts.  I've found that without fail, the employees are very knowledgeable in the produce section.  I learned that fresh Brussels Sprouts should be displayed chilled. If they are kept at room temperature, their leaves will turn yellow quickly. Yellow or wilted leaves are signs of age or mishandling. Old sprouts also have a strong, cabbage-like odor. It is best to choose sprouts individually from bulk displays rather than pint or quart tubs.  With the salesperson's help, I chose small, firm, compact sprouts with unblemished leaves. They were all roughly the same size so they would cook more evenly.  I also got a free cooking tip: cut the sprouts in halves or quarters before cooking to preserve their flavor and color.  OK!
Next step: to find an easy throw-together-before-dinner Brussels Sprouts recipe that adds additional flavors to help mollify the potential cabbage taste.  That was easy.  I know my daughter loves the sticky sweetness of maple syrup and my son could eat bacon every day of his life.  The compromise, Brussels Sprouts with Bacon and Maple Syrup.  The recipe requires just a few minutes of preparation and I only needed one additional ingredient – first cut bacon.
I will admit, out of sheer laziness, I wanted to use the pathetically thin Applegate Farms No Nitrate Sunday Bacon I already had stored in the fridge but, I knew that would be doing the recipe a disservice.  Instead, I purchased my first-ever package of the thickest slabs of  fatty, applewood smoked center cut bacon I have ever seen.  If I wanted to win my son over, I needed to use the real deal.
No less than 10 minutes later the bacon and butter and shallots were sizzling on my stove top creating flavorful pungent aromas I knew would absorb any potential bitter cabbage smell.
I added the Brussels Sprouts and not long after they glistened like emeralds in the saute pan.  Just when they were the perfect color, and coincidentally right when my daughter walked into the kitchen, I poured  some warmed Vermont Maple Syrup on top of the veggies.
"Ooh, what's that?" she said, curious.
"It's Brussels Sprouts made a very special way with bacon and maple syrup,"  I said with a twinge of excitement.
"Oh,"  my daughter mumbled, sounding a little deflated.
I'm a sneak.  I knew these veggies needed to bask in the halo effect from one of their favorite main dishes.  So, alongside turkey meatballs and angel hair pasta, the Brussels were served.  As expected, the bacon caught my son's eye and the maple syrup enticed my daughter.  Both hesitantly tried the veggies without a fight.
And, go figure, I received one and a half thumbs up!  And, later that week, guess what was served on the menu at school?  Brussels Sprouts.
I'm not sure what made me happier, hearing that my kids actually tried them at school or that my version tasted better.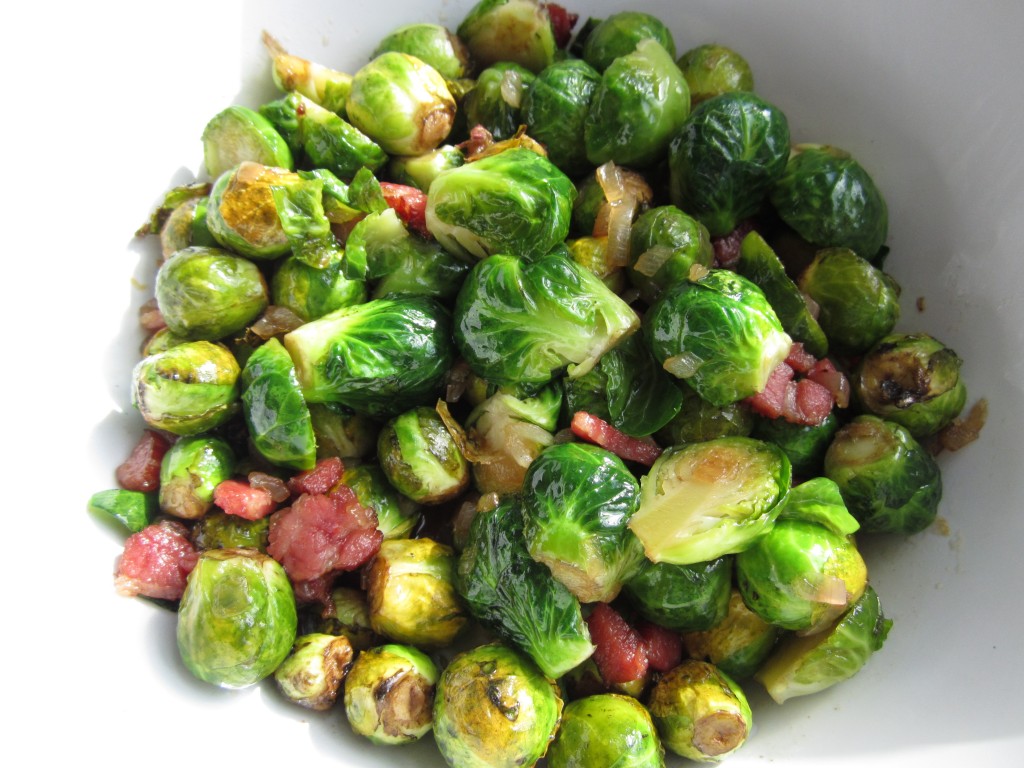 The Final Batch
Brussels Sprouts with Bacon and Maple Syrup (adapted from craftzine.com)

Ingredients:
1 1/4 lb Brussels sprouts
1/4 cup diced center cut bacon, uncooked
1 large Shallot, chopped
2 teaspoons Butter
2 teaspoons Olive oil
1/4 cup Water
1/4 cup Maple syrup
Instructions:
Wash and trim the Brussels sprouts. Discard any wilted or dirty outer leaves. Cut in quarters. Set aside.
Peel the skin off the shallot and roughly chop. Set aside.
In a large sauté skillet, heat the oil and butter over medium-high heat. Add the bacon and shallot and sauté until the bacon is cooked through and crisp and the shallot is tender.
Add in the Brussels Sprouts and then add 1/4 cup of water to the pan and cover with a lid.
Cook over medium heat for 3-5 minutes, or until desired tenderness is achieved. Remove lid, cook off remaining water and stir in the maple syrup.
 Season to taste with salt and pepper, if desired. Serve immediately.
Well, have you tried Brussels Sprouts in your household?  If so, how are they served?