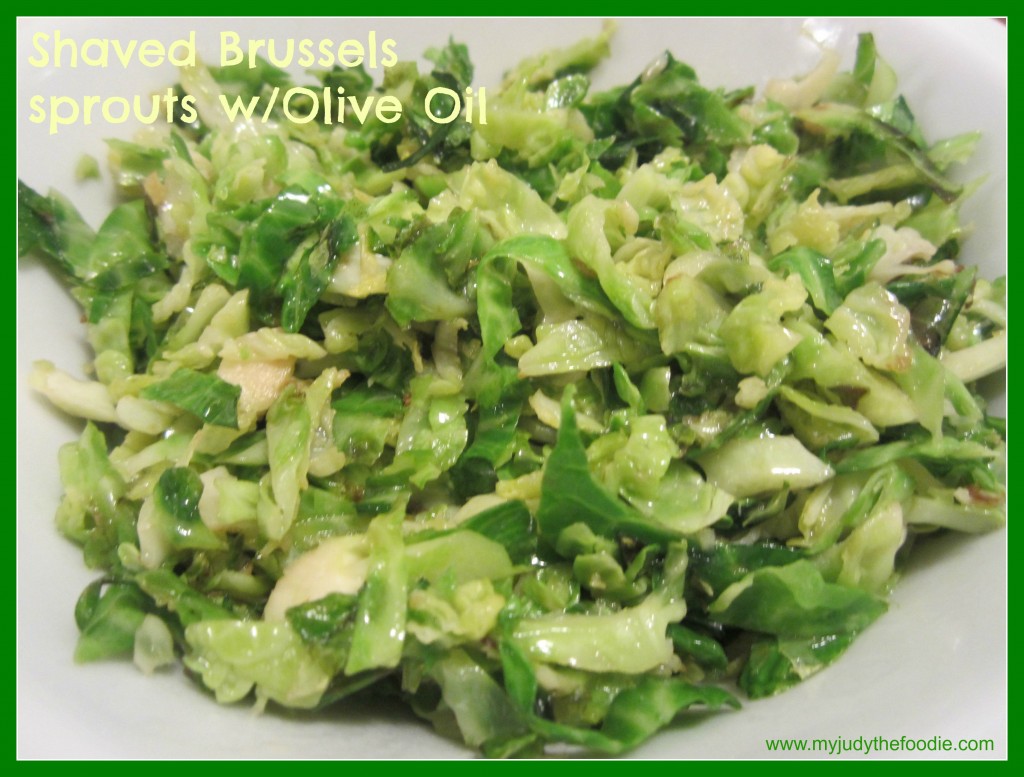 Something very strange has happened the past two nights for dinner:  my son has demanded vegetables!  I swear.   I thought I was having an out of body experience.  And, this morning for breakfast, he asked for vegetables, again: Brussels sprouts.  The past two days, all he's eaten for the past two dinners is Brussels sprouts.
If you're scratching your head, I had the same thought: this is extremely uncharacteristic for a seven year old boy!
And, I wasn't intentionally trying to get him to eat his veggies either.  I simply made a new side dish of Brussels sprouts that were so delicious they've catapulted to the top of his "Favorite Vegetables" list.  In fact, I've even caught myself making the recipe at odd times because it's just that good, and easy.  I'm writing this post after having eaten a full bowl of Brussels post early morning work out.
So, what's the secret?
Nothing.
I didn't even retrieve this recipe from Mom's archives. In fact, when I sifted through her hundreds of recipes, not one included Brussels sprouts.
Honestly, I got tipped off for this idea on the back of a Trader Joe's Shaved Brussels Sprouts bag.
The key to this recipe is using shaved Brussels sprouts, not whole.  If you can't find them already shaved, or you don't have a Trader Joe's anywhere near you, just use a sturdy cheese grater to shred your whole sprouts (and make sure to buy the larger ones).
Then simply cook the Brussels sprouts on the stove top in some olive oil and sea salt.   That's it.  Five minutes later and you've made a tasty vegetable side dish.   It's the perfect remedy when you're trying to get a quick veggie dish on the table and want a break from your everyday routine.
The bitterness of the Brussels sprouts blends seamlessly with the smoothness the olive oil and crunch of sea salt.  As noted by my son, this recipe is much "lighter tasting" than the warm sweetness of our other Brussels fave:  Brussels sprouts with Maple Syrup and bacon.
Once you've got your cooked pile of greens, you can add whatever you want:  shaved Parmesan, bacon, nuts, balsamic vinegar.
We like ours plain and simple.
And that's what I'm constantly learning in the kitchen (and in life):
Sometimes, it's when you prepare your food by the most basic method- without all the hassles of sauces and cheeses and bread crumbs- you'll appreciate their truest taste.
Enjoy!
Shaved Brussels Sprouts w/ Olive Oil and Sea Salt
Ingredients:
1 10 oz. bag Trader Joe's Shaved Brussels Sprouts (or, the equivalent)
2 1/2 tablespoons of olive oil
sea salt to taste
Instructions:
Heat oil in large skillet under medium-high heat.
Add sprouts and saute until slightly crisp and brown, about 5 minutes.
Season to taste with sea salt.
Add in other toppings if desired.