Are you familiar with the way your particular oven cooks?  Or, do you simply use your oven for pan storage?
Do you have individual measuring cups for non-liquid measurements? Or, do you simply use your Pyrex measuring glass for everything?
Do you really know the difference between Baking Soda and Baking Powder?
When baking, should you use eggs that are room temperature only?
In just four short hours, I not only got the answers to these questions but, I was instrumental in baking (from scratch) over 5 different items ranging from bread (yes, it had to rise twice) to scones to cakes.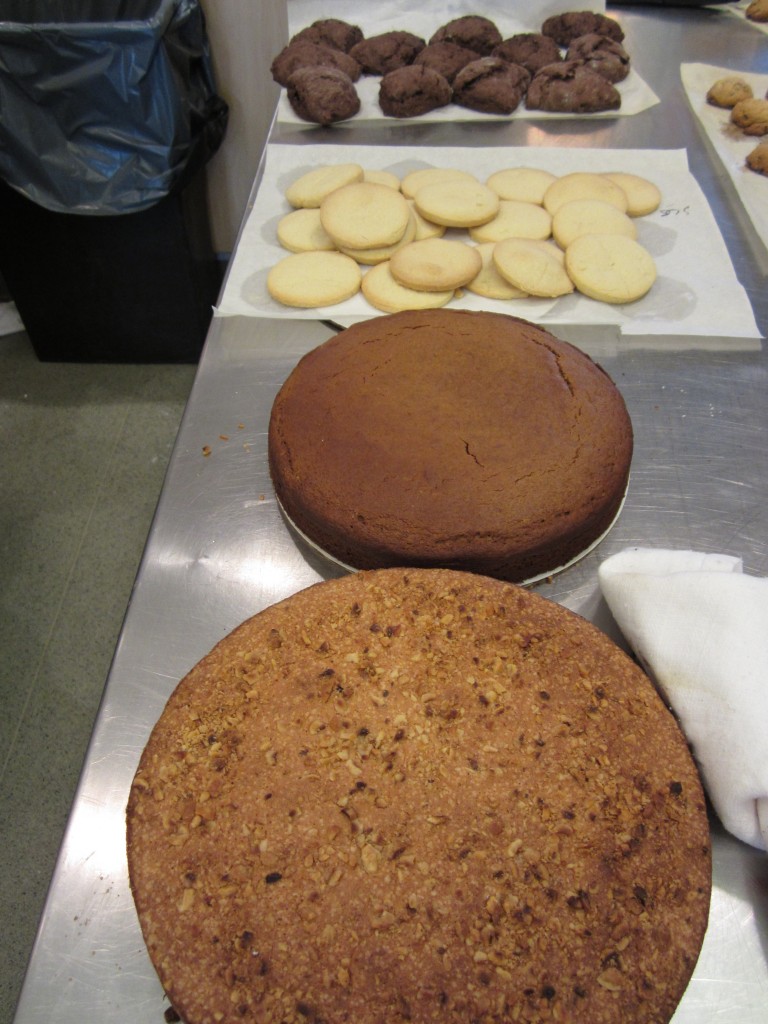 My homemade baked goods after just 4 hours
Up until recently, the most comfort and fun I'd ever had while baking was when I used my Easy-Bake oven on play dates at 10 years old. (I also had more baking accessories than I do now).
So, I enrolled in the Basically Baking class at the Institute for Culinary Education not knowing what to expect.  As I walked into the test kitchen, there were mix masters and restaurant-style ovens and utensils galore; enough to intimidate the average apartment dweller who doesn't even have enough counter space to house two cookie sheets and a mixing bowl at the same time.
Then, we were introduced to the loooong list of items we were to bake in four hours.  I panicked not knowing how I'd be able to get to everything on the list.  Lucky for me, we were paired into teams and only had to cook 5 of the items.  That still sounded daunting.  My experiences baking desserts in the oven were limited to Mom's Banana Chocolate Chip Loaf and her Black Bottom cupcakes. And of course, the ever-reliable raw cookie dough log from Pillsbury!
Before we were unleashed to the econo-sized machines (because that's truly the only way you can learn, by doing) we were given some very helpful pointers that significantly ameliorated my baking experience.
Did you know:
Dry ingredients need to be measured exactly with individual cups? Oops!  I just used whichever measuring utensil I could find first when foraging through my jammed drawers.  And, I was never exact. For dry ingredients you should use measuring cups so that you can level the exact amount off with the straight edge of a spatula.
When measuring brown sugar, you never level it, you must pack it!
Liquids require a glass measuring cup.  You should place the cup on a flat surface, pour in the liquid, and then check the amount against the line on the cup.  Yikes!  I used to measure my liquids standing up, while holding the glass in my hand.  It just seamed more comfortable.
Our instructor, Chef Faith, recommends using national brands for your measuring cups and spoons (Pyrex and Foley) as they are calibrated to "strict standards of accuracy—the cheap generic measuring cups may not be."
Our instructor is pro parchment paper with cheap spray on top as it prevents your food from sticking.  Ok, I think this is the end of my tin foil era.
The closer ingredients are to room temperature, the easier they are to work with and the quicker they will combine with other ingredients.  Yikes!  I usually pull everything out of the fridge the minute they're needed.
Any recipe that calls for nuts usually specifies the amount as a quantity of whole nuts.  If nuts are to be ground, the specified volume is for the whole nuts, not for the ground amount.
After this crash course, we were donned with aprons and let loose to make a mess of the spotless kitchen…
I was thrilled at the prospect of baking scones because it's probably the one baked good I would never think to make at home.
Quite honestly, we have a Starbuck's on our corner. It's easier to purchase scones (albeit much more expensive) rather than going through the trouble of baking them. To me, they always seem so overwhelmingly large and too crumbly. Why not just eat a moist cupcake instead?
But, my kids love them and I knew they'd enjoy the fact that, because of the cocoa addition to the recipe, they're extra chocolate-y.  And, they even have chocolate chunks- the best alternative to raisins.
I have to say, working as a team of two cut down the prep time significantly. And, even better, anytime a dirty bowl or utensil was placed on a counter top, it was picked up and immediately cleaned!  We also never had to wait for anything (ingredients, bowls, utensils) because there was an unlimited supply on the shelves.
Ah, the benefits of baking in a teaching kitchen
Contrary to my belief, the chocolate chocolate chunk scones were very easy to make.  There aren't any difficult parts to the recipe.  However, I did need some guidance from the chef when it came to cutting the dough into 3 pieces, then creating the 5-inch disks, then cutting the disks  into the four wedges.  For some reason, I was paralyzed when faced with the large mound of chocolate-y dough.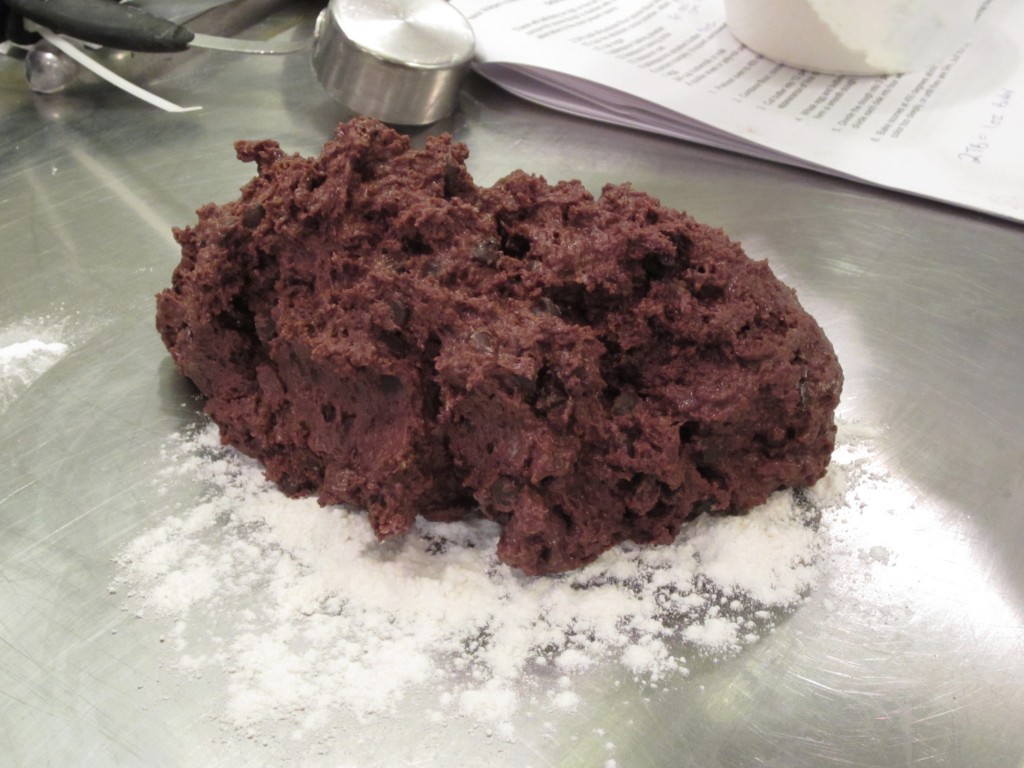 My chocolate mound, pre-wedges

 The best part, the oven is set at a high temperature so you only have to wait 10-15 minute till you're scones are done.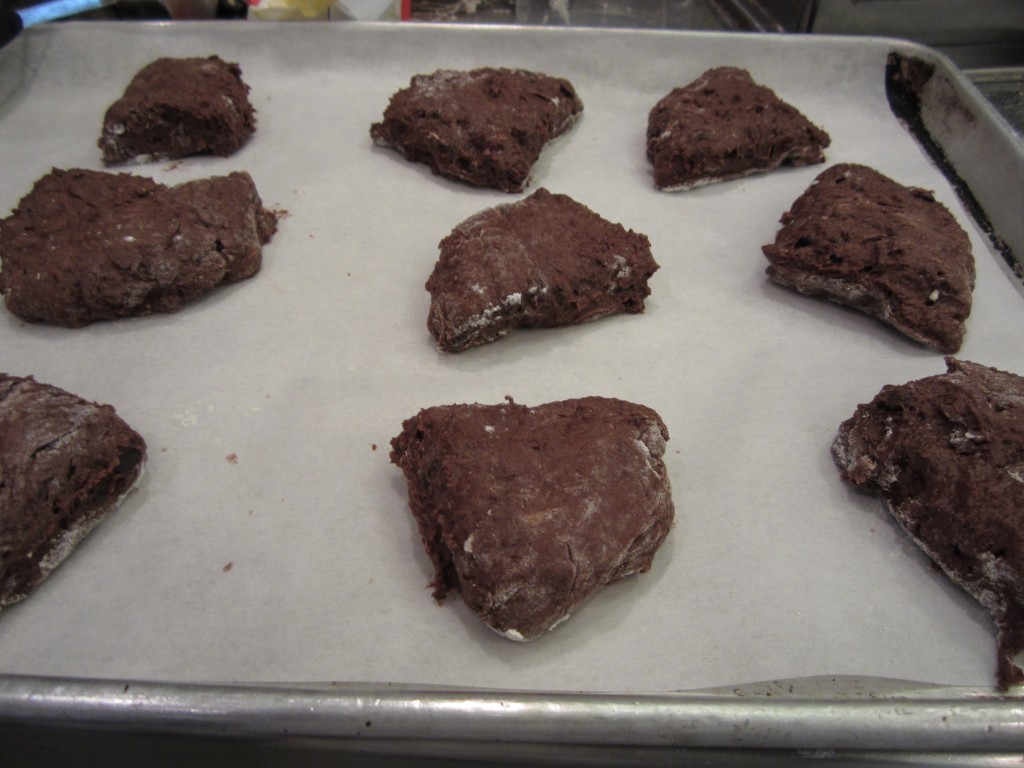 Freshly-baked scones — made by me!
There's nothing better than tasting the finished products from your hard work in the kitchen.
In fact, I think I liked the scones even more because they were made by me.  And, so did my kids…
Enjoy!
Chocolate Chunk Scones (from Nick Malgieri's Baking Classes)
Ingredients:
2 3/4 cups all-purpose flour
1/3 cup cocoa powder, sifted
1/2 cup sugar
1 tablespoon baking powder
1/2 teaspoon baking soda
1/2 teaspoon salt
6 tablespoons unsalted butter
6 ounces coarsely chopped semi-sweet chocolate or 1 6-ounce package chocolate chips
1 egg
3/4 cup buttermilk or milk
Instructions:
Preheat oven to 450 degrees and set rack at the middle level.
Combine flour, cocoa, sugar, baking powder, baking soda and salt in a bowl.
Cut batter into 12 pieces and rub evenly into dry ingredients until mixture has the appearance of fine cornmeal.  Add chopped chocolate or chips.
Whisk egg and buttermilk together and stir into flour and butter mixture with a fork, to form a smooth dough.  (If it's too dry, add more milk)
Divide the dough into 3 pieces for into 5-inch disks.  Using a sharp, floured knife, divide each disk into four wedges.  Place on pan 2 inches apart in all directions.
Bake scones at 450 degrees about 10-15 minutes depending on oven.  Be careful they do not color too deeply.
Enjoy.
Disclosure: I received no compensation for attending this class. I have wonderful friends who gave me a very thoughtful gift certificate to the Institute of Culinary Education.  The opinions expressed in this post are my own.
How do you like your scones?  Have you ever tried to bake them at home?