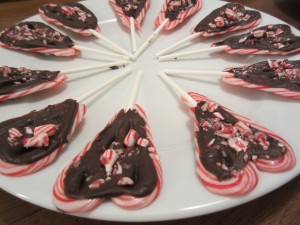 So many lists.
It's overwhelming how many people in my life are worthy of acknowledgement at the end of the year.
And, it's even more daunting to think of the costs involved, if I were to buy each and every person present.
So, why not make homemade gifts?
As I see it, there are many more benefits to homemade versus store-bought.  Sure you're going to have to factor in more lead time and there's no wiggle room for anything last minute when you're dealing with anything homemade.
But, when something is made by hand, you almost guarantee that it will be original and unique. Homemade gifts show your recipient that you care enough about them to take the time to make them something special.
And, let's not forget that it's significantly cheaper for you (the giver), but, the value of receiving anything homemade is priceless (for the receiver).
Ironically, even though Mom could always be found cooking in the kitchen creating anything imaginable, I don't remember her ever giving out homemade baked goods during holiday time.
Last year a bit the bullet and forced myself to make and distribute homemade gifts.  If you're accustomed to rushing around (at the last minute)  to pick up the non-descript variety of gift cards (like me), it's only natural for you to feel uncomfortable with the idea of actually making a gift.
But, don't forget, one definition of homemade uses the adjectives "crudely" or "simply" made.  That's right,  just because it's made at home doesn't mean you need to produce the next Picasso painting or the perfect Martha Steward holiday Bundt cake. Nope.
In fact, last year I made a simple peppermint candy bark for my kids' teachers – which took all of 20 minutes to make (shh don't tell them).  After the bark was completed, I packaged it in holiday paper and decorative tins.  Over a year later I'm still getting thanked or stopped randomly in the hallway from other teachers with requests for the "secret bark recipe."
This year I decided to continue the peppermint theme to make Peppermint Chocolate Lollipops.  And, I also made little tins of Mom's infamous Banana Chocolate Chip Loaf.
Sounds hard but honestly, it was quite easy.
The lollipops are made of tiny peppermint candy canes that I slightly melted in the oven.
Before they hardened, I squished a lollipop stick in between the canes.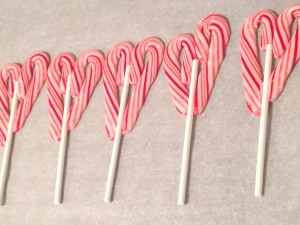 Then, I melted chocolate on the stove and spread it over top the heart shaped lollipops.  And, I immediately sprinkled crushed canes in the center.
I placed it in the frigerator to harden and 25 minutes later, VOILA!
And, both the lollipops and the mini loaves are being stored in my freezer until we hand them out next week.
So, if you're looking for a little inspiration, check out these recipes. I promise, they're so easy to make.
And, don't forget to involve your kids in the process too.  While my daughter was home sick during my lollipop assembly, she did enjoy sampling one of our pops to give her critique.
Best part? They look and taste great!
You won't go wrong.
Peppermint Chocolate Lollipops
Ingredients:
mini candy canes
lollipop sticks
1 bag chocolate melts
Instructions:

Preheat oven to 350 degrees.
Align candy canes in heart shapes along a parchment-covered cookie sheet.
Heat chocolate melts in double boiler, stirring until chocolate is fully melted. (I got candy melts at Michael's craft store)
Place candy canes in oven 2-4 minutes or until candy becomes soft.
Take out and immediately wedge lollipop sticks in center of melted candy (you can smush candy with your fingers too)
Allow candy to cool and harden around sticks.
Cover face with melt chocolate.
Sprinkle chocolate with crushed candy canes.
Place in refrigerator to harden.
Enjoy!