Who doesn't want to take a "dip" in the summer?
For me, summertime means lots of cold drinks and easy, refreshing appetizers that can be served at lunch with a bag of chips or as an appetizer pre-BBQ.  Over the past few weeks I've experimented with many dips but, the Zucchini Mint dip I whipped up in my Ninja blender yesterday, might be my favorite.
I have to admit this particular dip wasn't inspired by my new blender I've been raving about (and, consequently, if you didn't win one in my giveaway, you can purchase one through my store, here). I received a box full Beanfields Bean & Rice Chips waiting to be sampled.  Besides salivating over the tasty varieties: Sea Salt, Sea Salt & Pepper, Pico de Gallo, Nacho, Naturally Unsalted, I couldn't believe all the unique selling points contained in just one Crispylicious Bean & Rice Chips 12/6 oz. bag:
World's first corn-free tortilla chips
4 grams of Fiber in every 1 oz. serving, the same as ½ cup serving of raisin bran and twice as much as most corn tortilla chips.
4 grams of complete protein in every 1 oz. serving, the same as a 4 oz. serving of milk and twice as much as most corn tortilla chips.
Only 3 ingredients in the chips: Beans, Rice, Saflower & Sunflower Oil.
Allergy friendly: all Beanfields products are made from ingredients that don't contain any of the FDA's list of  8 foods that trigger about 90% of all allergic reactions to food.
Very low in sodium.
No wonder Beanfields Won "Best of Show" at the 2012 Natural Products Expo West.  Out of over 2000 exhibitor's, the VegNews editors awarded Beanfield's Nacho Chips top honors for best new vegan snack product.   Many fans are calling it the vegan answer to Doritos— it's got the cheesy flavor of nacho but it's dairy, MSG and artificial anything free. So, I guess this is proof that anything can be veganized without compromising flavor!
I love Beanfields' philosophy: great tasting snacks should also be good for you, good for our families, good for our farmers and good for the planet. Beanfields uses only farmed beans and rice (exhibiting their commitment to USA farmers and jobs). All their chips are Non-GMO Project verified and each bag is independently tested for the presence of gluten.  Doesn't this chip sound too good to be true?
Ok, so now do you understand my motivation to make a completely healthy, satisfying dip to accompany these gold standard chips?  I taste-tested chips from each of the 5 bags first.  Yes, all-five-bags.  Regardless of flavor, they're all super light and mildly crunchy. The fiber from the beans really does fill you up so you'll be amazed at how quickly you'll feel satisfied.  After sampling, I wanted to make a refreshing dip that would compliment, not compete with the chips' flavor.
I decided to make a modified version of one of my favorite Greek spreads: tatziki sauce.  My kids loved the yogurt-based kale dip we made so why not use the remaining Greek yogurt and add in some lemon, zucchini and fresh mint that's sprung up from our garden last summer. And yes, just like the hummus, there's only one step involved, BLEND! No excuses.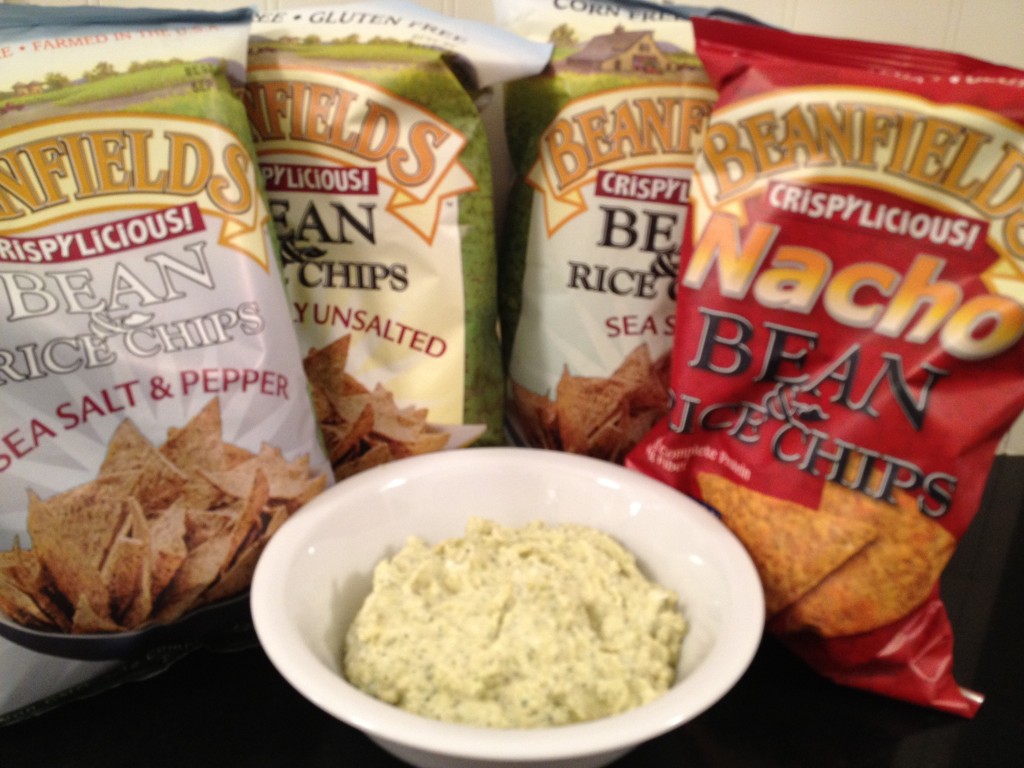 The Zucchini Mint Dip combined with Beanfields Bean & Rice Chips is a winning combination.  Our personal faves were the Nacho and the Pico de Gallo flavors.  I must admit, my kids were a little apprehensive to try the chips.  They're not the usual color of a blue corn chip or a traditional tortilla chip.  They're speckled and just look different.
But, one bite in and we were sold.
Beanfields store locator and online shopping here!
Zucchini Mint Dip
Ingredients:
1/2 cup greek yogurt
1 zucchini
2 tablespoons olive oil
zest from one lemon
2 tablespoons mint
salt and pepper to taste
Instructions:
Place 1/2 cup Greek yogurt in blender
Chop zucchini into round pieces and place in saucepan with 2 tablespoons of olive oil.  Cook until lightly brown on both sides (approximately 5-7 minutes).
Place zucchini in blender, add in zest from one lemon, 2 tablespoons mint, and a pinch of salt.
BLEND until creamy.
Refrigerate before serving.
Disclaimer:  I was not compensated for writing this post.  I did receive a box full of Beanfields Bean & Rice Chips to sample and enjoy– which I did!  All opinions expressed in this post (as always) are my own!