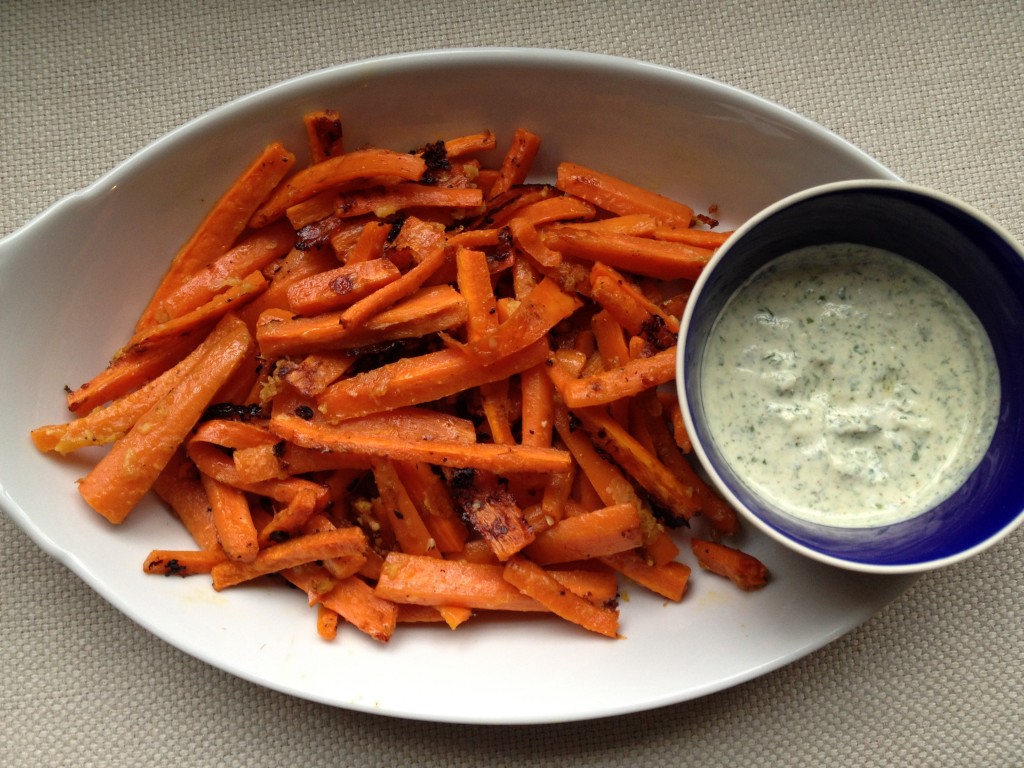 A couple weeks ago I went to an amazing event where culinary artist Clare Crespo showcased many creative ways to have "fun" eating our veggies through edible vegetable art.  Remember, we made a cook veggie flag and a veggie wagon too?  Well, what happens when you're just not in the mood to construct vegetable-based "sculptures?"  It's very easy to take a basic veggie, tweak the way you'd normally prepare it, and serve it to your family in an entirely different light.  Take carrots for example.  We eat carrots all the time at dinner.  However, we usually only eat mini carrots, cold and raw.  I realized the way I've been displaying them on the dinner plate is not terribly appealing.  They're usually thrown in as an afterthought when I remember we need a vegetable to round out our meal.  It literally looks like rabbit food on the side of the plate.  Then I had an idea, why not make Carrot Fries?  I've made Sweet Potato Fries and the kids loved them.
I've had good luck with carrot-based recipes.  Mom's Carrot Pudding was a raging success over Thanksgiving, partly because of its sweetness— it could easily get passed off as dessert.  I found this easy recipe for Carrot Fries and was intrigued to make the cilantro dipping sauce too.  It seemed very light and similar to the Kale Dip as both contain Greek yogurt for its base.
I enlisted my kids to help peel eight large carrots.  I'm ashamed to admit this was the first time they've actually handled regular carrots.  It's just so easy to buy the bite-sized version (and I find they're also a healthy on-the-go snack).  My son began wielding the shaved carrots as swords as my daughter fashioned them as a microphone. As long as they were enjoying themselves.  Then, I put my new knife skills to task as I cut french fry slices out of each.  While the recipe calls for 1" slices, I made mine much longer and thinner (perhaps I was dreaming of McDonald's fries in the process).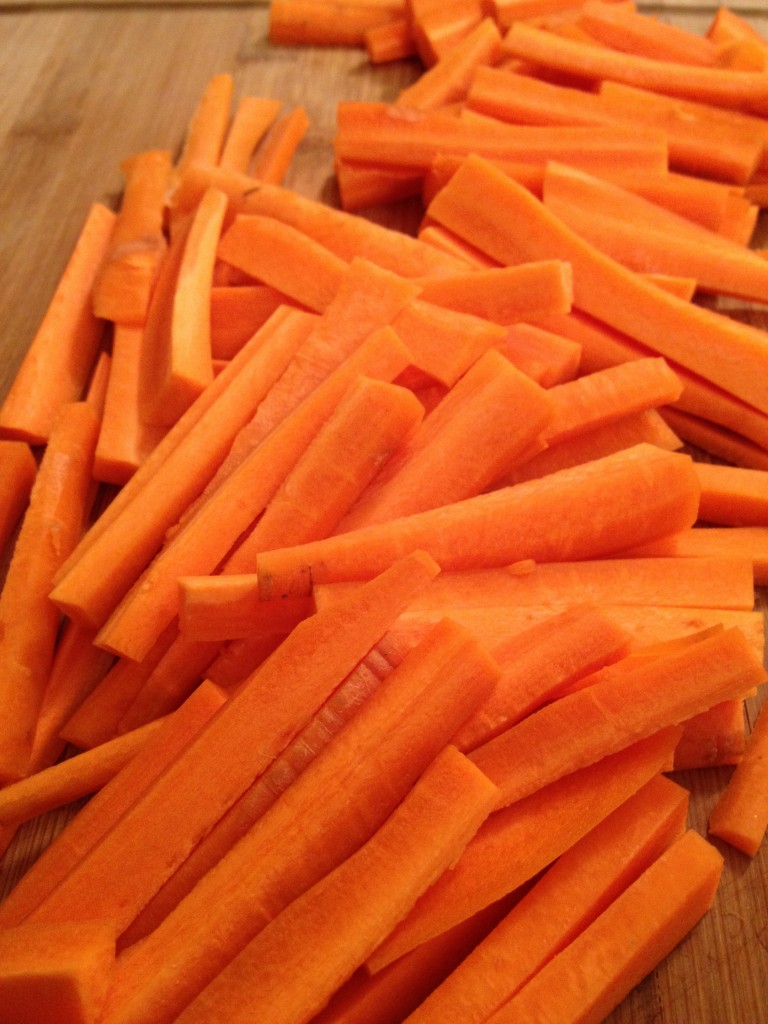 Knife skills put to work.   Carrot "Fries"
Toss your "fries" with olive oil, salt, pepper and parmesan cheese and they're ready for some oven time at a whopping 500 degrees.  If the smell from the parmesan cheese baking in the oven doesn't whet your appetite, then the site and sounds of the bright orange fries sizzling once they're removed will definitely rouse your taste buds.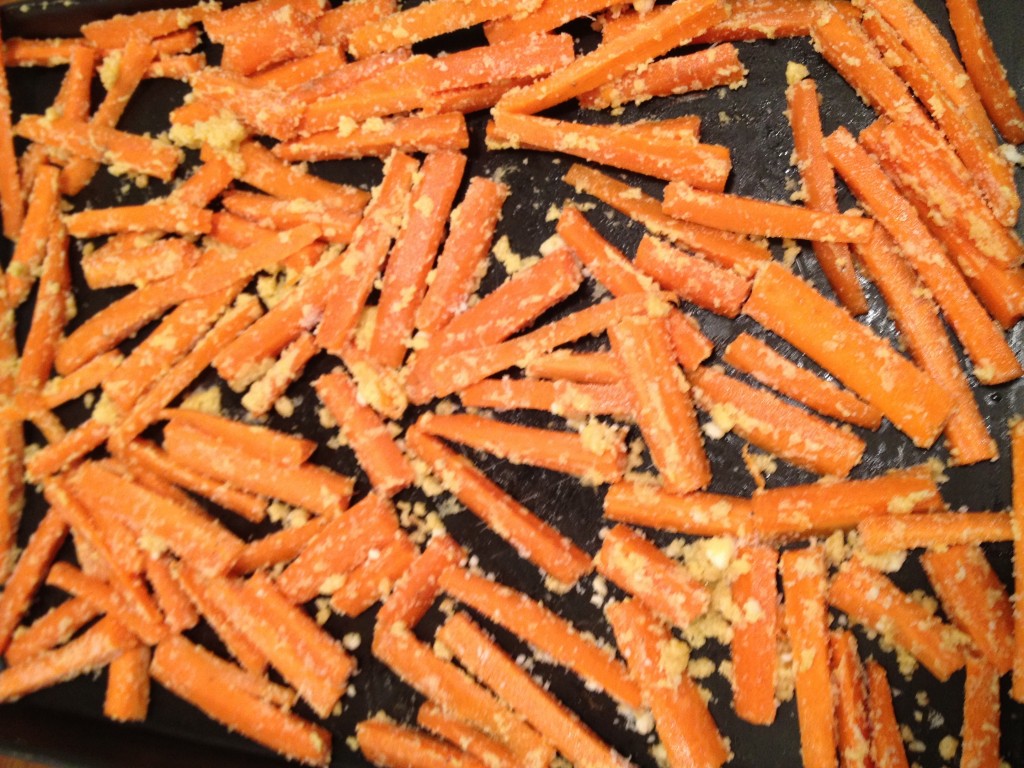 Carrots with oil and parmesan.  Pre-bake.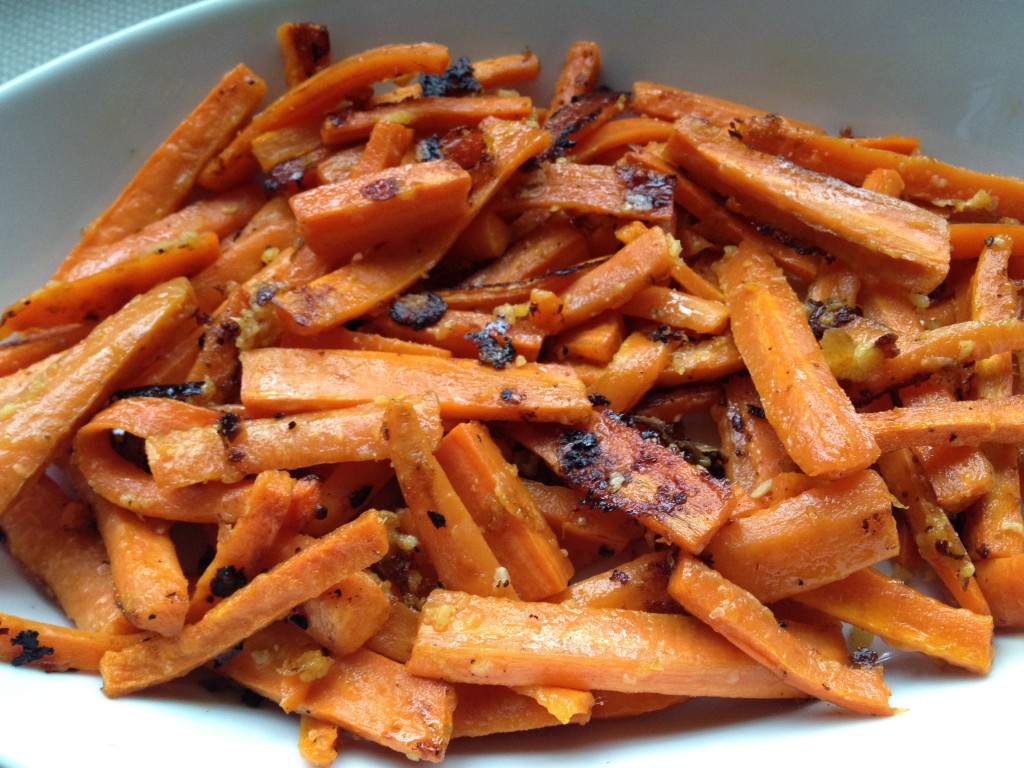 Yum!  Baked Carrots (aka Carrot Fries)
The cilantro lime dip provides a cool, creamy dressing for the salted, cheese-dusted carrots.  I used my favorite non fat Greek yogurt, Chobani, for the dip's base.  Add some cilantro, lime juice and garlic, blend it together and you're all set.
I omitted the green chilli pepper from the recipe knowing my kids wouldn't like the spice.  I also made two versions of the dip.  One was heated and one left chilled.  My kids loved the fries (especially the ones with more salt and cheese).  And, surprisingly, the dip was a big hit.  Everyone preferred the chilled version more.
I know if I had served the exact same recipe under the name Baked Carrot Sticks, it would not have received the same fanfare from my kids.  But, what do I care?  If the vision of greasy salty french fries lures them to try something (healthy) they might not otherwise, I'm in.  And, in my book I scored big— just another way to get veggies on the table and in their bellies.
Happy eating.
Baked Parmesan Carrot Fries with Chilled Cilantro Dipping Sauce (adapted from Mia's Domain)

Ingredients:
Fries:
1/2 cup freshly grated parmesan cheese
8 large carrots
3 garlic cloves, crushed
1 tablespoon honey
Extra Virgin olive oil
Sea salt and black pepper
Instructions:
Pre heat oven to 500 degrees
Clean and cut carrots into 1-inch fries. In a large bowl combine all the ingredients.
Drizzle a generous amount of olive oil all over carrots and add parmesan cheese.
Toss to combine and add to a large baking sheet. Season with sea salt and black pepper.
Bake for 10 minutes turning over occasionally.
Sprinkle extra cheese over the top. Serve hot with dipping sauce on the side.
Cilantro Dipping Sauce:
1/2 cup Greek yogurt
1 small garlic clove, crushed
Handful Fresh cilantro
1 teaspoon fresh lime juice
1 teaspoon sugar
Sea salt and black pepper
Blend all the ingredients for a smooth consistency. Season with sea salt and black pepper.