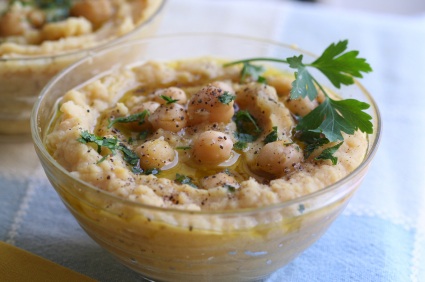 We're still celebrating the blog's 1st birthday!  And, all weekend I've been thinking of every possible way to use my new Ninja Blender (and consequently, you can still enter to win your very own too).  I blended mid-afternoon Margaritas, made Mom's fresh chilled cucumber soup, and whipped up my first-ever batch of hummus. As with my homemade Nutella experiment this past winter, I realized I was spending so much money buying the spreads when it's literally just as easy (and cheaper) to make homemade batches.  After all, at least you're assured to know every single ingredient used and you won't feel the need to sue any manufacturer for false marketing!
Until now, my go to hummus brand was Sabra.  They're ultra creamy and come in myriad flavors like:  Basil Pesto, Tuscan Garden, Roasted Pine Nut, Chipotle, Jalapeno, Sun Dried Tomato, Luscious Lemon, Roasted Garlic, etc.  On any given day, you could open my fridge and find at least two tubs worth of Sabra Hummus.  And, while most of the ingredients listed sound kosher, I still yearned to create my own batch.
I love the learning curves that accompany all my new recipe experimentation.  How could I have eaten hummus for the past decade and not have known that garbanzo beans and chick peas are synonymous?  And, I had no clue tahini is essentially ground sesame paste!  I just thought tahini was tahini, a vague term for something but, I didn't know what. Paying attention to the ingredients in the foods you eat can really widen your food aperture.
Ok, so maybe you'll have to take a trip to the store to purchase your garbanzo beans and tahini but, every other ingredient you should have in your well-stocked pantry.  Don't be lazy.  How can you deny a recipe that has only 1 step:  to combine all the ingredients and BLEND.  Yup, that's it folks.  I simply dumped all the ingredients in my mixer, hit blend, and in less than 1 minute I had a tasty version of mediterranean hummus that rivaled the tubs of hummus I've been eating for over a decade.
Sure, the Sabra hummus gets fancy with its different flavors but, don't be intimidated. You can add them in too. It's not brain surgery.  Just add in lemon or roasted red peppers or basil pesto or jalapeno.  Whatever your taste buds desire.
The ultimate compliment came when my husband opted for my homemade hummus instead of the familiar tubs lining our fridge shelf.  He actually said, "wow, this tastes great."   And, by the next afternoon, the hummus was gone!
Try some…
Homemade Hummus
serves 5
Ingredients:
2 cups canned garbanzo beans, drained
1/3 cup tahini
1/4 cup lemon juice
1 teaspoon salt
2 cloves garlic, halved
1 tablespoon olive oil
1 teaspoon minced fresh parsley
Instructions:
Place the garbanzo beans, tahini, lemon juice, salt and garlic in a blender or food processor. Blend until smooth. Transfer mixture to a serving bowl and drizzle with olive oil.
Garnish with paprika and parsley flakes.
Refrigerate before serving. Dip should last at least 3 days in refrigerator.
And don't forget tomorrow is the last day to enter our awesome giveaway!
Ninja Pro NJ600 Blender Giveaway Details
One (1) winner will receive a Ninja Pro NJ600 Blender!
How to Enter
To enter to win, simply leave a comment in the post letting telling me what you'd like to make with the blender. That's it! You're entered to win!
Additional (Optional) Entries
To up your chances of winning, you can receive up to FOUR additional entries to win by doing the following (these are optional, not required):
1. Subscribe to My Judy the Foodie by RSS. Come back and let me know you've subscribed in an additional comment.
2. Become a fan of My Judy the Foodie on Facebook. Come back and let me know you became a fan in an additional comment.
3. Follow My Judy the Foodie on Pinterest. Come back and let me know you've followed in an additional comment.
4. Follow @myjudythefoodie on Twitter. Come back and let me know you've followed in an additional comment.
The Fine Print
Deadline: Tuesday, June 5th 2012 at 11:59pm EST.
Winner: A winner will be chosen at random using Random.org and announced at the top of this post. The winner will also be notified via email and the My Judy the Foodie fan page on Facebook; if the winner does not respond within 48 hours, another winner will be selected.
My giveaways are listed on Contestgirl