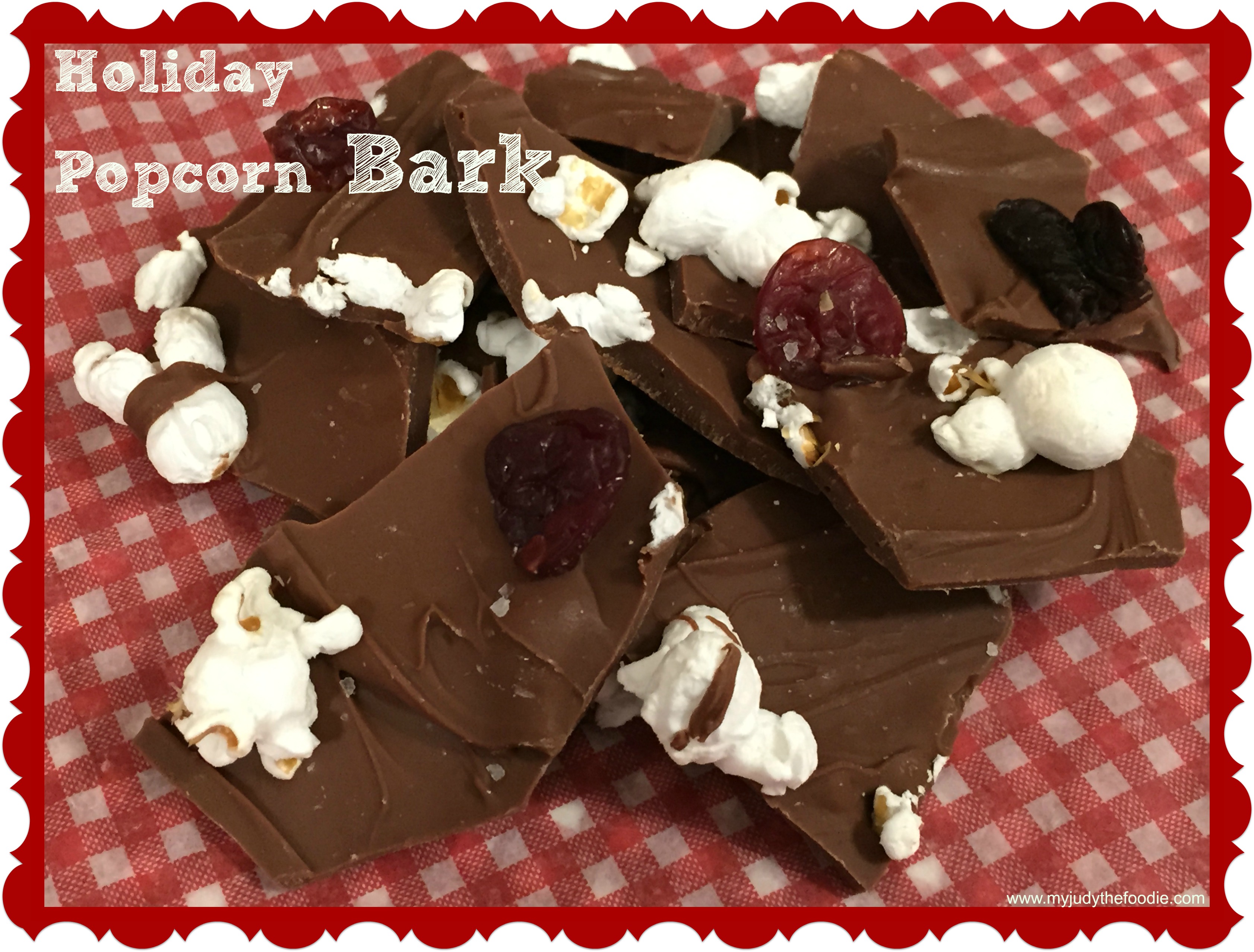 There's a "no-gift" policy at my kids' school. That means, no "official" gifting to the teachers. However, many parents find creative ways to work around that mandate. We've always baked some treats (that is apparently school-approved).
I like choosing something to bake that's easy for the kids to equally if not totally participate. Their teachers have the difficult task of teaching so my kids should at least be able to take the lead in our treat making.
The past few years we've been mastering awesome Peppermint Bark. It's so simple to make yet, it tastes so decadent. It's quite festive with traditional holiday colors- red, black and white and we've even gotten really creative and started using white chocolate as well as dark chocolate.   This year, we (I) decided to take a little spin on our holiday fave and create Sweet and Salty Popcorn Bark.
The premise of the bark is still the same: melted chocolate as the base but this time around, we used popcorn and dried cherries. So, we're still keeping the same holiday colors but, changing the ingredients a bit.
The Sweet and Salty Popcorn bark is a confluence of a salty crunch from the popcorn, sweet and tartness from the cherries, plus bitterness from the chocolate. It's nothing short of wonderful. Each bite lends itself to a new surprise—it could be cherry and chocolate, popcorn and chocolate, or the flavor jackpot: chocolate, cherry and popcorn.
We made a few batches and sampled with different types of chocolate- milk chocolate, semi-sweet and dark chocolate. Dark chocolate yielded our bests results (70% dark chocolate) as the milk chocolate rendered the treat a bit too rich to eat more the one piece.
If you don't have any dried cherries, feel free to use dried cranberries or even some apricots as your sweet and tangy element. Just remember, your bark can become a compost bark….start experimenting with whatever salty and sweet ingredients you have on hand. Pretzels could be tasty too (a nice crunch with salt).
 final gift – bark packaged in a glass jar
Sweet and Salty Popcorn Bark
Ingredients:
16 oz. chocolate (dark chocolate advised)
4-6 cups salted popcorn
1 cup dried cherries; diced
Instructions:
Line a 9×13" baking sheet with parchment paper.
Place chocolate in a double-boiler over barely simmering water (you can use a heatproof bowl set over a saucepan). Stir occasionally unitl melted. Remove from heat.
Reserve ½ of the melted chocolate for drizzling.
Pour chocolate onto prepared baking sheet and spread evenly. Top evenly with popcorn and dried cherries making sure to press the ingredients into the chocolate to help them set properly. Sprinkle with sea salt.
Drizzle reserved chocolate on top. Refrigerate for 1 hour or freeze for 25 minutes until the chocolate is set (completely hardened).
Remove from pan and break into tine little pieces.
You can store chocolate in an airtight container for up to 1 week.