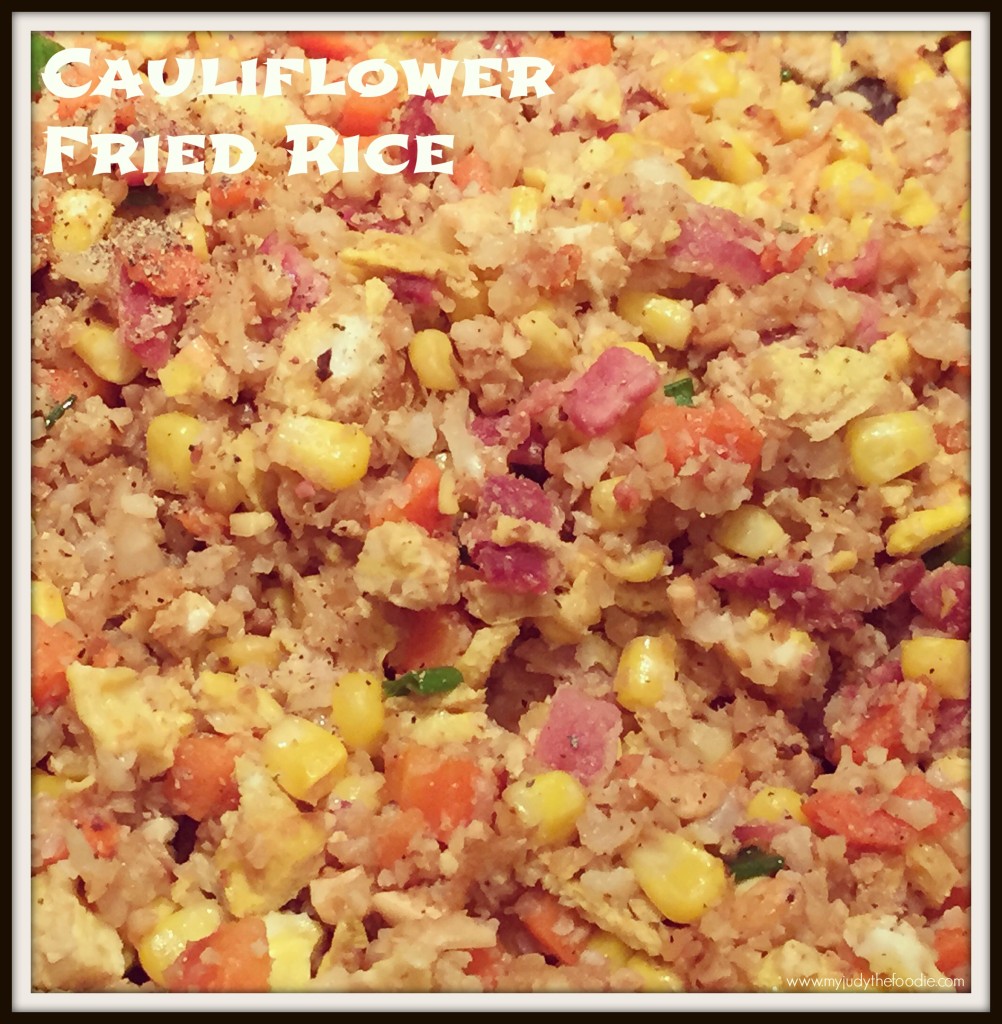 If you go online and search for rice-based recipes, there are myriad options. It's totally overwhelming.
Did you know there are more than 40,000 different rice varieties? However, in my research online, I kept finding different variations of one recipe that totally peaked my interest: Cauliflower Fried Rice.
At first I mistakenly thought the recipe was a rice dish with bits of roasted cauliflower—a vegetable that is totally underrated in my household. However, Cauliflower Rice doesn't contain rice at all. The "rice" part of the dish is simply cauliflower that's been placed in a food processor and ground down to bits the size of rice.
This dish is phenomenal. The best part is that it's also guilt-free. That's right. It's low-carb and gluten-free but, so flavorful and filling.
The cauliflower bits combined with the smoky-flavored crunch of the bacon and flavor of the eggs, garlic, carrots, green onions and cashews is nothing short of wonderful.
I had a bowlful for lunch and dinner too. One head of cauliflower makes at least 5-6 heaping servings.
Don't be afraid to experiment with other add-on veggies like broccoli florets or even diced zucchini.
I KNOW you will enjoy.
Cauliflower Fried Rice
Serves 5-6
Adapted from the kitchn
Ingredients:
1 head cauliflower
8 slices thick-sliced bacon
2 large eggs
3 cloves garlic, minced
2 carrots, diced
1 cup corn, fresh or frozen
4 green onions, diced
¼ cup cashews or another nut
2-3 tablespoons of soy sauce
pepper to taste
Instructions:
Cut the cauliflower into florets. Working in batches, pulse the cauliflower in a food processor until it breaks down to rice-sized pieces. Total should be approximately 5-6 cups cauliflower "rice."
Cook bacon in skillet over medium heat until crispy. Transfer to plate with paper towel and drain. Roughly chop into pieces. Drain off all but a teaspoon of bacon grease, reserve the grease.
Place the pan back over medium-high heat. Whisk the eggs and pour them into the skillet. Make an omelet and when done, transfer to a cutting board and cut into pieces.
Wipe skillet and then warm 1 tablespoon of bacon grease over medium-high heat. Add garlic and sauté until fragrant, about 30 seconds. Stir in the carrots and sauté until crisp-tender, 2 minutes. Stir in the corn and cauliflower "rice" , mixing ingredients thoroughly.
Lower the heat to medium, cover the pan, and cook until the cauliflower is tender, 5 to 8 minutes. Uncover and stir in the bacon, eggs, green onion, cashews, and 2 tablespoons soy sauce.
Add additional soy sauce and pepper to taste.
Leftovers keep refrigerated one week!