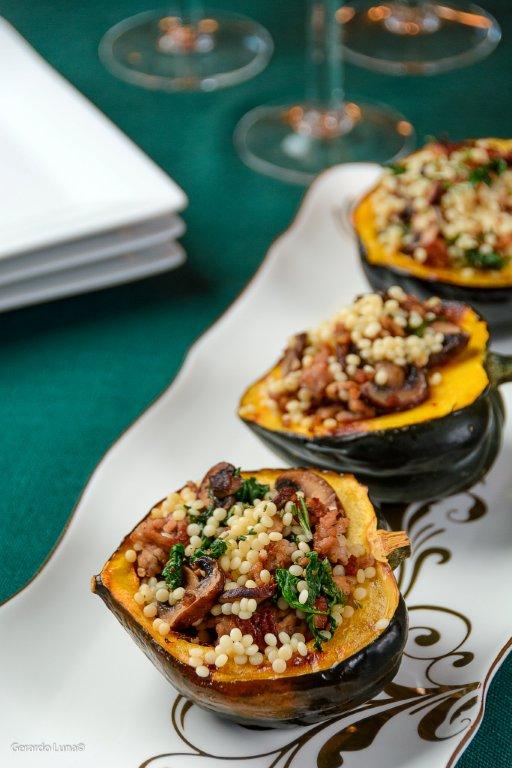 While you're planning out your festive meal, don't forget about the side dishes that are even more important than the turkey— especially if you have vegetarians at your table.
If you want to take your Thanksgiving to the next level, check out this recipe that makes a festive addition to any side table. Your guests will be begging for leftovers.

Pasta Pilaf-Stuffed Squash
Author:
adapted from pastafits.org
Prep time:
Cook time:
Total time:
Dress up your holiday table with this tasty vegetarian side dish.
Ingredients
2 each acorn squash
2 Tbsp./1 oz. vegetable oil, divided
2 oz. acini de pepe
¾ cup/3 oz. onion, finely chopped
1 tsp. rosemary, finely chopped
8 oz. ground pork
2 cups/4 oz. cremini mushrooms, sliced
½ cup/4 oz. white wine
6 oz. spinach, roughly chopped
Instructions
Preheat oven to 400ºF. Cut the acorn squash in half lengthwise. Scoop out the seeds (roast for a snack if you're feeling virtuous!). Place on a baking tray. Season with salt and pepper and roast until a knife an easily be inserted, about 30 minutes. Reserve.
While the squash is cooking, bring a small pot of salted water to the boil. Cook the acini de pepe according to package directions. Drain and reserve.
Heat a large sauté pan over medium heat. Add 1 Tbsp. of the vegetable oil and the acini de pepe. Cook the pasta until it starts to brown (about 2 minutes). Remove to a bowl.
Return the pan to the heat and add the remaining 1 Tbsp. oil. Sauté the onion and rosemary until aromatic and softened (about 3 minutes). Add the pork and break it up into small pieces. When the pork starts to brown, after about 5 minutes, add the cremini mushrooms and cook until softened, another 3 minutes. Stir in the reserved pasta, white wine and spinach. Cook for another couple of minutes to cook off the raw alcohol flavor and wilt the spinach. Taste and adjust seasoning.
Divide the pork pilaf between the 4 acorn squash halves. Return to the oven to heat through.