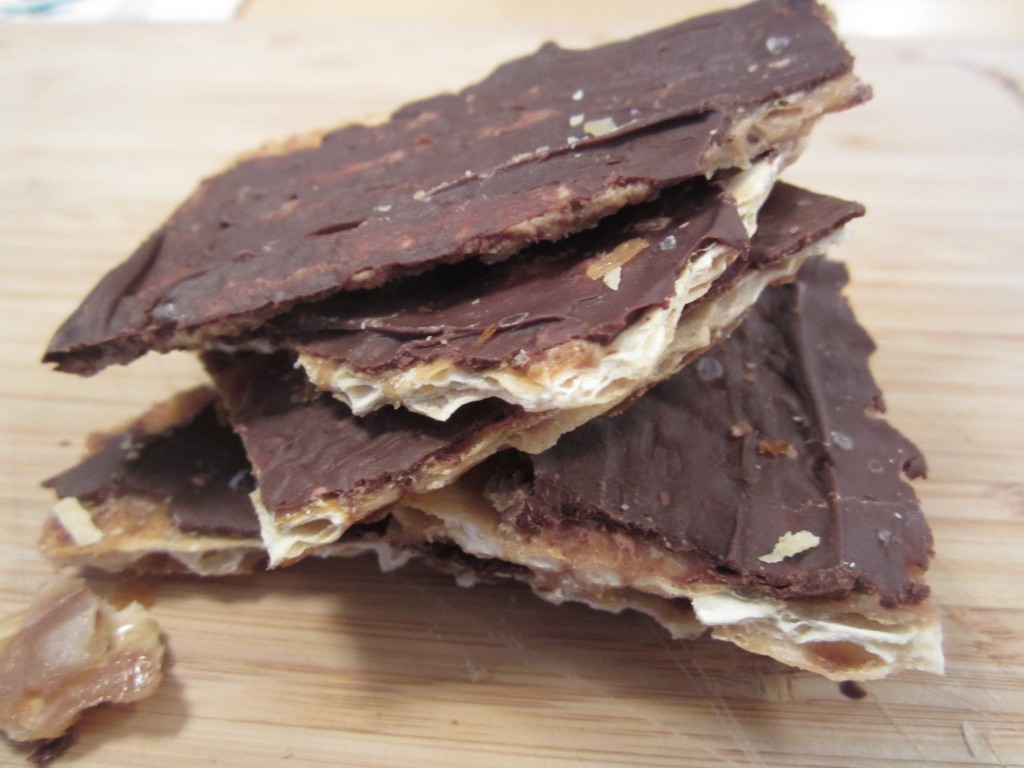 I loved Passover as a child.
To me, the holiday represented the most beautiful traditions of faith and family. At one point in time, our Passover Seder boasted 4-generations of family (sometimes upwards of 35 people) sitting around the festive table, singing, celebrating, questioning our Jewish heritage. The abundance Jewish holiday food was just as memorable as the meaningful dinnertime service.
A week before the first night of Passover, Mom would begin the act of clearing the house of "Chametz" (bread and flour). And then, she'd start her multi-day Passover cooking extravaganza.  While we never hosted seder at our house, Mom was ultimately responsible for making and transporting at least 2/3 of the feast; she always volunteered for this daunting responsibility. I have many memories sitting in the back of our car, all dressed up, trying to balance one of Mom's unwieldy pyrex dishes full of Passover delicacies.
On any given day, the kitchen (and Mom) was on overdrive. Matzoh ball soup would be bubbling in huge vat-like pots on the stove, tzimmes would be baking in the double oven, multiple sponge cake batters would be loaded into the spring form pans.  Every inch of the kitchen was covered with one of Mom's masterful creations.  In fact, while some think cooking without flour and yeast a handicap, Mom celebrated the unleavened Passover challenge.
Now, as a parent raising a Jewish family away from my hometown, I find myself feeling a little unglued and very melancholic. I miss the chaos of those seder meals.  I miss listening to my grandmother recite the prayers and my mother sing the holiday songs.  I miss the frenzy when we were allowed to finally get up from the table to search for the hidden pieces of matzhoh (Afikomen) around the house.  Then came the realization that it's now my responsibility to try to reclaim this holiday and pass on the historical significance and cultural traditions to my kids, because no one is going to do it for me.
Two years ago I "hosted" my first seder meal for my family and our good friends (who, by the way, are Lutheran)!  While setting the seder table required a ton of prep, I've never felt more satisfied.  I loved exposing my kids and our non-observent friends to the rich story and customs of Passover.  Ironically, I didn't cook one single item. I ordered the entire meal  from the local specialty food store.
This year, I'm honored to have an all access  pass to Mom's celebrated Passover recipes I categorized in the "Jewish Judy" tab of the My Judy the Foodie binder.  Cooking her dishes continues to keep her vibrant spirit omnipresent in my kitchen and our lives. It also fills the void that seems ever so deep during the holiday time.
After all these years, Mom would certainly be proud knowing she's still nourishing all of our souls….
Matzoh spread out, awaiting sugary coating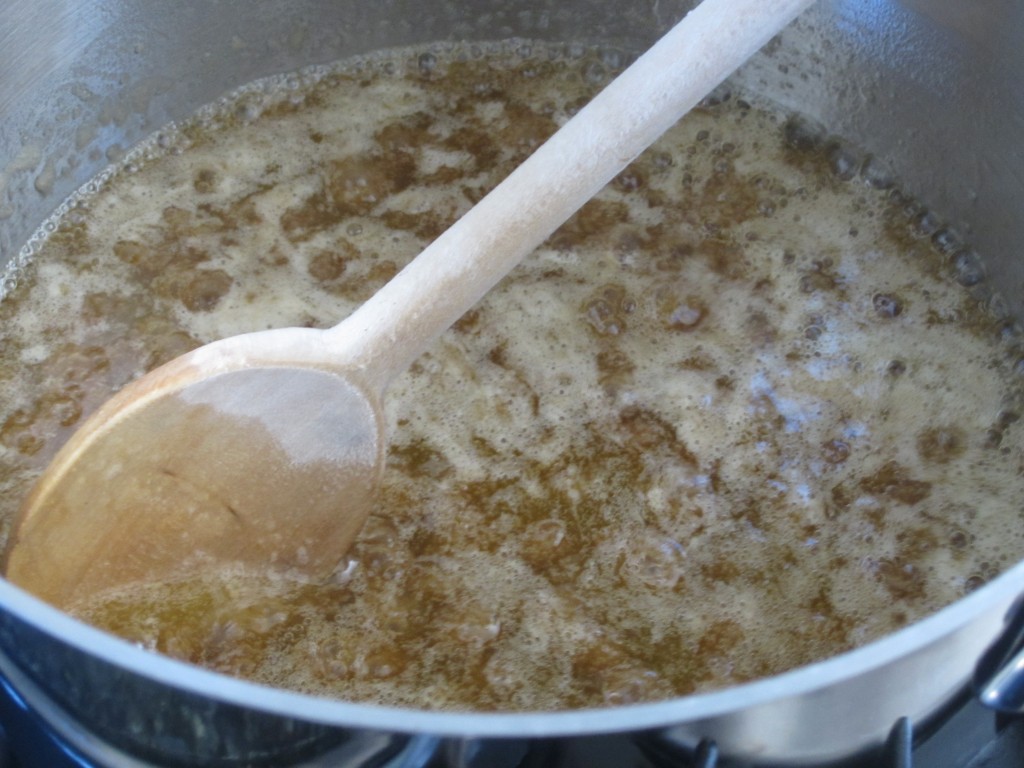 Brown sugar and butter boiling on stove top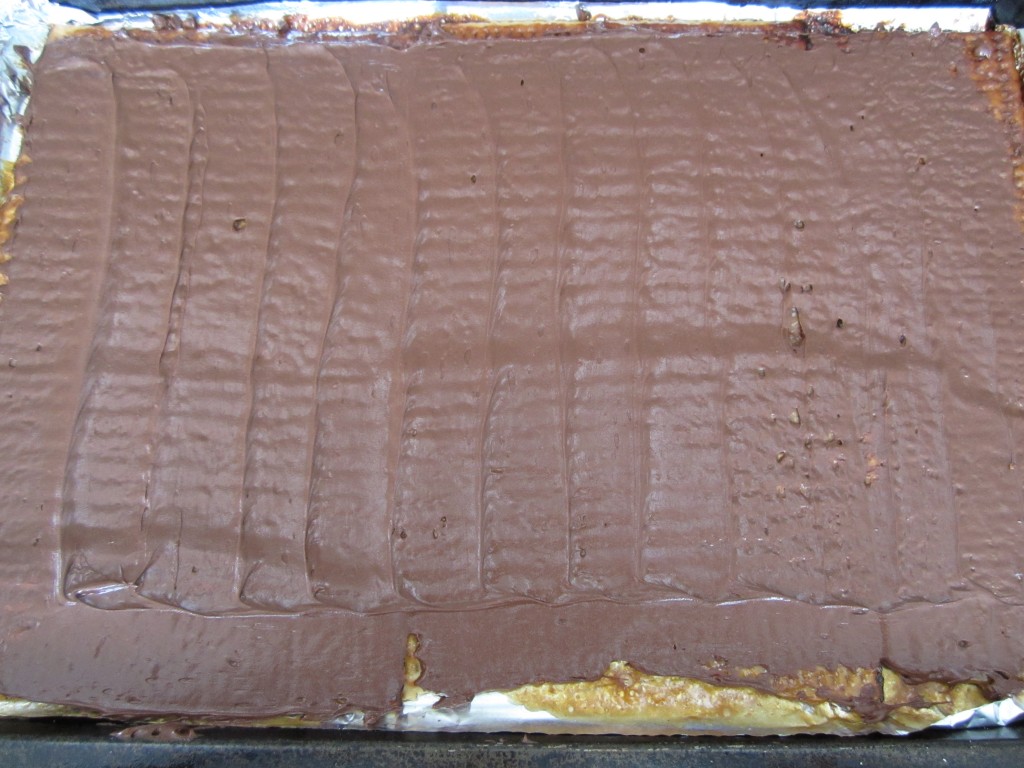 Final Chocolate Covered Matzoh ready to cool
When baking the matzoh in the oven with the butter and brown sugar sauce, make sure to keep checking on it to make sure the matzoh doesn't burn. My first batch burned a bit.  The sauce will start to bubble very quickly which is totally fine.  If the matzoh starts burning, simply lower the oven temperature.
After adding the chocolate chips, make sure to let them sit on top matzoh for at least 5 minutes while it cools before spreading it over top the butter mixture.
Store immediately in an air tight container.
Chocolate Covered Matzoh
Ingredients:
4 to 6 sheets unsalted matzohs
2 sticks unsalted butter
1 cup firmly-packed light brown sugar
1/2 teaspoon vanilla extract
1 cup semisweet mini chocolate chips
sea salt
Instructions:
Preheat  oven to 375 degrees
1. Line an edged baking sheet with foil or parchment paper.
2. Cover the bottom of the sheet with matzoh, making extra pieces as necessary to fill in any spaces.
3. In a 4 quart heavy duty saucepan, melt the butter and brown sugar together, and cook over medium heat, until the mixture begiins to boil. Boil for 3 minutes, stirring constantly. Remove from heat, add vanilla, and pour over matzoh, spreading with spatula.
4. Put the pan in the oven and reduce the heat to 350degrees. Bake for 15 minutes.
5. Remove from oven and immediately cover with chocolate chips. Let stand 5 minutes, then spread with spatula.
6. Sprinkle sea salt on top (cayenne of chili pepper too if you want a little kick).
Let cool completely.  Then, break the matzoh into many pieces and store pieces in an airtight container.
Chocolate -covered matzoh should keep (refrigerated) for about one week.