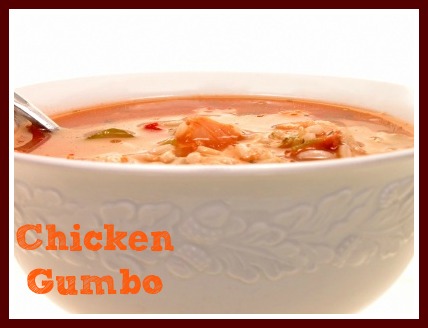 Today is the first day of school for my kids!  It's been a long fun summer but, even my 7-year old admitted he's "ready for school to start."   The night-before-the-first-day-of-school dinner is always important.  It's become a tradition (started only last year) to reclaim the structure of mealtimes and scheduled days – both seemingly elusive during the fluid summer months.
I wanted to make a hearty dish, one I knew would appeal to both my kid's tastes and somehow calm their jitters.
I uncovered Mom's recipe for Chicken Gumbo that sounded perfect.  It's beyond simple, quick to make and, I knew any rice-based dish would definitely rank high with my kids.
And, I had another cooking first.  I bought, handled, and cooked a keilbasa!
I must say, the sweet smells of the sausage cooking with the chicken slices, chicken broth and stewed tomatoes immediately filled my kitchen with warmth.
After only a couple minutes to simmer and soak in the flavors and cook the rice, I filled the bowls and my kids came barreling in.
"What is this, it smells amazing" said my limited-palate daughter.
"It's Chicken Gumbo," I proudly answered.
"What does that mean," she replied skeptically.
"It means it's got everything you love, together in one dish," I barked, a little bit defensive.
That was apparently all I needed to say to get my kids to eat not only one, but two bowls of GUMBO.
As I stashed the leftovers in the freezer, my son asked if he could have the same dish for the next night's dinner.
I moved the gumbo to the fridge.
I smiled knowing I had nourished my kids both physically and emotionally.
Hello first day of school!
Mom's Chicken Gumbo
makes 6 servings
Ingredients:
2 teaspoons olive oil
8 oz. kielbasa, sliced into quarter-size pieces
 1 1/2 pounds boneless, skinless, chicken breast cut into bite-sized pieces
3 cloves garlic
1 lb stewed tomatoes
2 cups reduced-sodium chicken broth
1 teaspoon oregano
salt and pepper to taste
1 1/2 cups rice (cooked)
Instructions:
Heat olive oil in a large pot over medium heat.
Add kielbasa pieces and cook for approximately 5 minutes while stirring occasionally.
Add chicken and garlic and cook for another 5 minutes.
Add stewed tomatoes, chicken broth, 1/2 cup water, oregano, salt and pepper and simmer for 3 minutes.
Add cooked rice and simmer another 3 minutes.
Enjoy!