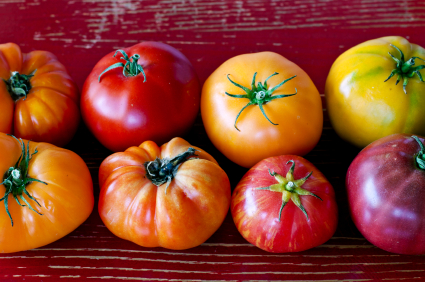 While many schools across the US have already started, my kids still have two weeks left and they're trying to hold onto every last moment.  August is one of our favorite months of the year for our family garden- it's prime picking time for the heirloom tomatoes we planted way back at the end of May.
Just this morning, we were finally able to pick the biggest, juiciest, most flavorful heirloom tomatoes—the same tomatoes that we have been eagerly eying every morning for the past 12 weeks.
It might sound cheesy but, there's no better feeling than to walk into your back yard and to pick the very vegetables you've been tending to day after day after day all summer long.  I became invested in my crops and to see them flourish and to ripen to perfection provided a true feeling of accomplishment; especially since last summer most of our tomatoes were eaten by various vermin.
I now have two favorite heirloom tomato recipes that are our go to summer dishes:  Heirloom Tomato Caprese Salad and Mango Gazpacho.
Our Caprese salad is a staple with any of our grilled meals.  We eat it with sliced buffalo mozzarella, drizzled olive oil and balsamic and topped with a couple sprigs of mint—oh, and some sea salt too.
1/2 pound fresh

mozzarella cheese

sliced 1/4-inch thick*
2 large heirloom

tomatoes

, sliced 1/4-inch thick

1/4 cup EVOO

1/4 cup balsamic vinegar
mint leaves
Instructions:
Slice Mozzarella into 1/4″ disks and place on plate.
Slice tomatoes and layer disk onto mozzarella.
Sprinkle olive oil and vinegar over top.
Add some fresh mint leaves.
Add coarse sea salt to taste.
The Mango Gazpacho is a refreshing appetizer that  I've made so often I've even started drinking it out of small Ball jars.  Sometimes if I'm feeling racy, I'll also add some Tabasco sauce for a little extra zing.
Ingredients:
1 cup of water
1 large mango, peeled and chopped
5-6 small heirloom tomatoes, chopped
4 cloves garlic, peeled and minced
1 yellow pepper, chopped
1 orange pepper, chopped
1 red onion, peeled and diced
1 cucumber, chopped
1-2 stalks of celery, chopped
2-3 sprigs of fresh basil
1 lime
1 tablespoon of honey
1/4 cup olive oil
pinch of sea salt and pepper
Instructions:
Chop up the mango, tomatoes, cucumber, onion and peppers into small squares.
Place in a bowl with olive oil and lime and let marinate for about 15 minutes.
Add the vegetables to a blender with the basil, honey, and one cup of water and grind together until the soup reaches your preferred consistency (I left the soup a bit chunky.) Pour in a bowl and taste with salt and pepper.
Let chill for 2-3 hours.
Serve cold and garnish with some cucumbers, tomatoes and/or some mango pieces.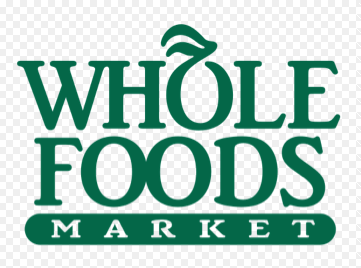 If I'm not growing my own or scouring the area Farmer's Markets, I've found that my local Whole Foods has one of the best selections of (organic)Heirloom Tomatoes . The staff is friendly and informative and I've always walked away with some of the freshest, tastiest tomatoes.  Not to mention, when I'm in the store, I've also received some amazing recipe pairings for my veggies.
Now it's your turn to embark on a Whole Foods shopping experience.  You can enter to win a $50 Whole Foods gift card.   Make sure to check here for the Whole Foods locations in the US to find a store nearest to you.
Whole Foods $50 Gift Card Giveaway

One (1) winner will receive a Whole Foods $50 Gift Card.
How to Enter
To enter to win, simply leave a comment in this post telling me what you'd purchase with your new Whole Foods gift card.  That's it, you're entered to win!
Additional (Optional) Entries
To up your chances of winning, you can receive up to FIVE ADDITIONAL ENTRIES to win by doing the following (these are optional, not required):
1. Subscribe to My Judy the Foodie by RSS. Come back and let me know you've subscribed in an additional comment.
2. Become a fan of My Judy the Foodie on Facebook. Come back and let me know you became a fan in an additional comment.
3. Follow My Judy the Foodie on Pinterest. Come back and let me know you've followed in an additional comment.
4. Follow @myjudythefoodie on Twitter. Come back and let me know you've followed in an additional comment.
5. Follow @myjudythefoodie on Instagram.  Come back and let me know you've follow in an additional comment.
The Fine Print
Deadline: Tuesday, September 3rd, 2013 at 11:59pm EST.
Winner: A winner will be chosen at random using Random.org and announced at the top of this post. The winner will also be notified via email and the My Judy the Foodie fan page on Facebook; if the winner does not respond within 24 hours, another winner will be selected.
Disclaimer:  I was not compensated to write this post.  Whole Foods did provide me money to purchase the ingredients for the recipes and Whole Foods will be fulfilling the $50 gift card giveaway.  All opinions expresses in this post are my own (as always).