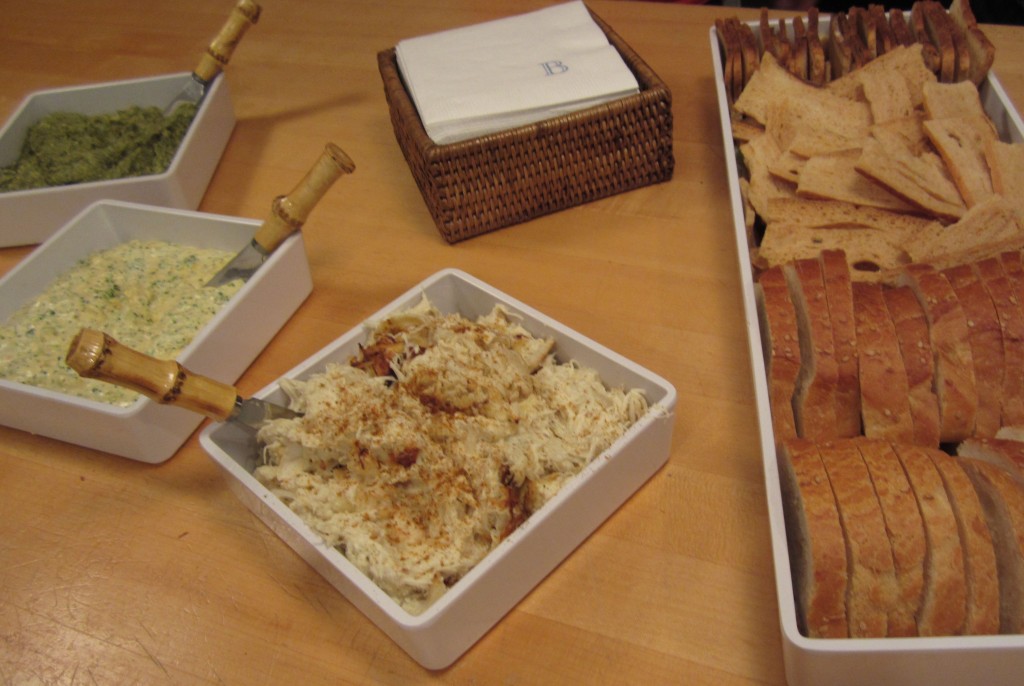 I'm working on a SuperBowl promotion with Wayfair to reveal tasty slow cooked appetizers to eat during the big game (that post is coming on MONDAY).  With many highly-anticipated television events on the horizon  quick and easy recipes are a necessity.  From the Superbowl to the Grammy's to the Academy Awards, chances are you'll be hosting or attending a tv viewing party.
I took a poll with my readers for their fave tv appetizers.  Here are just a few that ranked high that I have in.  They are always crowd pleasers!
Enjoy…
Judy's Baked Brie: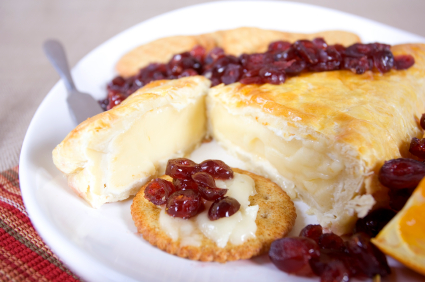 A deliciously warm and sweet appetizer to compliment any party.  No one expects the "kick" provided by the honey mustard and ginger snap combination.  Mom made this all the time and graduated from using little wheels of brie to one large wheel since it's gobbled up so quickly.  You can also top the brie with anything from brown sugar to raspberry jam. This is served alone in little triangular pieces.
click here for brie recipe
Seven-Layer Dip: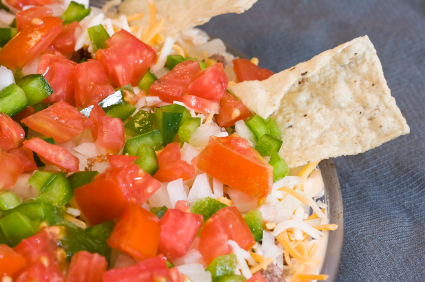 Offer a big bag of tortilla chips to help scoop up all seven amazing layers of this dip.  There's no heating or reheating involved, just add the layers and serve immediately.
click here for seven-layer dip recipe
Hot Crab Dip: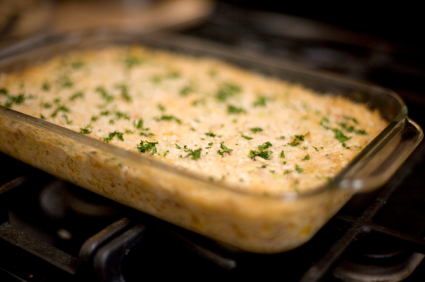 A must for all crab lovers! This dish tastes best if you splurge for the  lump crab meat versus imitation, pasteurized meat.   It's best served very hot (until it's literally bubbling in the oven) with crostini rounds and lots of Old Bay spice sprinkled on top. Bet you just can't have one.
 click here for hot crab recipe
Broccoli Cheese Dip: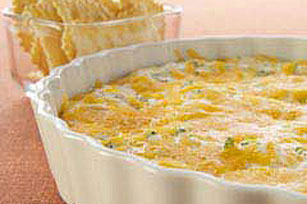 My family loves Mom's broccoli casseroles so I figured this would be another hit. It's brilliantly cheesy with just a mild hint of broccoli.  I served the dip with pieces of sliced fresh Italian bread and flat bread.
Broccoli and Cheese Casserole (adapted from Allrecipes.com)

Ingredients:
1 (8 ounce) package PHILADELPHIA Cream Cheese, softened
1 cup  Sour Cream
1 envelope GOOD SEASONS Italian Dressing Mix
1 (10 ounce) package frozen chopped broccoli, thawed, well drained
1 (8 ounce) package KRAFT Shredded Cheddar Cheese, divided
Instructions:
Heat oven to 350 degrees F.
Beat cream cheese, sour cream and dressing mix with mixer until blended. Add broccoli and 1-1/2 cups Cheddar cheese; mix well.
Spread into 9-inch pie plate.
Bake 20 minutes. Sprinkle with remaining Cheddar cheese; bake 5 minutes or until melted.
Enjoy.
Spinach Artichoke Dip: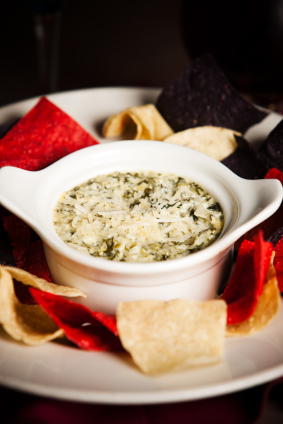 I'm amazed that this dip's  muddled green color and the fact that it contains two vegetables were not deterrants for my kids.  Served hot with colorful tortilla chips, it's fab!
Spinach Artichoke Dip
Ingredients:
1 (14 ounce) can artichoke hearts, drained
1/3 cup grated Romano cheese
1/4 cup grated Parmesan cheese
1/2 teaspoon minced garlic
1 (10 ounce) package chopped spinach (can use frozen but needs to be thawed)
1/3 cup heavy cream
1/2 cup sour cream
1 cup shredded mozzarella cheese
 Instructions:
Preheat oven to 350 degrees F (175 degrees C). Grease a 9×13 inch baking dish.
In a blender or food processor, place artichoke hearts, Romano cheese, Parmesan cheese and garlic . Pulse until chopped, but not ground. Set aside.
In a medium bowl, mix together spinach, heavy cream, sour cream and mozzarella cheese. Stir in artichoke mixture. Spoon into prepared baking dish.
Bake in the preheated oven for 20 to 25 minutes, or until cheese is melted and bubbly.
What are your favorite tv appetizers (besides pigs n blankets and our guacamole)?